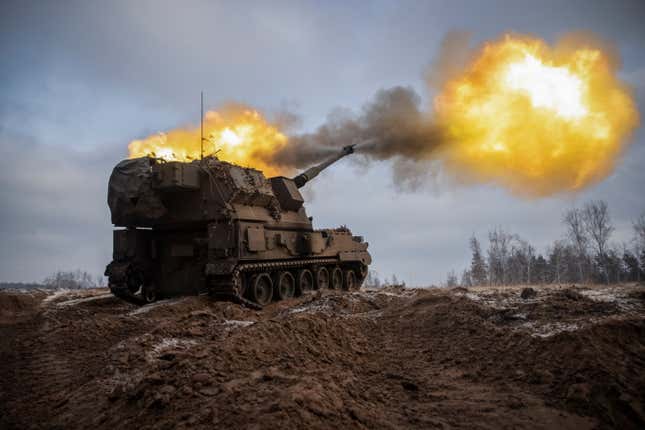 The South Korean government confirmed it approved export licenses last year for components sent to Poland and used in weapons bound for the Ukrainian army last year, contradicting Seoul's current military aid policy that prevents selling arms to countries involved in armed conflict.

Why a tightening of credit conditions could lead to a weak economy
According to Reuters, South Korea delivered weapon components to Poland with the understanding they would be used to build howitzer artillery weapons that would eventually be sent to the Ukrainian army. South Korean officials refused to comment when the sale was completed last year, leaving open the possibility they were simply ignoring the sale.
Now, months later, Kim Hyoing-Cheol, the director of the Europe-Asia division of the International Cooperation Bureau (an organization in South Korea's Ministry of Foreign Affairs,) confirmed the South Korean government was part of the transaction.
"We reviewed all the documentation and possible issues inside DAPA... then we made the decision to give out export license to Poland," he said in an exclusive interview with Reuters.
Western allies have repeatedly called on South Korea to contribute more to the war effort in Ukraine. In January, NATO Secretary-general Jens Stoltenberg made a direct appeal while visiting Seoul.

"At the end of the day, it's a decision for you to make, but I'll say that several NATO allies who have had as a policy to never export weapons to countries in a conflict have changed that policy now," he said, citing Germany, Sweden, and Norway, which have all changed their export policies to send military aid to Ukraine.
However, South Korean President Yoon Suk Yeol has made it clear his administration does not plan to change its policy and directly send weapons to Ukraine. The position increased speculation that South Korea is hesitant to get involved over concern Russia might respond to any sales by sending updated weapons and aircraft to North Korea.

What is a Krab howitzer weapon?
A howitzer is a type of heavily-armored artillery weapon, specifically a self-propelled long-range class of mortar. The Krab Howitzer is a specific type of howitzer designed and manufactured in Poland by combining a South Korean K9 Thunder chassis (or wheeled base), a British BAE System turret, a French Nexter Systems 155mm gun, and a Polish fire control system.
Poland has sent dozens of these artillery weapons to neighboring Ukraine. The United States has also sent approximately 126 howitzer-style artillery cannons to the Ukrainian army. Effective in land wars with close proximity, the weapon is essential to the Ukrainian military's strategy in resisting the Russian army.


Which countries have sent military aid to the Ukrainian army?


Related stories:
🇺🇦 Ukraine to ask G7 leaders for more military equipment on the first anniversary of Russia's invasion

💣 Putin says he will suspend nuclear arms treaty with US

🇺🇸 Biden will renew support for Ukraine in his visit to Poland ahead of the first anniversary of Russia's invasion