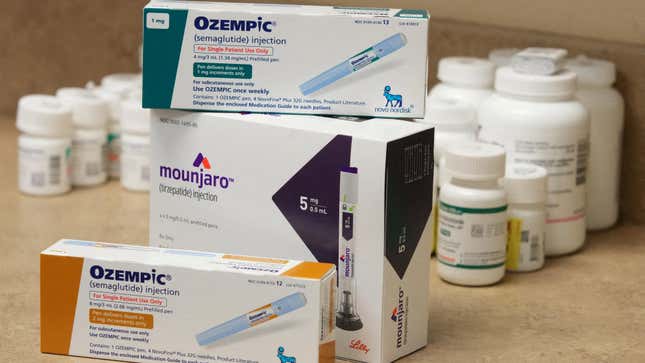 The European Medicines Agency (EMA) is investigating Novo Nordisk's diabetes drug Ozempic and weight-loss treatment Saxenda after Iceland's health regulator flagged two cases of patients thinking about suicide and one of self-harm.
Should you keep investing in Big Tech?
The Danish company's semaglutide drug Ozempic has been approved for diabetes treatment and Saxenda, which contains a similar drug called liraglutide, is used to treat obesity. In clinical trials for both, Novo Nordisk excluded people with a history of psychiatric disorders or recent suicidal behavior.
The EMA will investigate whether the drugs should note suicidal behavior as a side-effect. The regulatory body is watching not just the two drugs flagged by Icelandic authorities, but also other drugs in the same class of GLP-1 receptor agonists. They including Novo Nordisk's semaglutide Wegovy, which is approved for chronic weight management, and rival Eli Lilly's drug tirzepatide Mounjaro, which is currently approved for diabetes.
Novo Nordisk's shares fell 1% on the news. The stock has surged in recent months as demand for the weight-loss drugs is booming. Novo Nordisk is seeking the green light for its pill versions of Ozempic and Wegovy. But suicide risk isn't the only issue affecting the drugs. The EMA also raised a thyroid cancer safety signal on several of Novo's products containing semaglutide in May.
Quotable: Novo Nordisk has not found a suicide or self-harm risk
"The safety data collected from large clinical trial programs and post marketing surveillance have not demonstrated a causal association between semaglutide or liraglutide and suicidal and self-harming thoughts." —Novo Nordisk in a statement to CNBC on July 10
Place of interest: The US
Saxenda's prescription advisory in the US says patients must be monitored for depression and suicidal thoughts. The information for Wegovy notes something similar. No such warning is noted in the US prescribing information for Ozempic.
The US Food and Drug Administration Adverse Event Reporting System (FAERS) Public Dashboard has received at least 60 reports of suicidal ideation since 2018 from patients on semaglutide or their health care providers; and 70 such since 2010 from users of liraglutide or their health care providers. Information in these reports has not been verified and the existence of a report is not proof of causation, the FDA warned.
Drug of interest: Acomplia
French drugmaker Sanofi's obesity drug Acomplia was pulled from the European market in 2008 due to concerns about mental health. The drug, which works in a different way than GLP-1 medicine, approximately doubled the risk of psychiatric disorders in obese or overweight patients taking it versus those who were given a placebo, the EMA found at the time. The FDA voted against its approval in the US due to concerns over seizures and suicide risk.
Related stories
🥷 Novo Nordisk is proactively protecting its weight-loss drugs from copycats
🏥 Insurance coverage for Ozempic shows the complexity of obesity treatment
💼 The WHO will consider adding obesity drugs to the list of essential medicines