Chunky, black boxes, barely portable or lumped onto a desk, have been the standard design for corporate computers for decades. They've never been the fastest, or easiest to use devices in the world, and without jumping through some technical hoops, there's often no easy way to access company files outside of the office. Samsung might have an answer.
Since around the time of the launch of iPhone over a decade ago, employees started asking their IT departments if they could get their work emails on their personal smartphones, eschewing BlackBerries or other devices they'd been given by their companies. This led to the "bring your own device" policy, with many people now preferring to check emails and work on their own devices. But these machines often aren't as secure as IT departments would like them to be, and in some cases, still can't access some of the software that employees need on their work devices.
At last month's Mobile World Congress trade show in Barcelona, Samsung unveiled its latest iteration of its Galaxy S smartphone—which Quartz really liked in its review—along with a new version of DeX, the system it's created that turns a smartphone into a semi-functional desktop computer. The new version is flat, allowing users to dock a phone into it and use the phone as a mouse, meaning all you need is a computer monitor and a keyboard to turn your smartphone into a proper desktop.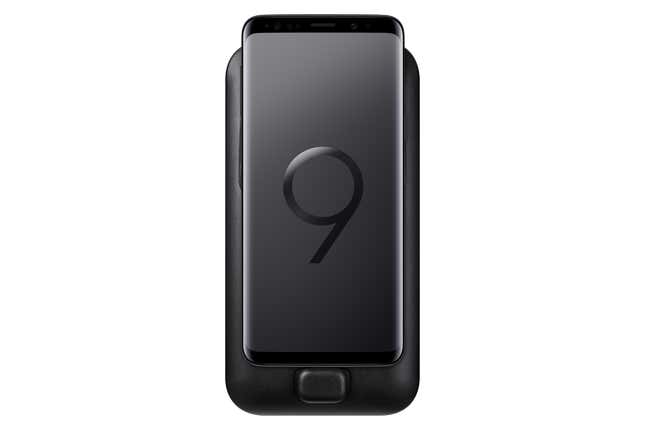 Last year, Quartz's Dave Gershgorn hooked a Samsung phone up to the old version of DeX, and used it as his main work computer for two weeks. He found that for the most part, he got real work done. "I like the S8/DeX combo," he said at the time. "If my job gave me one, I'd be stoked. I'd have a phone and a desktop computer to work on, and most of my work is done in the office."
The new DeX model has been designed with IT managers in mind. When a Samsung phone is hooked up to the dock, it transforms from someone's personal phone into a corporate computer, with all the programs and files that they would have access to on a full computer. The employee using the DeX dock sees no difference on their phone—the IT department can remotely manage what's pushed to their phone from the DeX, disconnecting that access when the phone isn't docked.
Samsung hasn't announced when it's going to release the new DeX station—rumors suggest it may be a few months—but much of the technology behind the IT management isn't based on the hardware, but on the software it runs.
Samsung also plans to release an enterprise version of its new Galaxy S9 phone. It will be similar to the standard S9, but with beefed-up security options, as well as three-year subscriptions to the management software that lets IT departments remotely manage and secure the devices. These phones are as powerful as many corporate laptops: The Galaxy S9+ has 6 GB of memory, up to 256 GB of storage, and an eight-core 2.8 GHz processor, which isn't far off from what the MacBook Pro I'm typing this on has.
The DeX also has a few other tricks up its sleeve. Here's what else it can do:
It can run Windows. Through virtual desktop software like Citrix or VMware, DeX can run a full Windows operating system on a docked phone. The only caveat: Those services are separate and your IT department would have to pay for those subscriptions.
Business software! Even without Windows subscriptions , DeX supports all Microsoft Office software, as well as Google Drive, and the Hancom office suite.
More ports. A Galaxy phone might not have the ports you need to do work, but the DeX station has HDMI, USB, USB-C and ethernet support.
It charges the phone. No more sneakily charging your phone at work—the DeX charges your phone while it's docked.
It's still a phone. You can take calls and answer texts like you normally would, even when the phone is docked, and access Android apps from the desktop mode.
The DeX dock is also light, weighing about 8 ounces. It's not crazy to think that Samsung would extend DeX support to its more durable phones, like its Active phone range, putting desktop computing power in the hands of workers in situations where computers couldn't previously go. Instead of bringing something awkward like a Toughbook laptop to a construction site or a power-line inspection, contractors could take their durable phone with them, snap photos or call colleagues, and hook it up to a dock when they got back to the office. It changes the nature of work computing, bringing employees useful mobile devices when they're away from their offices, and full computers when they're at their desks.