Preparations are underway across the Gulf Coast of the southern US today as residents brace for the first big hurricane of the season.
Hurricane Harvey developed so quickly that it took national forecasters by surprise. "It happened faster than expected. I was lead forecaster 24 hours ago. I didn't know it'd be this fast," said Eric Blake at the National Hurricane Center (NHS). Currently a category 2 storm, it's expected to strengthen to category 3 (wind speeds of up to 129 mph/208 kph) before making landfall.
Residents meanwhile are stocking up on supplies, boarding up windows, and swapping safety tips on social media. Some even found time for a bit of levity amid the mandatory evacuation orders that have been issued along the coast.
Here's what you need to know about the storm.
When and where will Hurricane Harvey hit?
It's expected to make landfall late Friday night (Aug. 25) or early Saturday morning.
The storm will likely first come ashore between the cities of Corpus Christi and Port O'Connor, according to Space City Weather, and then move further inland.
Forecasters are predicting "torrential rains" and a "dangerous storm surge" that could create a life threatening flooding situation, according to the National Hurricane Center.
How dangerous will Hurricane Harvey be?
According to Space City Weather, Hurricane Harvey will be dangerous in two stages: first, for its damaging winds and later for the anticipated "widespread, major flood event" that is likely to take place from Saturday through Wednesday of next week in parts of Texas.
Meteorologist Eric Holthaus wrote on Twitter that Harvey could be "one of the worst inland flooding disasters in U.S. history," with a forecast of 25-35 inches (64-89 cm) of rain, or a year's worth of rain in three or four days.
Who needs to evacuate?
A full list of mandatory and voluntary evacuation areas can be found here.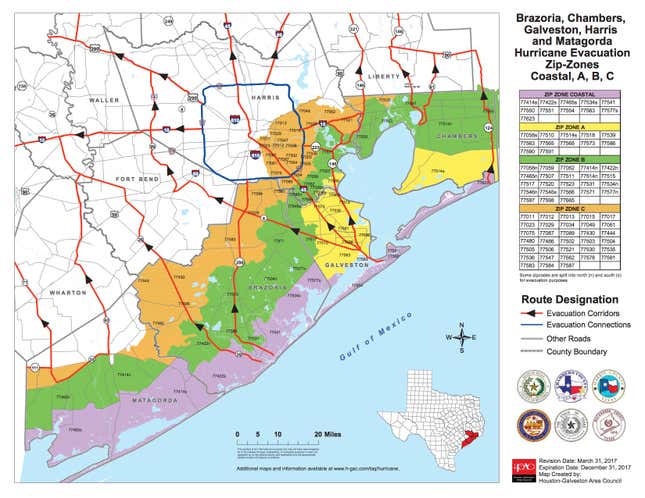 The NHS is warning residents that "preparations should be rushed" in advance of the storm, as conditions will worsen through the rest of the afternoon and evening.
Texas governor Greg Abbott declared a state of disaster for 30 counties in anticipation of Harvey's arrival, and said on Fox News this morning that residents in low-lying regions who can evacuate should do so before the weather deteriorates. "I'm concerned that not enough people have evacuated," he said.
Residents in the direct line of the hurricane's path are also being warned they may not be able to return to their homes after the storm passes for some time.
Will major cities like Houston, Dallas, Austin and San Antonio be affected?
While Texans living along the Gulf Coast face the most serious threat from storm surge, Harvey may stall over both flood-prone Houston and San Antonio, dumping vast amounts of rain.
Residents of Houston, the US' fourth most-populous city, who are staying in place are being told to "hunker down to avoid tropical storm-force winds," the Houston Chronicle reported (paywall). In San Antonio, officials are warning of possible flash flooding.
Dallas and Austin are expected to be spared the brunt of the storm, but may still see thunderstorms, heavy rain, and high winds. City officials are setting up shelters (paywall) to house evacuees as people head north and away from the storm's most damaging path.
What is the federal government doing to prepare?
Abbott said state officials are coordinating with the federal government, including the Federal Emergency Management Agency (FEMA), the Department of Homeland Security, and president Donald Trump in preparation for the storm.
Trump tweeted this morning that the White House is carefully tracking the storm and is ready to help as needed.
However, holdovers from former president Barack Obama's administration will be overseeing much of the federal response, as Trump has yet to fill key positions in both FEMA and the National Oceanic and Atmospheric Administration (NOAA).
Read next: How to track Hurricane Harvey's progress in real time as it hits land