Nordstrom's stock slid downhill yesterday (Sep. 11) after the upscale department store chain announced a new retail concept that left investors scratching their heads. Called Nordstrom Local, it's a clothing store that doesn't stock clothes.
The concept store, which opens next month in West Hollywood, California, will be a fraction of the size of a normal Nordstrom store. It will let shoppers try on items while sipping a locally sourced beer or wine, getting a manicure, or consulting with stylists. And if a shopper wants to make a purchase, the stylist will pull the item from another Nordstrom location, or order it from Nordstrom's website.
The concept sounds unusual at first glance—indeed, it runs contrary to the conventional idea of a department store. But it actually makes perfect sense for Nordstrom, and it seems far from crazy when considered against the backdrop of the struggles facing brick-and-mortar retail today.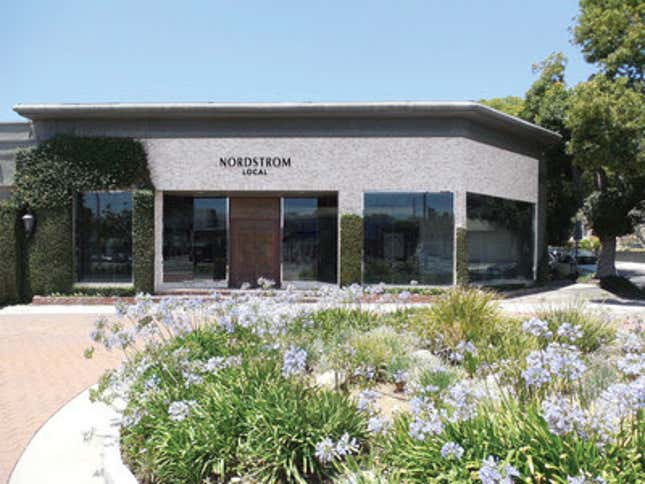 Retailers across the country are trying to figure out how to make the best use of their vast swathes of physical store footage, when shoppers are buying more and more products online. Brick-and-mortar locations are still where most purchases happen, and they're invaluable as ways to acquire new customers and keep existing ones. But their worth as places to buy things is declining.
That's why companies such as Nike and Farfetch are finding ways to add fun, innovative experiences to their stores that go beyond simply buying products. Nike's recently opened store in New York has a basketball court where you can test out Nike shoes, and a treadmill that simulates different outdoor runs while also analyzing your gait. The concept store that Farfetch showed off in April has guests check in digitally to seamlessly integrate their real-life and online shopping. These companies understand that to make the most of a physical space, it pays to offer something online shopping can't—but also to keep e-commerce in mind.
Nordstrom Local is similarly focused on luring customers into the store, and it recognizes that any resulting purchase may or may not happen at that moment. That's why it isn't critical to have racks packed with clothing on hand. The store offers same-day delivery to a customer's home on any purchase made before 2pm. It lets customers order online and pick up in the store, with a tailoring service for alterations on site. A custom-clothing service will also be available.
This is all achieved within a relatively tiny retail footprint: With no need to have a warehouse worth of clothes, the West Hollywood location will be 3,000 square feet, versus Nordstrom's average size for its stores of 140,000 square feet. It's an innovative solution to the problem of over-investment in retail space—which some have called a retail bubble. In March, Urban Outfitters CEO Richard Hayne pointed out that the US is "oversaturated with retail space, and far too much of that space is occupied by stores selling apparel." Department stores in particular have too many stores, and those stores tend to be huge, making them costly to stock and maintain.
Of course, this is still an experiment, and it's unclear whether it will pay off. It's just a single location for now, and not all new Nordstrom stores will follow the model. The company will continue to open traditional department stores, too.
If nothing else, Nordstrom Local could be a valuable testing ground for Nordstrom to observe shoppers in the wild and figure out what they want. Ultimately it's them—not the investors—that Nordstrom most needs to please.