The South China Sea is, for many, a worrying geopolitical flashpoint. But for Xi Jinping, it's a source of pride.
When Xi recently addressed the Communist Party congress, he boasted that "construction on islands and reefs in the South China Sea has seen steady progress." In recent years, China has built military facilities on reefs and islands to bolster its claim to nearly the entire sea. An international tribunal invalidated that claim last year, but Beijing dismissed the ruling.
During US president Donald Trump's time in office, China's expansion activities in the waterway have continued, and there's every indication it plans to further entrench itself in what analysts fear will become a "Chinese lake." Trump didn't publicly challenge his hosts about the South China Sea while in Beijing this week, and in a display of camaraderie said he felt a "great chemistry" with Xi. But he will have a chance to address the issue in the days ahead at regional summits in Vietnam and the Philippines as part of his lengthy Asia trip.
Those countries, along with Malaysia and Brunei, have their own claims in the sea that conflict with China's. In many cases China's sweeping claim—demarcated by its nine-dash line—intersects with other nations' exclusive economic zones. The zone gives those nations sole rights to the natural resources in and below the water, as per the UN Convention on the Law of the Sea. Despite this, China, in the waters it also claims, expects joint development of the resources, which include oil and natural gas.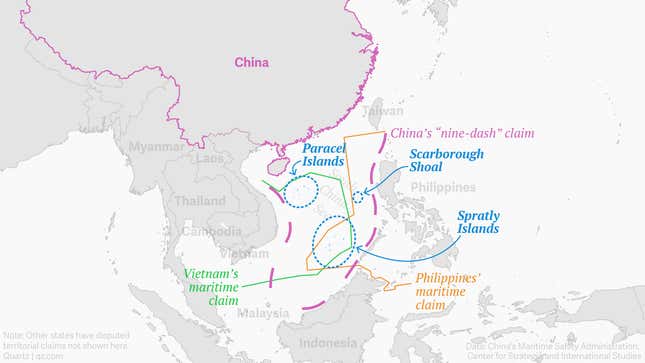 Trump offered tough talk on China's island-building while he was running for president last year, but since assuming office he's made it less of a priority than his campaign rhetoric suggested. North Korea is a big reason why. Trump believes China, as North Korea's largest trading partner, could apply enough economic pressure to force Pyongyang to change its ways, so he's essentially been wooing Xi. With North Korea and US-China trade his main concerns, the South China Sea has fallen by the wayside.
But not for Beijing. As recent developments suggest, it's going full steam ahead in bolstering its position in the waterway.
For example, China has built a new drone to deliver supplies to islands lacking a proper runway. It also plans to use floating nuclear reactors to power its islands, with the first undergoing final tests now—up to 20 could eventually provide electricity to China's outposts in the sea. And this month, China unveiled a large dredging ship dubbed the "magical island-maker" by its creators and capable of suctioning up mud, sand, and coral, and depositing the debris as new land more efficiently than its predecessors. The vessel can dig 6,000 cubic meters (21,189 cubic feet) an hour, the equivalent of three standard swimming pools, from 35 meters (115 feet) below the water's surface. South China Sea watchers quickly saw its potential to create more islands.
Trump will get another chance to challenge China's maritime moves when he attends an Asia Pacific Economic Cooperation (APEC) meeting in Vietnam on Nov. 10-11. More opportunities will come in the Philippines when he attends events tied to the Association of Southeast Asian Nations (ASEAN) on Nov. 12-13, and then at the East Asia Summit before he returns to the US.
Philippine president Rodrigo Duterte said this week that at the APEC meeting he'll seek clarification from Xi, who will also be present, on Beijing's intentions in the sea. "You want to control the passage, or do we have free passage?" he said at a news briefing before leaving for Vietnam. But Duterte has hardly been a great challenger of China's claims—he recently halted construction of bamboo huts on a sandbar after Beijing complained.
Trump can afford to be more assertive—whatever his chemistry with Xi.