US president Donald Trump is now nearing the end of his lengthy Asia tour. After visiting Japan, South Korea, and China in rapid succession, on Friday and Saturday (Nov. 10, 11) he was in Vietnam, where he attended the Asia-Pacific Economic Cooperation summit (APEC), a state banquet, and bilateral meetings. On Sunday, he heads for the Philippines, the last destination on the tour. While Asia's known for its remarkable cuisine, Trump has sampled little of it, often sticking to much more familiar foods. Here's a wrap of what he's been eating so far:
Japan: A taste of America
On Sunday, Nov. 5, Trump arrived in Japan, his first stop on his Asia visit. Unlike his predecessor Barack Obama, who went to the triple Michelin-starred sushi restaurant documented in the film Jiro Dreams of Sushi with Japanese prime minister Shinzo Abe in 2014, Trump stuck to the familiar.
He had a burger made of US Angus beef brought in from a small Tokyo outfit—Munch's Burger Shack—for his first lunch with Abe before the two golfed at a country club. Still, at least the choice was a step up from eating a McDonald's burger. The Japanese outlet became a hit after Trump's visit. Days after the American president's meal of a burger with Colby Jack cheese, the burger was sold out by early afternoon.

On Sunday night, Abe hosted Trump at the high-end teppanyaki grill restaurant Ginza Ukai-Tei, where the two had Wagyu beef cooked at the table and scallops. The meal led to a surge in the restaurant's parent company's stocks.
On Monday, Trump and his team had a working lunch with Abe and his cabinet, where they ate salad, teriyaki chicken, and vanilla ice cream. That night, Abe held a state dinner at the Akasaka Palace, one of Japan's official guesthouses, which featured a more traditional meal. The Washington Post reported the menu included an appetizer of grilled fish marinated with miso paste, rolled omelet, duck and onion on skewer, and burdock rolled in Wagyu beef slices, followed by a steamed egg custard with matsutake mushroom and a lobster salad and more beef.
South Korea: A taste of conflict
Compared to Japan, Trump's time in South Korea was shorter, although South Korea did make good use of it. On Nov. 7, Trump had lunch with US and South Korea troops at Camp Humphreys, where they had Tex Mex. In the afternoon, South Korean president Moon Jae-in and his wife had tea with Trump (paywall) at the presidential palace Blue House.
The culinary high point of the trip came at Tuesday's dinner, which included soybean soup, grilled beef ribs made with a special 360-year-old soy sauce, grilled fish, and grilled prawn. The prawn was not just any prawn, but a diplomatically loaded one—fished from contested waters between Japan and South Korea off the island of Dokdo. Also present at the dinner was a woman who had been forced to work as a sex slave for Japanese troops during World War II. Both of these sparked protests from Japanese diplomats (paywall).
Like the  Japanese burger, the prawn has found new popularity thanks to its moment in the limelight.
China: a $30 Chinese white wine for a teetotaler
On Wednesday (Nov.8), Trump arrived in Beijing, kicking off his longest stay yet during the whole Asia tour. Before leaving wife Melania Trump on her own to tour the Great Wall Friday morning, Trump had tea and dinner with China's president Xi Jinping and his wife Peng Liyuan at the Forbidden City imperial complex, and a state banquet on Thursday night.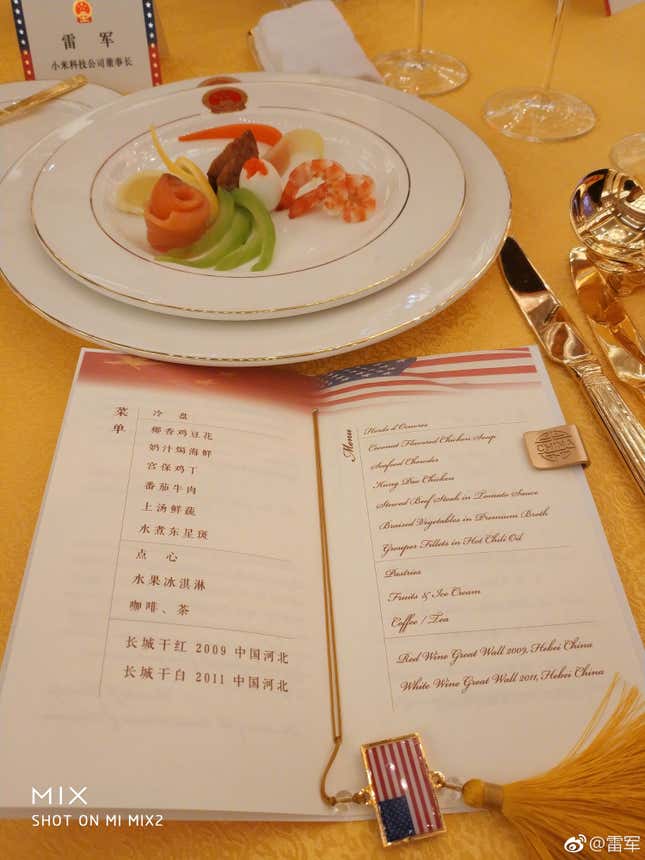 Honestly, the state dinner was rather plain. One of the dishes China prepared as one of the six main courses—stewed beef steak in tomato sauce—was basically a variation of Trump's favorite food—steak with ketchup. Another course was familiar to many Americans —Kung Pao chicken—though it was not the Americanized version. Then there was a seafood chowder and a coconut-based chicken soup, the kind of dish many diners might associate more with Southeast Asia.
Drinks included two kinds of wine from domestic producer Great Wall Wine, though the drinking part might seem irrelevant to Trump, who is a teetotaler (while Trump toasted with his hosts on this trip, his wine glass may have contained a non-alcoholic beverage). One of the wines at the Beijing banquet, a 2011 Great Wall Riesling, is on sale (link in Chinese) on Alibaba's shopping site Tmall for 198 yuan ($30).
Vietnam

Trump's schedule in the country included a gala dinner in Vietnam Friday night and a state banquet Saturday along with other world leaders who are in the country for APEC. At that meal, Vietnam appeared to be trying to push Trump—who praised the country effusively in remarks at the start of the dinner for "doing very well" and having become "one of the miracles of the world"—out of his comfort zone.
Vietnam is famous outside the country for its pho, a beef broth with a complex layering of flavors served with noodles and garnished with basil and bean sprouts, and for other light and flavorful dishes such as rice rolls. Judging from this list, the state banquet doesn't seem to have included that soup, but did feature a popular type of steamed roll. Some of the items on the menu may have suffered a little in translation—more a list of ingredients  ("green vegetable") than a description of the dishes.
There was no steak visible on the menu (but there was bacon). The dinner also featured at least one controversial ingredient in the seafood soup.
The Philippines
Now all that remains to be known is what he will eat in the Philippines, where Trump will finally meet with another famously outspoken and temperamental populist, leader Rodrigo Duterte. Will Duterte cater to Trump's food preferences or play the contrarian as host? Several classics of Philippine cuisine probably fall outside Trump's comfort zone—such as sinigang, a soup often made with a bony cut of pork and flavored with tamarind for a tangy taste. While that's more everyday fare, important occasions often feature a whole roasted suckling pig, or lechon.
Duterte's own favorite foods, though, include homespun dishes such as tapa (dried or cured meat, such as of buffalo), pork and mung beans, and gizzard. At his inauguration party, guests were fed finger food like plantain fritters and bean soup.
Another option, one that proud Filipinos might favor, is treating Trump to a meal from popular Philippine chain Jollibee, which also has outlets in the United States. Perhaps some fried chicken with a side of spaghetti with tomato sauce and chopped-up hot dogs?