Planet, the American satellite company, is now snapping a picture of every part of earth's landmass every single day.
Analyzing the imagery over time promises to unlock critical information about the economy and the environment for Planet's customers, which range from investors to activists. It's also a milestone in humanity's ongoing efforts to understand the planet it calls home.
Last year, Planet said it was photographing a third of the world's land each day. In February of this year it launched 88 satellites on an Indian rocket, and last week it launched 10 more satellites on an Orbital ATK rocket from California. Most of the images they take are at a resolution of three meters (10 feet) per pixel. By taking images daily, the company can track changes in the physical world, like how quickly the temporary city of Burning Man rises out of the desert:
Planet's imagery can track the effects of sudden events like Hurricane Harvey or long-term problems like California's drought, among many other applications.
Planet is seven years old and launched its first satellites only in 2013, but it now has more commercial satellites in orbit than any other: 182 of its Dove satellites, each of which weighs 5 kg (11 lb), plus 18 larger satellites that it acquired by buying two other earth-imaging companies.
The firm's founders—Will Marshall, Robbie Shingler, and Chris Boshuizen, now an entrepreneur-in-residence at the venture fund Data Collective—met at NASA's Ames research center in Mountain View, California. They took their understanding of small spacecraft to a garage in nearby Cupertino, and made daily imaging of the entire earth their "mission one." Designing low-cost but effective cubesats to snap pictures in orbit, they launched their satellites in waves, adding new features to each wave, and raising over $150 million to back their business.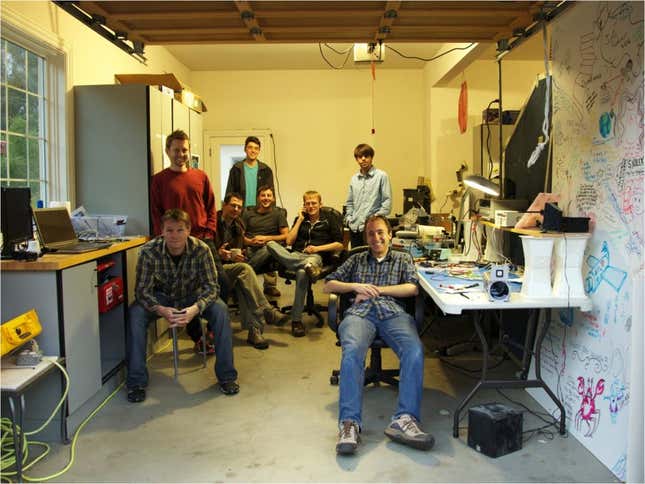 Planet's speed and fundraising success allowed it to get ahead of a potential glut of competitors by buying them out. It purchased a satellite constellation from the German firm Blackbridge in 2015 and bought TerraBella, formerly SkyBox, from Google in 2016. These satellites take sharper pictures than the Doves, at one meter per pixel.
When I visited to Planet's San Francisco headquarters this summer, Marshall said that Planet's ultimate goal is to answer questions with the data it collects; developing space technology is just a means to that end. "We are not an aerospace company," he told me. If "mission one" was to collect the data, "mission two" appears to be making it available to and useful for people who aren't experts in geospatial information analysis.
On the software side, that means figuring out what kind of questions possible users—from a farmer in Iowa or a forest manager in Brazil to a hedge fund in Singapore or a government ministry in Nigeria—will need answered, and how to deliver that information in the most useful format. Planet will also add higher-resolution imagery from the satellites it acquired to its platform, and continue upgrading the Dove—now on its 13th operational version—to take clearer images, last longer in space, and transmit more data back to earth.
"Planet will index physical change on Earth the same way Google indexed text on the internet," CEO Marshall wrote yesterday on Planet's blog. "Questions will typically be framed to search an area for a feature (such as a plane or a road), a count of features (how many planes at San Francisco Airport), a time that a feature appeared, or to quantify some aspect of temporal or spatial change (sq km of land damaged by wildfire)."
Space market observers like Hoyt Davidson, who runs Near Earth LLC, a boutique, space-focused investment bank, tend to see Planet as the likeliest of a new generation of space companies to list on stock exchanges. The company hasn't commented on such speculation. But if that is its goal, being able to say it can now take a picture of the whole earth every day will no doubt bolster its case for getting investors, and the case for investing in space more generally.