Alongside the TVs, toys, blenders, and baby wipes on Walmart.com, you'll soon be able to buy upscale fashion too.
The giant retailer has partnered with the department store Lord & Taylor to "create a premium fashion destination on Walmart.com," Denise Incandela, head of fashion for Walmart's US e-commerce business, said in an announcement.
Planned to launch in spring 2018, a dedicated Lord & Taylor store on Walmart's website and app will give Walmart's online shoppers access to labels sold at Lord & Taylor. It's not clear at this point whether that will include all items Lord & Taylor currently carries, which include Vera Wang gowns, Kate Spade coats, Polo Ralph Lauren sweaters, Badgley Mishka dresses, and other pricey pieces. We have reached out to Lord & Taylor for comment and will update this story with any reply.
But Walmart suggested those are the sorts of items its shoppers want. "We see customers on our site searching for higher-end items, and we are expanding our business online to focus on adding specialized and premium shopping experiences, starting with fashion," Incandela explained in the announcement. It would certainly be a departure from the cheap clothes that currently fill Walmart stores.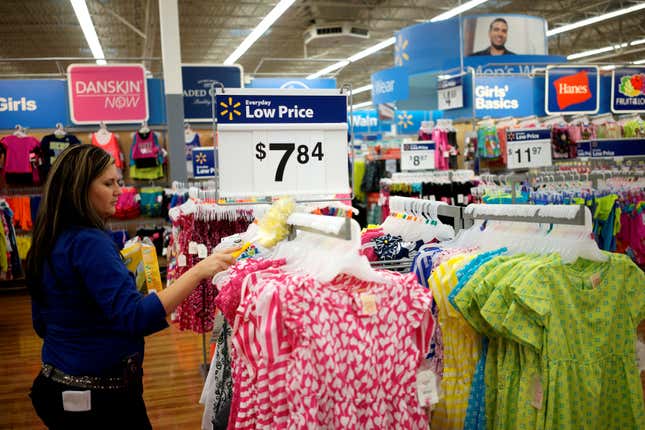 Walmart has been gunning to turn itself into an online fashion powerhouse as part of a so-far-successful effort to boost its e-commerce business. It's trying to stay competitive against Amazon, which has been gobbling up US e-commerce, including clothing retail.
In the last year, Walmart has acquired online footwear seller ShoeBuy; outdoor brand Moosejaw; the fun, inclusive clothing retailer ModCloth, which has a loyal following of millennial women; and menswear brand Bonobos, which has a loyal following of millennial guys.
The Lord & Taylor deal will expand Walmart's fashion business still further, though selling high-end clothes isn't easy for a retailer known for cheap and less rarefied products, as Amazon has demonstrated. Like Amazon, Walmart already sells a number of designer labels on its site through its marketplace, which lets third-party sellers reach Walmart's online audience.
Lord & Taylor, meanwhile, gets to reach more shoppers—"exponentially more," according to the announcement—than it currently does through its own site. Like other department stores, it has watched sales fall as mall traffic declines and shoppers move online, and shift their spending on clothes toward brands such as Zara. That's if they're buying clothes at all—many shoppers are prioritizing spending on experiences (paywall) over buying things.
Lord & Taylor recently took the measure of selling off a large part of its historic New York City flagship store to WeWork. The department store will retain just the bottom floors, while WeWork will take over the rest. Clearly the store is looking to boost its bottom line any way it can.