Amazon just opened a retail store in New York City called Amazon 4-star. The idea is that every item for sale has been awarded at least four stars on a five-star scale by Amazon customers.
Exceptions are made for goods that are "new," "trending," or "top-selling," regardless of their rating, so the truly novel conceit here is that it's a store with windows and doors, and you go there in person, which is what I did on this warm fall Sunday, hoping to glean some insights into Amazon's physical-retail strategy.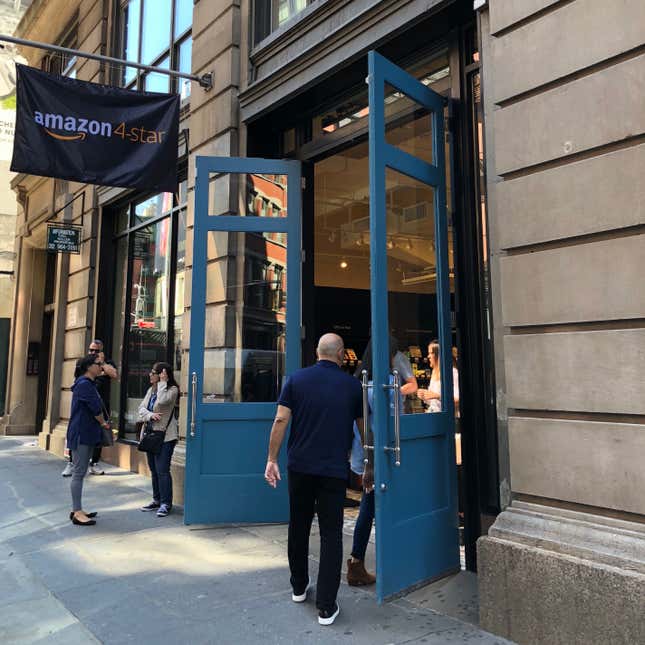 The shop is located at 72 Spring Street in the SoHo neighborhood of Manhattan, which is known as a shopping district and brims with tourists, who were well-represented inside. This place will be totally packed during the upcoming holidays.
The location previously housed a parade of Instagram-friendly pop-up stores, and the interior has a rushed, semi-permanent feel, but the company says Amazon 4-star is here to stay. Amazon already has a few bookstores around Manhattan that are permanent, too.
It feels like the website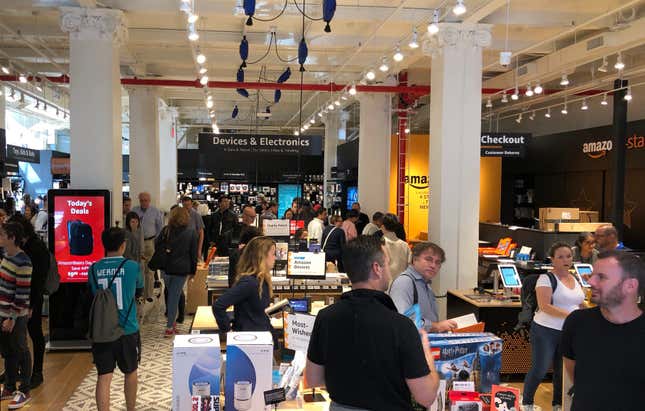 Entering the store through its two oversized, propped-open doors, one immediately has the sense of stepping onto the amazon.com homepage, with its spare, utilitarian, ambiguously populist jumble of products: tea kettles next to air purifiers, that book that inspired that movie, phone chargers.
Similar to the company's other retail stores, signage throughout Amazon 4-star emphasizes the familiar feeling of its website. Items are grouped by "Most-Wished-For," "Highly Rated," and "Frequently Bought Together." People who liked this also liked that. There's even a baby-registry section.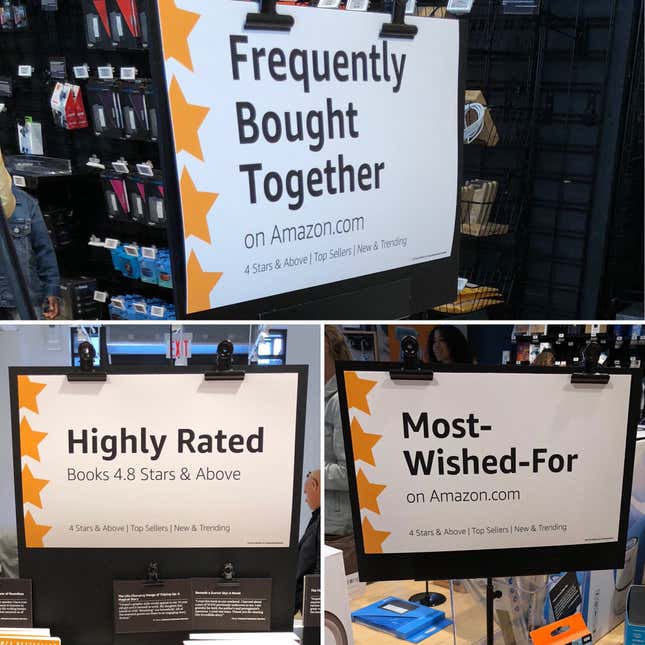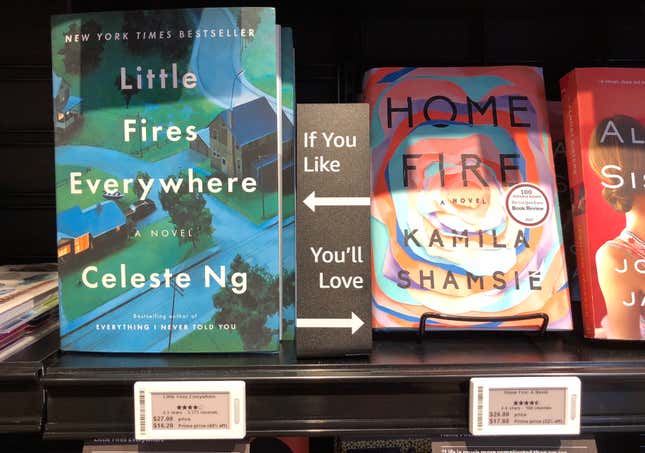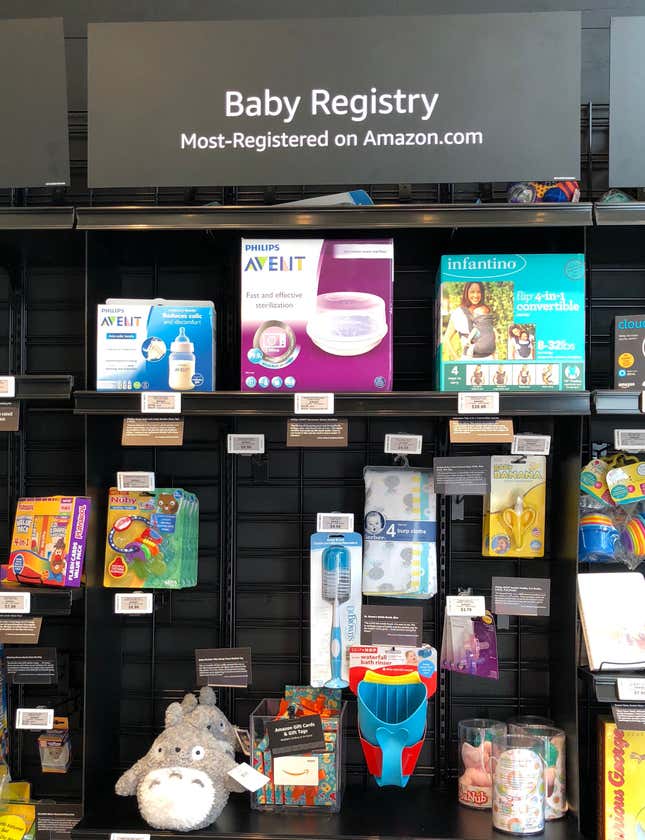 It really does feel like walking through a website. Whether this strikes you as comforting or unsettling probably depends on your existing sentiments about Amazon.
It's good to be Amazon
The store features products from all sorts of brands: Bose's wireless headphones, Brita's standard water pitcher, Breville's best-selling toaster oven. But it's impossible not to notice one manufacturer with an outsized presence: Amazon itself.
There's the Kindle section and the Amazon devices table and the large display of AmazonBasics kitchenware, including its instantly popular Dutch oven that costs 90% less than Le Creuset's model.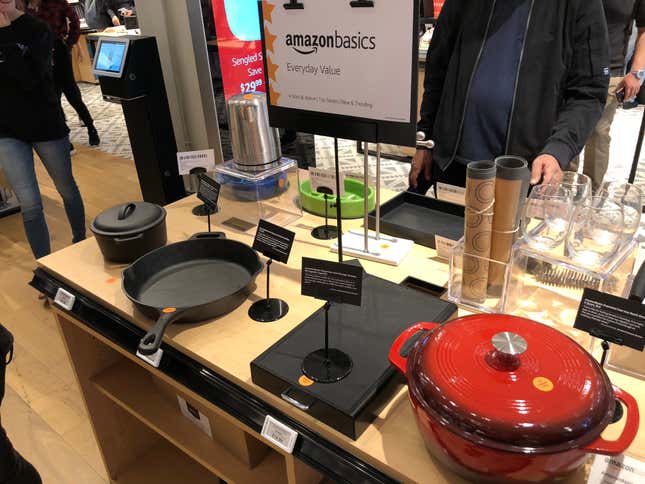 Amazon's private-label products have strained its already-love-hate relationship with other retailers that depend on Amazon for distribution but frequently find themselves undercut in price and prominence. Recent investigations by ProPublica and the New York Times have demonstrated the many ways in which Amazon favors its own products over those of competitors.
Nowhere is this more apparent than the massive smart-home section of Amazon 4-star. Of course, it features the Amazon Echo, Echo Dot, Echo Show, and so on, with customers yelling Alexa's name every which way, as though someone's daughter is lost among the shelves. There's also an entire table devoted to Ring, the smart-home company that Amazon bought earlier this year. And for the products made by other companies, like a large display of iRobot's Roomba vacuums, the main selling point is that they "work with Alexa" status. (Roombas also work with Google Assistant.)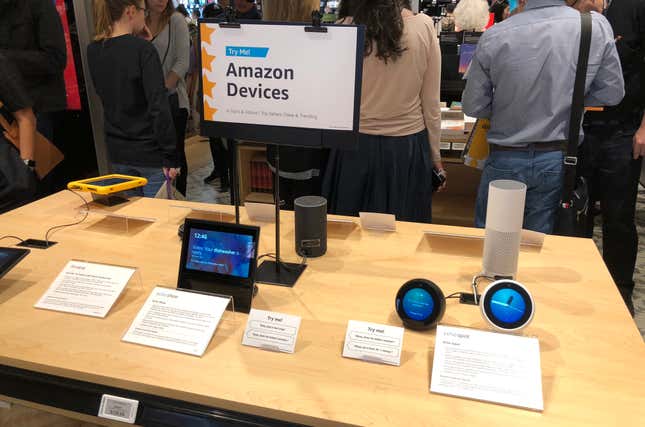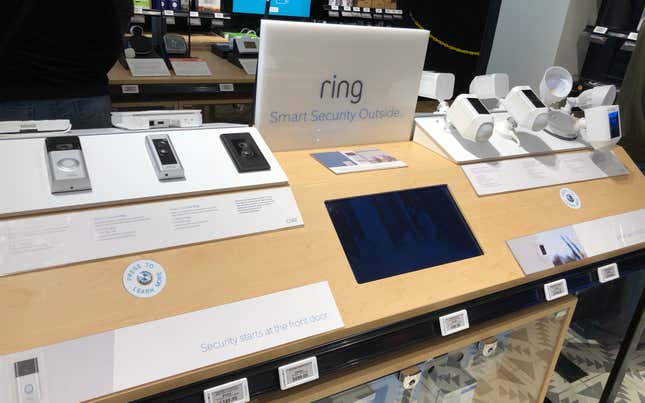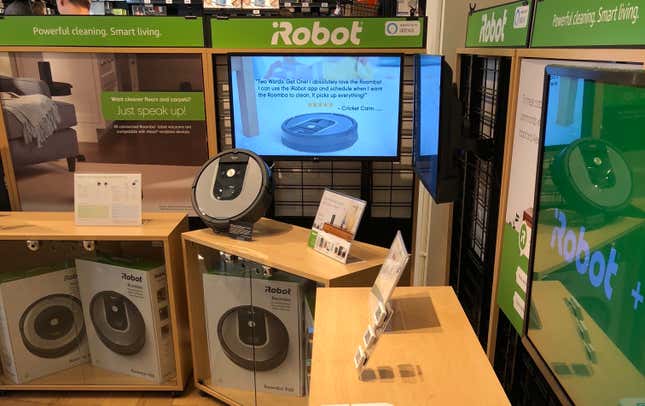 It's really a Prime store
Prices at Amazon 4-star match those on the retailer's website, although here they are called the "Prime price," and only Amazon Prime members can get the discount that's available to everyone online. There is no point shopping here unless you have Prime, which the store is happy to sell you at checkout with a 30-day free trial.
This is in keeping with Amazon's strategy to push Prime wherever possible. It recently started offering Prime discounts at Whole Foods, the supermarket chain that Amazon bought last year.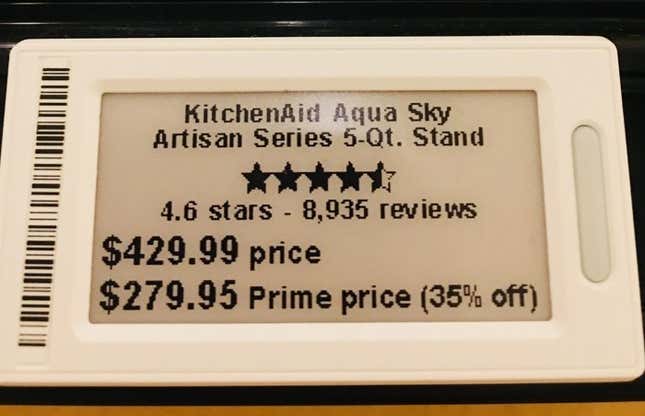 Digital price tags, which look like tiny Kindles with their e-ink displays, connect to the internet and stay in sync with Amazon's online prices. I stared at a few of them for a while, hoping to catch the invisible hand at work, but prices appeared to be stable. It was easy to imagine, though, a future in which my Prime account were used to personalize offers in the store.
Shopping these days is always an exercise in surveillance, whether it's a product ad following you around the web or brick-and-mortar stores tracking your phone. Amazon 4-star attempts to frame this as a consumer benefit: Millions of customers have already done the work of selecting the products for you. There are a few clerks on the floor to help answer questions (mostly about Alexa), but shoppers are largely left to move around by themselves, floating amid the data.
Upon exiting the store, you are asked to rate the experience using a kiosk produced by the Finnish company HappyOrNot.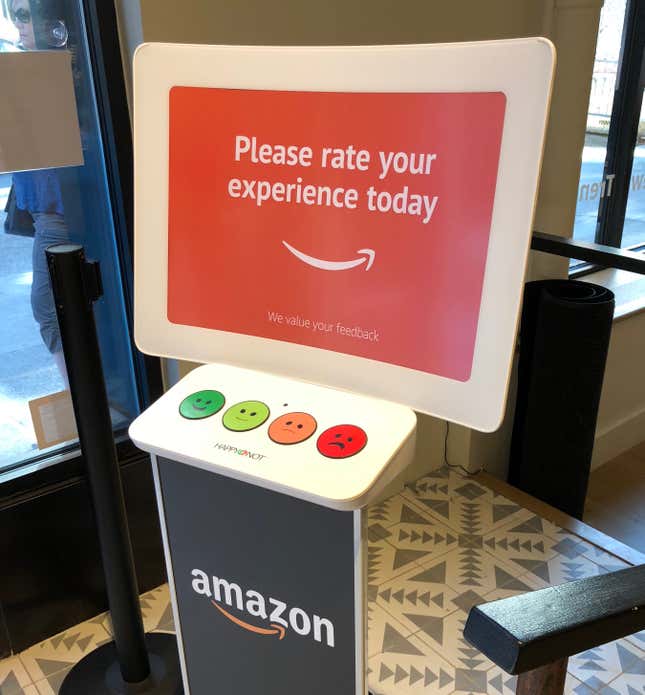 It's still digital
The idea of Amazon has always been that you can trust it has the lowest price (even though that's not always true). And the idea of Prime is that you should never hesitate to buy something because of prosaic barriers like shipping costs.
In its physical retail stores, Amazon has paired these ideas to make shopping as friction-free as possible. At Whole Foods, it is trying to emphasize "microtrips," encouraging customers to pop in frequently for a few items, rather than once-a-week for a full cart of groceries. At Amazon Go, it has eliminated check-out.
The easy shopping experience is emphasized at Amazon 4-star, too. Selling just one blender, one shower curtain, and one pizza cutter certainly cuts out the usual hemming-and-hawing at, say, Bed Bath & Beyond. And once you've put your faith in Amazon and made your selections, you can pay at the register with your Prime account. (You sure-as-hell can't pay with cash).
But when I spotted a book I've been meaning to purchase—The Food Lab, by J. Kenji López-Alt—it was heavy in my hands, and I dreaded the idea of carrying it back home with me. So I opened Amazon's app, instead, and pointed my camera at the display of cookware in front of me. It instantly recognized the book, and I purchased it with just a tap for the same price, Prime free shipping included.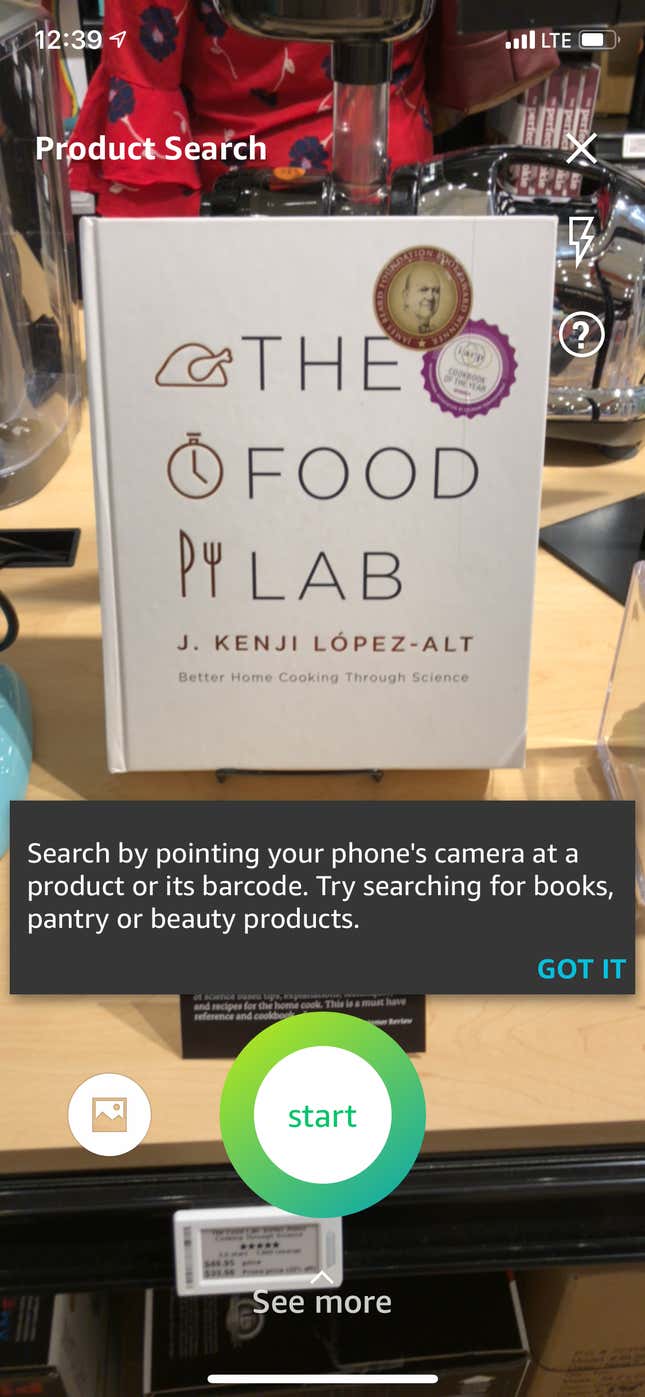 It's arriving tomorrow.