There are so many ways for China to learn how great Xi Jinping is.
Citizens can sit through this 90-minute documentary dedicated to praising China's achievements since he took center-stage as Communist Party general secretary in 2012, read one of several books that compile Xi's speeches on governing, or attend courses at one of the new university centers dedicated to his thinking. Now a local TV station in Hunan province has come up with yet another way—have people compete with each other on a game show about Xi.
The show, titled 新时代学习大会, can be translated two ways—Study Session in the New Era or Studying Xi in the New Era. It's a play on the words 学习, or xue xi, a combination that can mean either "to study" or "studying Xi."
The second season of a series called Socialism is Kind of Cool (社会主义有点潮), the show began airing nightly from Sunday (Sept. 30), just ahead of the first anniversary of China's 19th Party Congress, when Xi enshrined his political theory—Xi Jinping Thought on Socialism with Chinese Characteristics for a New Era—in the party's constitution. That put him on par with Mao Zedong, who is the only other Chinese leader to have had a political theory bearing his name attached to the constitution while continuing to rule. Xi is just a year into his second term as party general secretary, and it's unclear how long he may lead China. In March, China amended the country's constitution, and removed term limits for the post of president.
In the wake of last year's congress, the cult of personality around Xi has become ever more visible.
In each 40-minute episode of the show (video, link in Chinese), which takes place in a virtual spaceship, three contestants compete with each other to explore topics like the origins of Xi's thoughts, and the changes they will bring to China. That requires a pretty detailed memory of Xi's theories and speeches.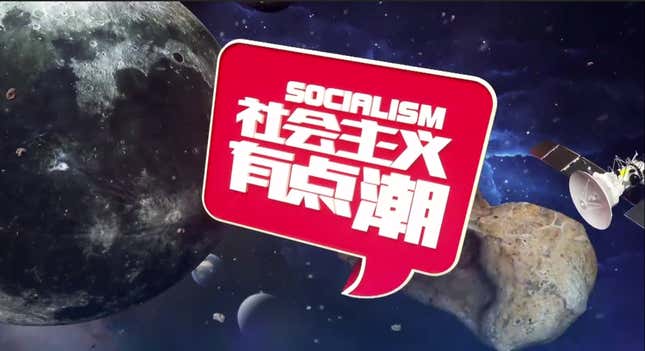 A virtual bot, named "2050" for the year that Xi has envisioned China being a leading global power, asks the questions. In the first part of each show, each contestant has to answer five multiple-choice questions, mostly about how China has benefited from one or another of Xi's policies. For instance, in last night's episode (video, link in Chinese), a question asked a contestant to come up with a country that has a population equal to the number of people China has raised out of extreme poverty since 2012. (Hint: the correct answer is country in Europe.) Other questions involved deciphering Xi's "two birds" theory, and guessing which of the country's trains is the fastest. Students and soldiers in the audience can participate in the first round of competition.
The two people with the highest scores proceed to next round, where the must listen to excerpts of Xi's speeches and press a buzzer to be the first to explain the meaning of a term, or where the speech was made. The last part of the episode involves speaking for about a minute-and-a-half on a topic. Last night's was: "What changes have been brought by new era thought?" The audience and two professors, usually from a university's political thought education department, jointly decide the final score. The winner becomes the challenger in the final round of the next episode.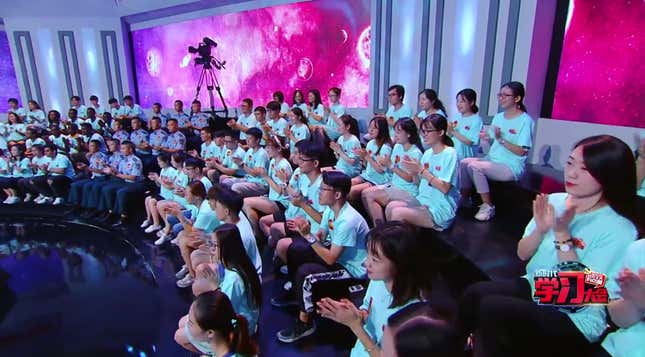 It's unclear what prize the season winner gets—if any.
The show, which ends Thursday, aims to "guide Party members and young students to better comprehend the new thoughts," according to (link in Chinese) China's state media People's Daily, and is one of a series of efforts by local party committees to update propaganda efforts to appeal to the country's youthful, mobile-savvy population. The Xi show has averaged around 400,000 views an episode, trailing far more popular fare, such as Story of Yanxi Palace. The hit costume drama from China's iQiyi streaming platform about the scheming ways of 18th-century concubines racked up more than 200 million views an episode by its conclusion in August. Imperial Concubine Thought, it appears, is far more compelling.