This year will undoubtedly be remembered in South Korea as the year when its neighbor to the north—and sworn enemy—came in from the cold and made the first steps toward peace on the peninsula.
There were other occasions for celebration in 2018, for example in the sporting arena, where Koreans marked an important victory in the World Cup and a surprise medal in curling at the Winter Olympics.
Amid those moments of euphoria, there were also lows—not least for South Korea's army of crypto investors, who've been weathering this year's market crash. For young Koreans, meanwhile, it was business as usual in a country with chronically high rates of youth unemployment and where dreams of happiness seemed ever more unattainable. These ups and downs were reflected in the memes that captured the Korean internet in 2018.
The Inmyeonjo mythical bird
The year started off on what felt like the brink of nuclear destruction, as US president Donald Trump and North Korean leader Kim Jong Un traded fiery barbs threatening war. That hostility, however, quickly gave way to February's Winter Olympics in Pyeongchang, allowing South Korea to take center stage in the role of peacemaker. Among the most surprising and memorable moments were the sight of North and South Korea marching together under one flag, the joint North-South Korea women's ice hockey team, US vice president Mike Pence and Ivanka Trump sitting near Kim's sister and North Korean general Kim Yong Chol—and for many South Koreans, Inmyeonjo.
The human-faced sacred bird delighted audiences in South Korea during the opening ceremony, inspiring countless jokes and memes on the internet. The Inmyeonjo is a creature often featured in East Asian mythology, and dates back to the Goguryeo kingdom on the Korean peninsula, which was founded around 37 BC. The creature also represents peace, making it a fitting—if also somewhat creepy-looking—symbol for the Pyeongchang games.
#MexiCorea
Not since 2002, when South Korea and Japan jointly hosted the World Cup, has there been so much global attention paid to the Korean national soccer team.
The country's World Cup journey in Russia this year started off poorly, with the team losing to Sweden and Mexico in the group stage. Then something unimaginable happened—South Korea beat reigning champion Germany, knocking it out of the tournament and paving the way for Mexico to qualify for the next round.
In response, Mexicans took to the streets to express their gratitude for Korea. In Mexico City, for example, locals carried South Korean tourists and residents, including the consul general. The hashtag #MexiCorea trended in both countries.
Pyongyang cold noodles
For many Koreans, the detente between North and South Korea this year might be best remembered for the moment in April when Kim Jong Un crossed the Military Demarcation Line that has divided the peninsula since 1953. That historic day ended with a state banquet, where South Korean president Moon Jae-in was treated to symbolic entrees, including cold noodles made by a chef in Pyongyang especially chosen by Kim.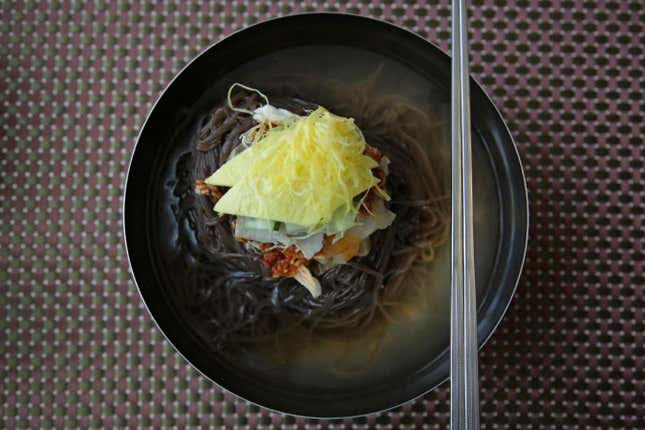 That set off a craze in South Korea for North Korea-style cold noodles, or naengmyun, as people queued for hours to sample the dish.
South Korea's cold noodles are different from those of North Korea in a few ways. The North's most well-known kind, Pyongyang-style naengmyun, is usually made of buckwheat, while its South Korean counterpart uses wheat starch. The broths are different too—in the South, a clear beef broth is used, whereas Pyongyang noodles contain a broth of beef stock and radish kimchi.
Finding happiness in little things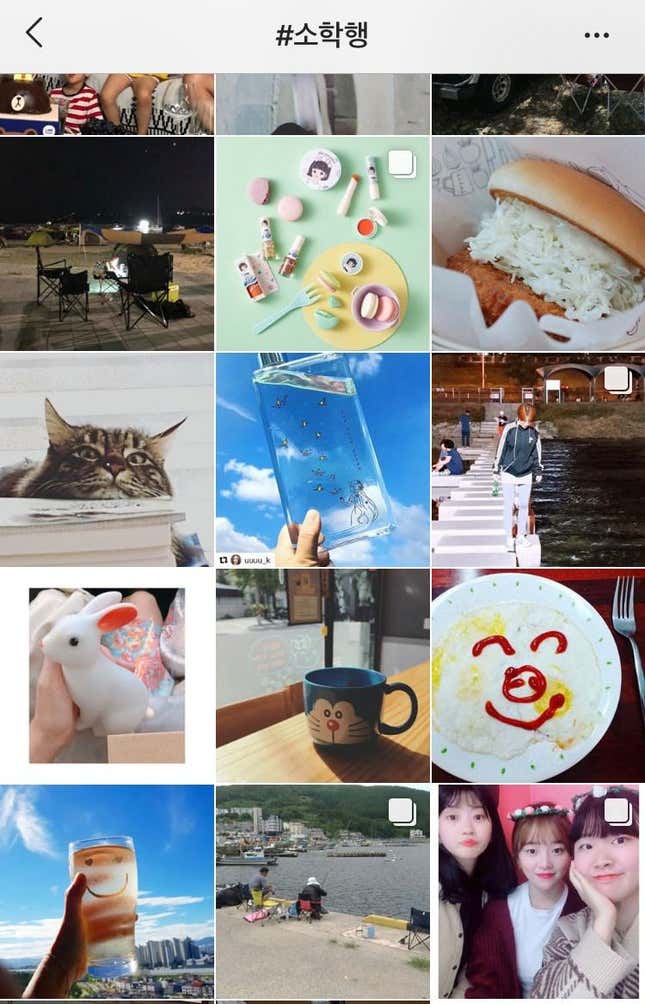 Life in South Korea can be exhausting—some even describe it as hellish—for young people. Nearly 10% of Koreans in their late 20s are unemployed, while the relentless pressure to be successful in the face of widening income inequality and a high cost of living makes happiness feel unattainable for most young Koreans. As such, more and more of them are turning to little things for respite from the hardships of everyday life, known as sohwakhaeng, or "small but certain happiness."
These moments, according to Korean youths, could be anything from buying snacks from street stalls to trying their luck at a claw-machine game to petting a dog. Koreans have taken this year to share such moments on social media under the hashtag sohwakhaeng (#소확행).
The term was first introduced in a Haruki Murakami novel in the 1980s, but became a buzzword this year in Korea as the job market continued to worsen, despite pledges (paywall) by liberal president Moon Jae-in to tackle youth unemployment.
This culture of instant gratification also exists in Taiwan, where young people feel similarly despondent about their future prospects—though there, the phrase xiaoquexing (小確幸) often carries negative connotations of a young generation who are devoid of ambition and mooch off their parents.
Warren Buffett says jonbeo
South Korea is among the most crypto-crazy countries in the world. So when the price of bitcoin and other cryptocurrencies soared in 2017, the country's investors collectively shouted gazua, a version of the Korean word gaja which means "let's go!"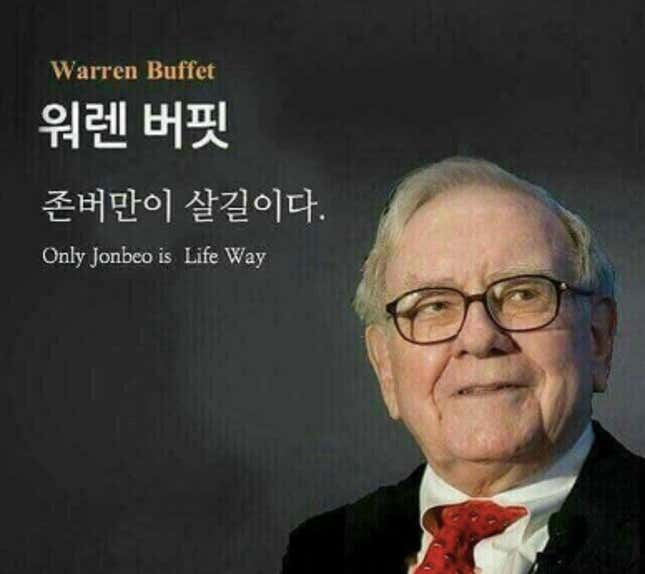 But 2018 is looking a lot different for Korean crypto investors. This year, as the price of cryptocurrencies plummeted and the government cracked down on trading, many cried out jonbeo, the Korean equivalent to "hodl," slang which means to stay invested in crypto and not capitulate in the face of plunging prices. Gallows humor permeated throughout the crypto community, with some, for example, circulating memes of Warren Buffet imploring Koreans to jonbeo.
It's hard to understate the popularity of cryptocurrency in South Korea and the wider societal impact of this year's rout in the asset. Some estimates say that about 30% of Koreans have invested in cryptocurrencies, and the country accounts for almost a third of global trading in the asset.
Bitcoin has plunged more than 80% this year, from a record high of just under $20,000 to around $3,500 (as of Dec. 18). It seems that some South Koreans are going to jonbeo their way to the end of 2018, and probably far beyond.