Despite signs the auto market in China is slowing, investors are still bullish on electric cars, regardless of how untested the players behind them are.
The latest example is Byton, a three-year-old electric car startup backed by social media giant Tencent. It's seeking to raise at least $500 million in its latest fundraising, Reuters reported on Tuesday (Jan.8), citing unnamed sources. That will put the firm, which has delivered zero cars since debuting an all-electric SUV prototype at last year's Las Vegas Consumer Electronics Show, at a valuation of $4 billion. A company spokesperson told Quartz that the firm is still in the process of fundraising and declined to provide further details.
Similarly, Xiaopeng, an Alibaba-backed car brand that also made a buzzy appearance at last year's CES, reached a valuation of $3.6 billion in August, four months before it delivered 24 cars to customers.
Byton's funding news comes as China's auto market expect to see the first decline in annual automobile sales since 1990, while sales of electric vehicles (EVs) continue to grow. The sputtering conventional car demand is likely a result of a slowing economy and restrictions on new car registrations for fossil-fuel cars in large cities. At the same time, the government is financially supporting the "new energy vehicles" (NEV) sector, which includes pure battery and plug-in hybrids, leading to investor enthusiasm for EV startups.
Byton, which is headed by former BMW veteran Carsten Breitfeld, returned to CES this year with an SUV it's now calling the M-Byte—which still features the 48-inch-wide dashboard video display it drew attention with last year. In all, the M-Byte has five screens in the car, including a touch screen floating atop the steering wheel, a screen between the driver's seat and the front passenger's seat, and two screens for back seat passengers. Amazon's Alexa will provide voice control for the car.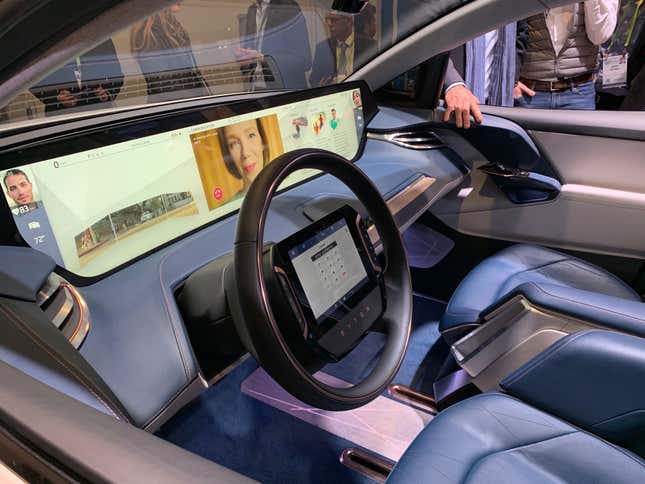 The M-Byte model displayed at the CES isn't the final version, however. The EV maker will roll that out in mid-2019, and start mass production at the end of the year. Byton said at the CES show that it has received more than 70,000 pre-orders for the car, which the firm puts at a starting price of $45,000 with a 71 kWh battery capable of around a 250-mile range.
It's crucial for Byton to ramp up production quickly—a question Byton's Chinese startup peers have been struggling with even with millions of dollars at hand, as a result of government manufacturing restrictions for new car makers. So startups are counting on existing manufacturers to help them make cars—a path taken by Xiaopeng, which turned to decades-old car manufacturer Haima Automobile. Others like Byton and WM Motors, a Shanghai-based EV startup, are building their own factories after securing manufacturing licenses by acquiring an existing carmaker.
Byton will be selling cars in a market facing fiercer competition in the premium EV sector by the time it starts production. NIO, a Shanghai-based, New-York-listed car maker, is on track to sell more than 10,000 cars in 2018—not so far off Tesla's sales in 2017. Tesla itself will start manufacturing the Model 3 and Model Y for China, the California-based car maker's biggest overseas market, at a new Shanghai factory it started building work on this week. In 2020, a slew of foreign car brands, including German's Audi and Mercedes Benz will also roll out EV models for the market.
Looking for more in-depth coverage of the show? Sign up for our special-edition CES Daily Brief.