In 2015, the detention of five female activists who handed out stickers against sexual harassment on public transport seemingly sent feminism in China underground. Yet last year, #MeToo began an uneasy journey in China, in fits and starts, again a backdrop of censorship and repression. Now a lawsuit born from that movement will be the testing ground for women who challenge sexual harassment in China.
Inspired by accounts that students in China were sharing online of being sexually harassed, 26-year-old Zhou Xiaoxuan, a young female screenwriter in Beijing, wrote down her own story of what happened to her as an intern in 2014 while working for Zhu Jun, one of the country's most recognizable faces on television. Zhu, who has for more than two decades hosted the country's annual Chinese New Year extravaganza on state broadcaster CCTV, allegedly groped Zhou and tried to kiss her at work. The account went viral after her friend shared it (link in Chinese) on social network Weibo in July, energizing the discussion over sexual harassment in China and turning her into a symbol (paywall) of the #MeToo movement. Zhu disputed Zhou's account (link in Chinese) via a lawyer, and sued her for defamation.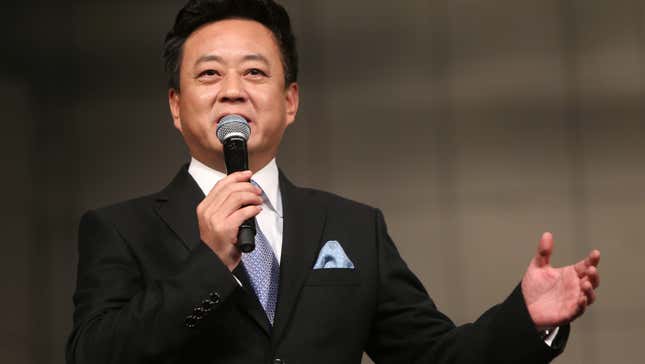 Zhou recently announced on Weibo that she is now seeking to sue the TV host for sexual harassment, something only made possible after a Supreme Court order (link in Chinese) went into effect this month. If the court agrees to her request to amend her earlier accepted complaint of "violation of personal rights" against Zhu, it would be the first-ever civil sexual-harassment lawsuit in the country, Qu Zhenhong, a Beijing-based lawyer told Quartz.
"My lawyer told me that if I lose my case, it's possible that there won't be anyone else willing to speak up," Zhou told Quartz. "I want to tell girls that in China, we are bound to fail multiple times before we succeed. In that sense, failure still means something."
Such a high-profile challenge against a celebrity of Zhu's stature could reignite interest in China's #MeToo movement. The campaign has largely been silenced online and in the media by the government against a backdrop of an intensifying crackdown on activism ahead of a series of sensitive anniversaries (paywall) marking crucial student-led protests. More than 100,000 people (link in Chinese) retweeted Zhou's latest update on the court case on Weibo, while real-time searches for the CCTV host surged to more than 770,000 on the night (link in Chinese) of the update.
Giving a little, taking a lot
After the detention of the "Feminist Five" in 2015, few expected the #MeToo movement—which took off first in the US in 2017 as women began sharing their personal stories of harassment—to resonate in China. But in January last year, Chinese women began sharing their stories. After authorities started censoring posts tagged #MeToo, they tagged their posts with the characters for "rice" (mǐ) and "bunny" (tù). In one case, students at the elite Peking University tried to seek information about a two-decade-old case of a student who had killed herself after being sexually assaulted. The movement spread from universities to other institutions in China, and even took down a powerful Buddhist monk.
There have been some encouraging results in the months since. In November, the Ministry of Education (link in Chinese) specified punishments for the first time for teachers who sexually harassed students, while the country's first civil code proposes adding protections against sexual harassment. "The cost of committing sexual harassment has become much higher," said Huang Xueqin, a journalist and activist in Guangzhou who conducted an online survey last year that drew responses from nearly 2,000 women detailing their experiences of sexual harassment.
Yet these wins are stacked against the enormous efforts authorities have put into a broader crackdown on student activism.
The students who lobbied Peking University to explain the 1990s sexual harassment case say they were harassed by school authorities. More chillingly, students advocating for labor rights in southern Guangdong province—some of whom also participated in #MeToo activism—disappeared in August after a police raid. Last month, a physical altercation broke out between Marxist students at Peking University and armed guards, while authorities shut down a Guangzhou-based sexual-education center, which was founded by a member of the Feminist Five two years ago.
Xu Chao, the friend who shared Zhou's story (link in Chinese) on Weibo, was also sued by the TV host, and said she has faced harassment at work, and even at home. Her landlord even threatened to evict her if she didn't delete her post. "I was preparing for the worst, that Zhou and I might be taken somewhere and locked up," she said.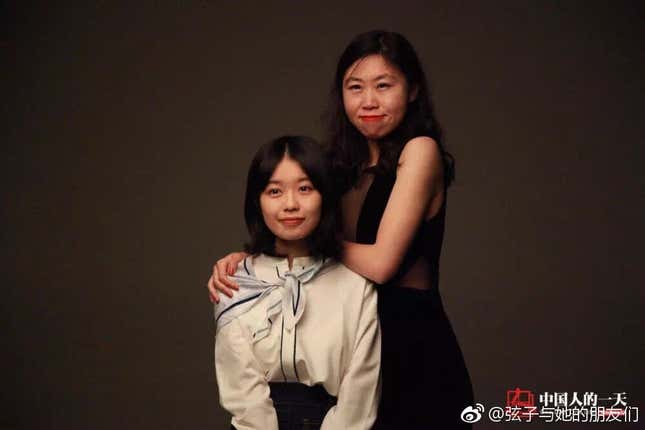 Despite the pressure against women who have spoken out, Huang, the Guangzhou-based activist, said she still thinks #MeToo, and earlier efforts against sexual harassment, have had an impact. "You have tossed a stone, even if you are not yet making waves [everywhere]."
"I am willing to be a trailblazer"
Some argue that China's feminist activism—and #MeToo as the most recent manifestation of that—hasn't been able to generate much momentum or break out beyond a small circle of organizers, in large part because discussions of feminist issues face censorship.
Luqiu Luwei, a veteran Chinese journalist who now teaches at the Hong Kong Baptist University, conducted research into the news coverage of sexual harassment in China in 2017 and last year. She found that there had actually not been a noticeable surge in news reports in the first six months of 2018 on the issue, despite the ballooning allegations being reported by students about their former professors early in the year.
She also noted that much of the interest in #MeToo in 2017 in Chinese media stemmed from the fact that state media wanted to frame it as a Western problem—once the movement arrived on China's shores, incentive to cover the domestic cases of sexual harassment lessened, with the hashtag appeared to become banned around April. Given that reality, a lot rests on the outcome of this case.
While some men who faced #MeToo accusations in China were suspended from their professional roles, CCTV still lists Zhu as a host (links in Chinese), though he hasn't appeared on any of the network's shows for a while. More importantly, he isn't named on the list (link in Chinese) of hosts for this year's New Year Spring Gala next week. Zhu couldn't be reached for comment for this story.
"Zhu Jun's case is quite important. First of all, he's a celebrity, so his case can definitely increase the awareness of the public, and also the media is allowed to report that case because they don't need to [mention] #MeToo" while reporting it, said Luqiu. "If women lose their cases, there will be a backlash."
Zhou is still doggedly pursuing her case in China's legal system despite being constant warnings from people around her that she may face repercussions that could last well into her lifetime. After all, when she first tried to bring a complaint against Zhu five years ago, police discouraged her because of the host's and CCTVs "positive influences" on China.
"If I fail one day, I will blame it on not being smart enough… I hope girls won't feel disheartened by my failure" Zhou wrote on her Weibo (link in Chinese) this month. "I am willing to be a trailblazer to pave the way for your future victory."