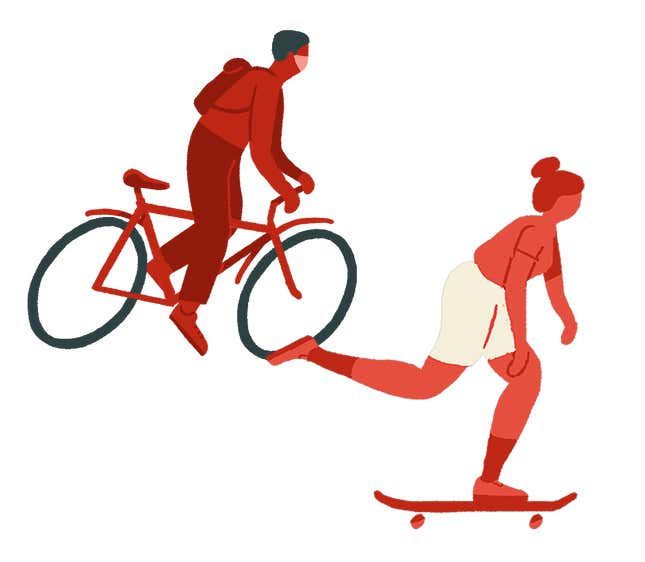 💡The Big Idea
The coronavirus is providing a unique opportunity to reshape the way we move through cities, and to ensure that future plans consider the needs of all. Here's the TLDR on our latest member-exclusive field guide on the commuting revolution.
---
🤔Here's Why
1️⃣  The sudden drop in demand and overall reconfiguring of our lives is giving cities a chance to rethink public transit and reckon with their social inequities.
2️⃣  Some planners are jumping at this opening to influence what comes next.
3️⃣  Change may be slow to come, especially where the transit systems were already high-functioning.
4️⃣  For others, it's a question of improving what already exists.
5️⃣  If cities do want to encourage better habits, now is the time.
---
📝 The Details
Improvements in urban transportation have made life better for many residents but, like so many other innovations, they haven't affected everyone equally. Structural inequalities and discrimination have dictated who could afford new commutes to the suburbs, and who was stuck living with dubious bus or train service at best. In South Africa, for example, a sprawling informal minibus system arose out of a disregard by the apartheid government for the commuting needs of the country's Black-majority population. In the US, blatant racism has always been a part of the transit story.
What's at stake goes far beyond getting office workers from their home offices to downtown financial districts. If transit agencies continue to see massive losses over the long term and begin to collapse, the same people who have been disproportionately affected by the virus stand to be affected.
Now that ridership has dropped by as much as 90% in major US metros, all those empty seats are giving cities a chance to ponder their identity: who do they serve and why? Led by San Francisco, a new model is emerging, one that weaves together transit and micro-mobility options, with personal vehicles on the outside, and underserved communities at the center. This approach optimizes what transit does best: funneling as many people through central routes as efficiently as possible, even if that means sacrificing some direct services. To compensate, cities are multiplying the options people need to access these main lines—without cars.
In other cities, bicycling and walking are becoming more common. Cycling has seen the most dramatic spike in popularity, with US sales of bikes and bike parts reaching a record $1 billion in April. But as cities such as New York explore new paths, they will also have to consider the potential downsides of new modes of transit, which aren't always as equitable as they seem.
Crowded trains have always been part of life in Tokyo. The coronavirus pandemic hasn't put an end to that—but it's offering a glimpse of a future when they might no longer be spilling over. The outbreak of the pandemic forced companies and employees to suddenly experiment much more swiftly with work-from-home practices, but the rapid revival of commuting in the last few weeks suggests that any work revolution brought about by the coronavirus pandemic in Japan will take some time to percolate.
In all the justified excitement about the Covid-enabled revival of bicycling and e-bikes, or micro-mobility solutions like electric scooters, transit enthusiasts should also be careful to save some passion for an even older form of transportation that can move greater numbers of people: the bus. They may finally be getting some respect, precisely thanks to who rides them: essential workers.
In Delhi, for example, buses were the first system cleared for reopening amidst the pandemic, in recognition of the essential, affordable service they provide for the city. Neglected for years as the city focused on the shiny new metro system, the coronavirus pandemic has highlighted how much of a lifeline they provide.
Transit planners know how commuting adjustments can be sticky. "Any time someone goes through a major life change, like they switch jobs or they move in with their partner, or they have kids, it's a moment where they reset their transportation habits," says Steven Higashide, director of research for the TransitCenter, a research and advocacy group based in New York. "Those habits are hard to break, until some other major change happens." For that very same reason, he adds, this is exactly when cities need to act.
The Covid-19 pandemic has given moral credence to years-long calls for transit reforms to undo damage from the past, and make commutes not only greener, but more inclusive. We know what needs to be done, and, as Paris shows, the most promising experiments don't always require large amounts of money or time, but they do take creativity and commitment.