British car sales have been a rare bright spot in Europe's otherwise sputtering auto market. They did not disappoint last month, with March sales surging by nearly 18%, to just below the all-time record for the month, set 10 years ago.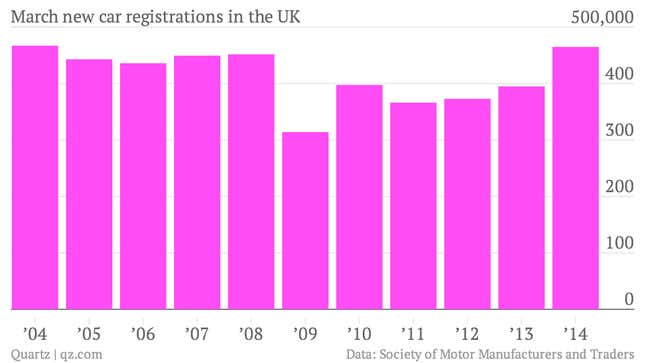 The latest numbers are "surprisingly strong," according to the head of the industry group that collects the data. This has been a theme for the buoyant British economy for some time, in a wide range of industries. The strength has caught policymakers off guard, although this is a good problem to have, as the head of the central bank admits.
On a rolling 12-month basis, British car sales are just about back to their pre-crisis average: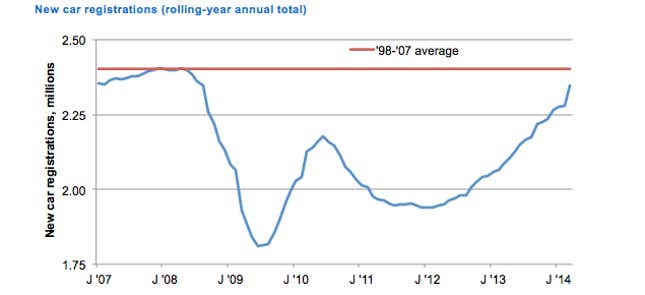 Although Brits are back to buying as many cars as they were ten years ago, their tastes have changed. Sales in the fuel-efficient "mini" segment have more than doubled over the past decade, while "supermini" cars have also gained ground. This has largely been at the expense of the pricier, petrol-guzzling "upper medium" category, which has seen sales fall by half over the past 10 years.
In a sales update today, Mercedes-Benz noted that its compact models paced the company's March sales, which set an all-time monthly record for the German automaker. Its sales in the UK grew 20%, more than double the rate in Europe as a whole.
In terms of brands, however, more Brits appear to prefer American autos. The two top-selling models in the UK so far this year are made by Ford (the Fiesta and the Focus). Along with two other popular models produced by GM-owned Vauxhall (the Corsa and the Astra), four of the top five cars sold in Britain come from American-run firms.
Refreshingly, British drivers are also growing bolder when presented with color swatches at car dealerships. Nearly two-thirds of cars sold ten years ago were silver or blue, while today only a quarter are, which has led to a more diverse rainbow of smaller, zippier cars whizzing around Britain's motorways.