It's getting competitive out there for banks.
The rating agency Moody's Investors Service is warning in a research note out today that some of banks' traditional lending businesses are starting to face stiffer competition from non-banks, which encompass financial firms that offer loans and other bank lending products without a banking license (such as mortgage servicing firms).
We've written about non-banks' entrance into bread-and-butter home loans. The rapid emergence of non-banks, which can offer home loans and other debt products to average folks without the same level of regulation applied to traditional banking operations, has drawn the scrutiny of regulators.
The Moody's report points to the threat of heightened competition from lightly regulated areas of the so-called commercial and industrial lending space, which is geared toward providing loans to small businesses and mid-sized companies. Moody's cites the creation last week of Varagon Capital Partners—a joint venture between the giant insurer American International Group and the investment fund Oak Hill Capital—as cause for concern for traditional banks. Non-bank investment funds like Oak Hill have typically been investors in commercial loans rather than originators of those loans, so this new development may mark a shift in strategy.
Part of the concern is that the increased competition from non-banks will result in a decline in lending standards. As we've reported, there are some signs this is already happening. The chart below, from the Moody's report, uses data from Fed surveys of bank lending officers to highlight how banks have been letting some of their standards slip: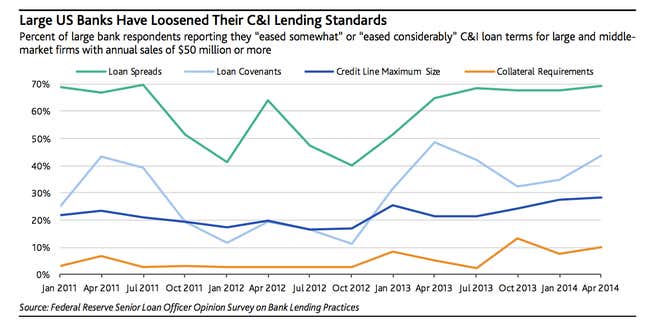 Commercial and industrial lending has enjoyed strong growth over the past several years, as we can see in the following chart: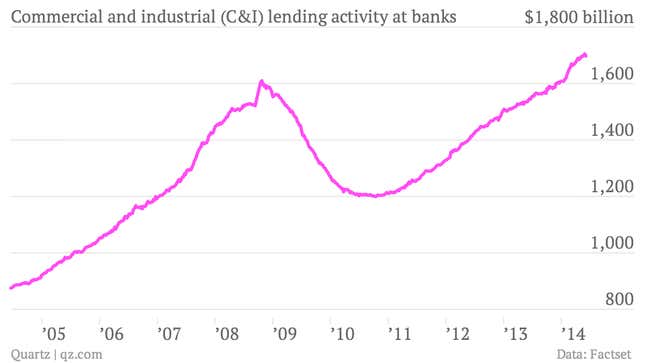 It remains to be seen whether commercial and industrial lending will be the next US financial bubble. But it's certainly an area worth watching.