A $20-billion Burmese railroad project that would link the Chinese province of Yunnan to the Bay of Bengal was cancelled this week due to fears over the project's environment impact and objections from the public. It was the latest backlash to China's attempt to expand its influence in its "near abroad" of southeast Asia.
The railway between Burmese city of Kyaukpyu and the Chinese city of Kunming was supposed to follow the gas and oil pipelines (the former is operational, the latter almost finished) that have been the target of widespread protests by Burmese who are outraged that a country largely without electric power is shipping its natural resources to China.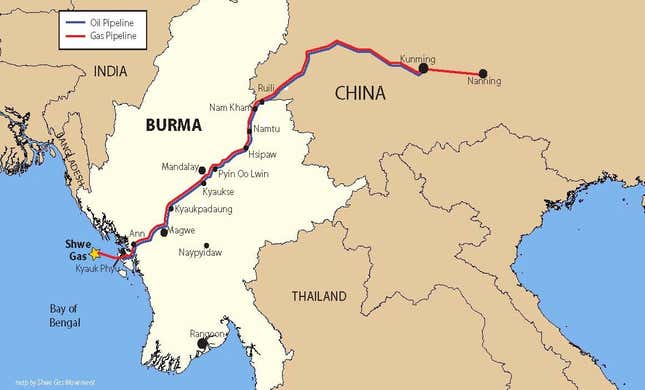 Civil society groups in Burma have long protested the Sino-Burmese railway, with groups in the country's Rakhine state saying it was one of 10 major infrastructure projects—including the China gas pipeline, major mining works, and hydropower projects—that were granted without the approval of local people who would be affected. Under a memorandum of understanding that has now expired, China was to finance most of the cost of the railroad in exchange for a 50-year concession to operate it.
"This is because we care about the people's desires. Most people view the project as having more disadvantages than advantages," a Burmese official told German press agency DPA.
Burma, also known as Myanmar, was once a major Chinese ally, but it has increasingly asserted its independence from Beijing since dissolving its military junta in 2012. China's investment in the country has plunged accordingly—from nearly $13 billion in 2011 to just $407 million in 2012 after the transition to democracy.
China's relations with many of its other neighbors in ASEAN (Association of Southeast Asian Nations), who have long been used to living in the country's shadow, haven't fared much better.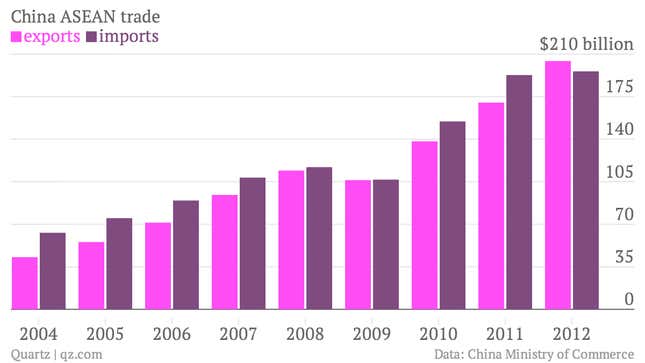 Beijing's controversial provocations in the South China Sea have already generated a upswell of public anger this year in Vietnam and the Philippines, both major Chinese trading partners that have also clashed with Beijing over disputed islands and offshore drilling rights. China's ties with Malaysia were also strained this year after the disappearance and bungled Malaysian investigation into a missing aircraft that had 154 Chinese citizens abroad, and by the kidnapping of a Chinese woman from a Malaysian resort.
But Beijing does still have one rock-solid ally in the region. In Laos it is building a controversial railroad, again from Yunnan province, to the Lao capital Vientiane, financed by a $7.2 billion loan to the Lao government—equivalent to 75% of the country's GDP. China's state-owned news service Xinhua reported this week that since the Burma project has been halted, China will proceed with its planned "Trans-Asian Railway" through Laos: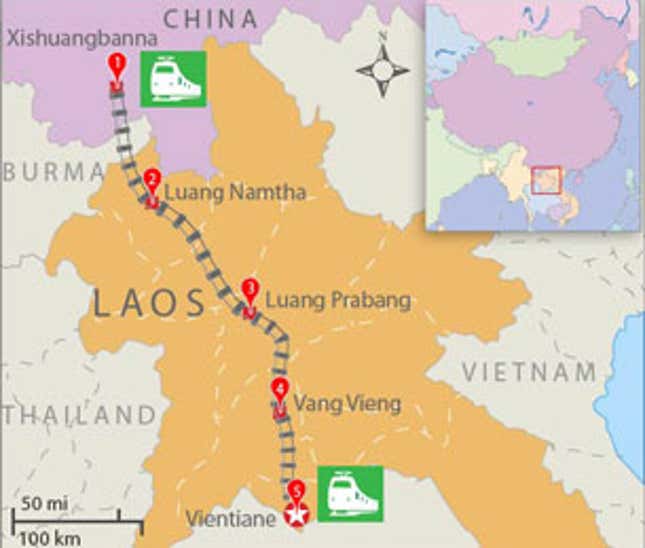 And if China is looking for more friends in the region, it may have find some in the form of Thailand's military junta, which recently took over the country in a bloodless coup d'etat. Beijing voiced support for the new military rulers, and is strengthening its ties to Thailand. Bangkok is a long-standing US ally, but China is also Thailand's biggest trading partner.