Ilham Tohti, a prominent scholar who is a member of the Uighur minority community in China's northwest, was sentenced to life in prison today for "separatism"—the toughest sentence handed to any dissident in China in recent memory. Tohti spent most of his career encouraging better communication between the Han Chinese that make up 90% of China, and the Uighurs, a group of about 10 million who speak a Turkic language and are predominantly Muslim: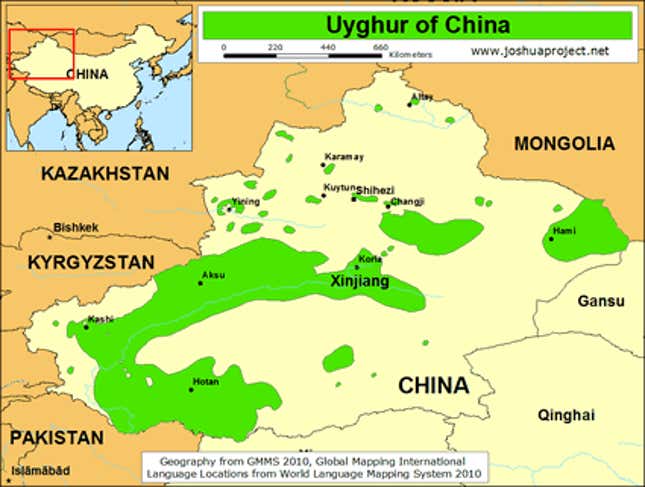 The ruling is part of a systematic crackdown on even moderate voices from China's Uighur community, which was first sparked by 2009 protests in the area that led to violent clashes and attacks on Han Chinese. The pressure on Uighurs has only intensified after a series of terrorist incidents in recent months. Beijing has established curfews in the northwest and banned Ramadan for many Uighurs, and is offering cash to Uighurs who marry Han Chinese in an attempt to promote integration.
The unexpectedly harsh sentence quickly drew national and international condemnation—Amnesty International called it "shameful" and Human Rights Watch "shocking." Wang Lixiong, a Beijing writer, declared today the day that "the Chinese authorities created the Uighur Nelson Mandela," a nod to Tohti's prominence and reputation for supporting peaceful dialogue.
Most of the charges against Tohti relate to "Uighur Online," a website he started in 2006 to promote better understanding between Han Chinese and Uighurs. It featured articles in the two languages about customs and values—which the Chinese authorities decided were a means for Tohti to have "bewitched and coerced young ethnic students to work for the website," according to a state media report on the ruling.
The website was shut in 2008 by the Chinese government, and information written by and for Uighurs has been systematically scrubbed from the Chinese internet in recent years. Millions of posts and webpages in the Uighur language were taken down after the 2009 protests, in what has been described as a "massive digital book burning" that has been catastrophic for preserving the Uighur tongue and culture.
Prior to Tohti's sentencing, the US embassy said his arrest "silenced an important Uighur voice that peacefully promoted harmony and understanding among China's ethnic groups, particularly Uighurs. We stress the importance of Chinese authorities differentiating between peaceful dissent and violent extremism."