New York is and always has been a place for strivers, regardless of where they were born, and in fashion it offers a wide open field. Of the major fashion weeks, including London, Milan, and Paris, it offers by far the greatest number of shows and is the most attended by a significant margin. That sprawling character is a weakness in some ways, but it also makes it accessible to those willing to come from all over the world to show here.
Seoul-based label Kye, which is popular in the K-Pop scene, presented a fun and, well, poppy collection this week.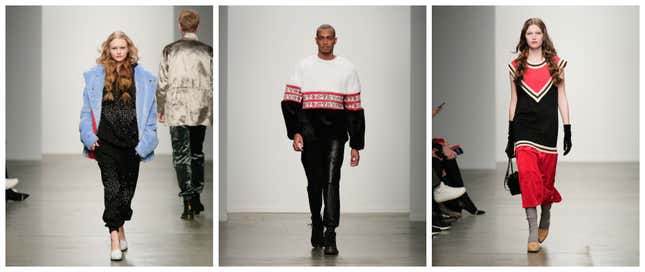 Fatema Fardan, who came from the United Arab Emirates for her New York Fashion Week debut, offered her take on modern modesty.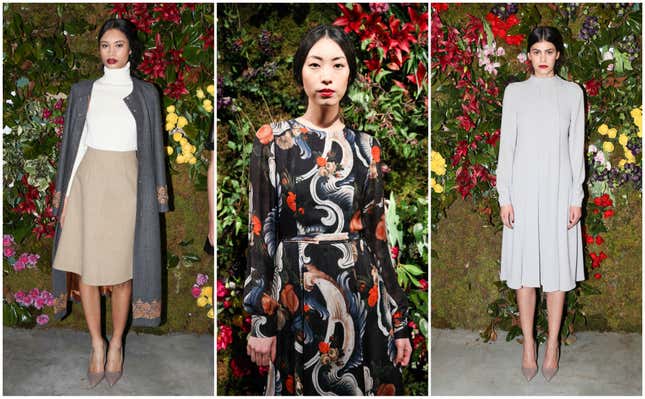 New York-based German designer Robert Geller was among those leading the charge in menswear away from the skinny silhouette and toward a wider mix of proportions.
There was plenty of US-born talent on display this week. Iconic American suit-maker Hickey Freeman sought to update its image with its Hickey Freeman Sportswear line and Greg Lauren—nephew of Ralph—turned in a destroyed, deconstructed, remixed, and mashed-up take on Americana.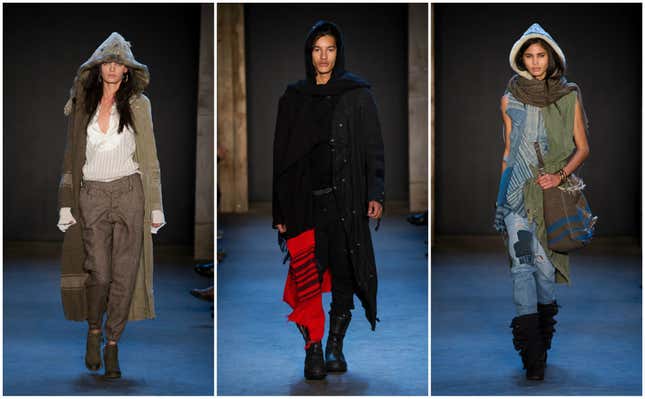 But designers from outside the continent who have found a home at New York Fashion Week—Karen Walker (New Zealand), Tadashi Shoji (Japan), Diane von Furstenberg (Belgium), Tim Coppens (Belgium again), Prabal Gurung (Singapore by way of Nepal), and Bibhu Mohapatra (India), just to name a few—were just as prominent.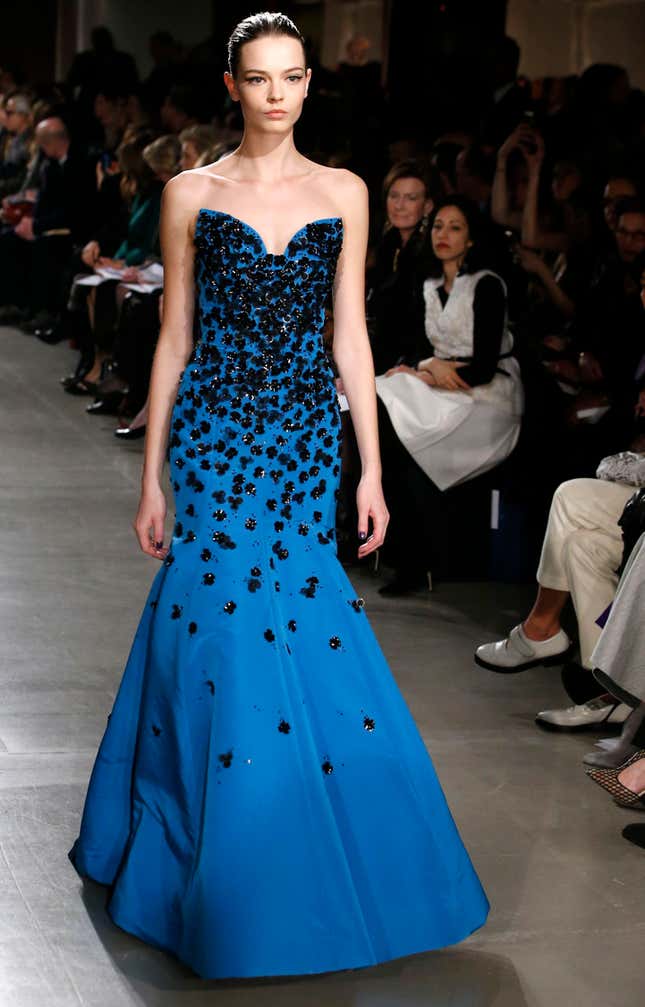 In fact, though the presentations have ended, one of the shows the industry is still buzzing about was Peter Copping's successful debut at Oscar de la Renta. Copping is a British designer, stepping in to fill the role of the recently deceased de la Renta, who was born in the Dominican Republic. Despite his birthplace, de la Renta was known as a great American designer, and he felt that way himself. When Michelle Obama wore a dress by a foreign designer to welcome the Chinese Prime Minister to a state dinner last year, de la Renta publicly criticized her for not showcasing "our"—that is, America's—fashion industry.
So New York Fashion Week is overcrowded, chaotic, and packed with attention hounds. Those aren't always great qualities, but they result from the thing that makes New York a welcoming home to foreign designers, the thing that makes New York Fashion Week so very New York: There's room for everyone.