Lee Kuan Yew, the founding prime minister of the city-state of Singapore and the man responsible for making the nation into an economic powerhouse, was known as a tireless worker even in his final years. Never far from his side was a burgundy-colored briefcase, about 14 cm wide, containing papers, letters, memos, manuscripts, and anything else he may have been working on at the time. As his former principal private secretary, Heng Swee Keat, noted in a moving essay about Lee's "red box," Lee used it every day until his hospitalization on Feb. 5.
Lee's red box was a specific type of case used for transporting documents. It served the place of a briefcase, which for Lee and his generation was a way to organize and carry around work. These days, however, the job of business bags is increasingly to carry laptops—work that is hardly limited to a case as discreet as Lee's—and they serve more as status symbols than necessities.
"Should a man wearing a suit carry a proper, equivalently formal, ergo, style-appropriate, briefcase?" said custom tailor and author Alan Flusser in the Wall Street Journal. "If he's interested in projecting an in-command, finished look, I would opt for 'yes.' "
In fact, men continue shelling out increasing amounts of cash for luxury bags, and the business bag market, which includes briefcases, attaché cases, and laptop bags, has followed suit. Last year it topped $9.4 billion globally, more than twice its value in 2000.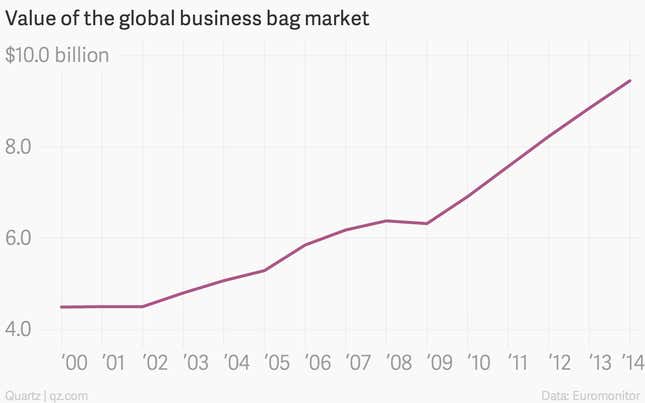 The share of the market held by business bags has remained relatively steady. In 2000, they accounted for about 7.7% of the overall bag market. By 2014 that amount had ticked up slightly to 8.5%.
The classic leather-bound, hardshell briefcase has also been replaced by bags in a wide range of styles and materials. Burberry's website currently offers more than 30 briefcases in shades ranging from dusty violet to coral red and materials as diverse as alligator and ostrich.
Lee's plain, beveled-edge box was a throwback, not only to a time when a man carried his work life around in one bag, but also to Singapore's days of British colonial rule, as Heng explains in his essay. British officials used them, and so did Singapore's early government ministers.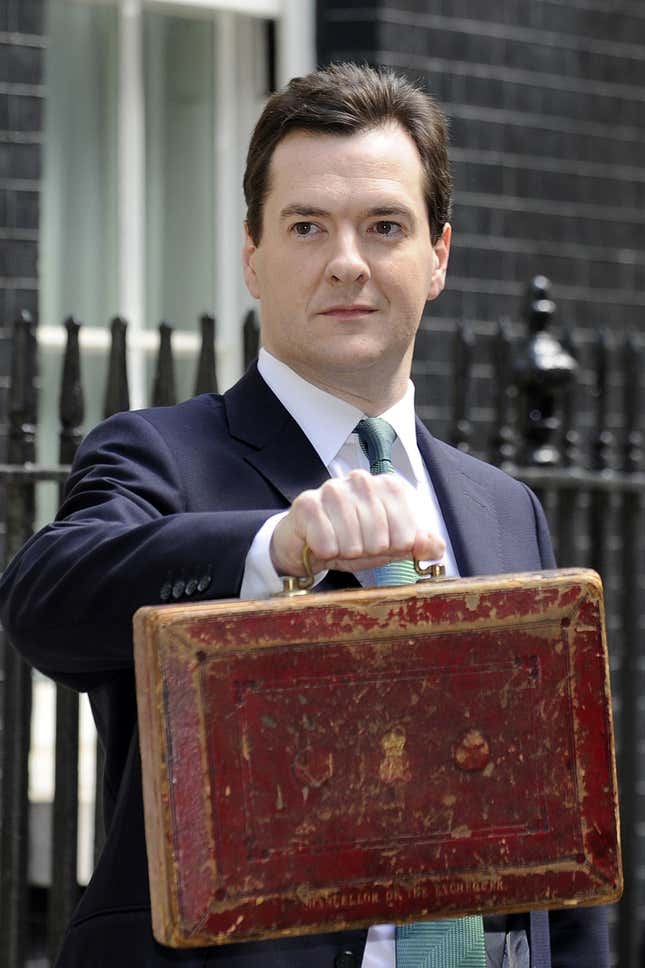 Today, the red boxes used by the British government are still in production. London-based leather goods company Barrow and Gale makes them out of pine grown in cold climates (it ensures durability) and covers them in stained ram leather. The most famous is the budget box, which Britain's budget chief trots out annually on budget day.
Lee was the only minister in Singapore Heng knew of who continued to use his over the years. To Heng, it was more than a way for Lee to carry around documents. It symbolizes "Mr Lee's unwavering dedication to Singapore," he writes. "The diverse contents it held tell us much about the breadth of Mr Lee's concerns—from the very big to the very small."
For such a distinguished case, the red box certainly wasn't very flashy, or indicative of any kind of status except that of a government employee. But Lee probably didn't spend time worrying about the way his red box looked. He had too much work to do.