Mad Men, America's favorite television show about the repressed ennui of 1960s advertising executives, ends its eight-year run on Sunday (May 17). There is plenty to remember it by: Jessica Paré crooning "Zou Bisou Bisou," graphic depictions of the perils of too much alcohol and too many oysters (be warned). But the wardrobe of Mad Men will surely be one of the show's most enduring legacies, particularly for men.
When the show first aired, spending on menswear had already begun its ascent, and it was suiting that led the way. From 1998 to 2014, sales of men's suits more than doubled, outpacing all other categories. Men's tailored clothing now sells $4.8 billion annually, according to NPD Group.
Mad Men's brilliant costume design helped fuel that demand. It bred obsession among menswear publications, such as GQ, and created a crowd of guys wanting to emulate Draper's dapper look. And then J.Crew stepped in to satisfy it, in the form of  its slim-cut Ludlow suit. The timing coincided neatly: the show's first broadcast took place in July 2007, and J.Crew debuted the Ludlow just a year later, in August 2008, at its Liquor Store shop in New York. It wasn't intended to dovetail with the show, but it did nonetheless, and J.Crew's customers responded.
"Mad Men's style definitely affected pop culture in general so that likely had an impact on what types of clothes some of our customers started to lean towards," Frank Muytjens, J.Crew's head menswear designer, tells Quartz.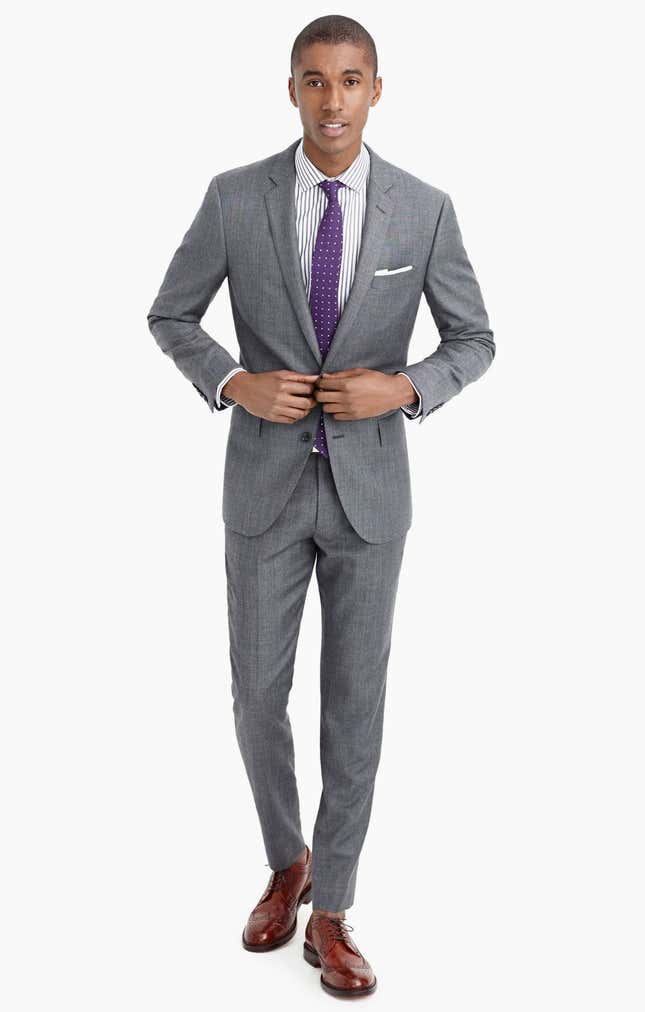 The suits that costume designer Janie Bryant created for the show, particularly those worn by its lead, Don Draper, were impeccable. Glamorous and masculine at the same time, with broad shoulders and sharp lines not unlike a '60s-era Chrysler, they were slim, but not skinny, in a way that read more American than European.
J.Crew captured that allure better than Brooks Brothers and better than Banana Republic, which later made Mad Men-branded collections. All the details were just right for a hit: slim cut, accessible price point at around $600, good marketing, and impeccable timing.
"It was an experiment for us, and we made it a little tailored for the downtown guy," a representative for J.Crew menswear says. "We dedicated a small space in the back room at Liquor Store for the suit and it just grew from there."
Despite the tanking global economy, which deflated suiting sales overall, the Ludlow sold so well that J.Crew developed more suits and eventually opened a dedicated suiting shop, called the Ludlow Store, in New York. The Ludlow suit is still selling today, even as J.Crew's broader business suffers a downturn.
In fact, slim suiting continues to be one of the big drivers of menswear sales (paywall), even as it fades from the runways. Although Mad Men is ending, a little bit of Don Draper lives on.