Alexa will put up with just about anything. She has a remarkable tolerance for annoying behavior, and she certainly doesn't care if you forget your please and thank yous.
But while artificial intelligence technology can blow past such indignities, parents are still irked by their kids' poor manners when interacting with Alexa, the assistant that lives inside the Amazon Echo.
"I've found my kids pushing the virtual assistant further than they would push a human," says Avi Greengart, a tech analyst and father of five who lives in Teaneck, New Jersey. "[Alexa] never says 'That was rude' or 'I'm tired of you asking me the same question over and over again.'"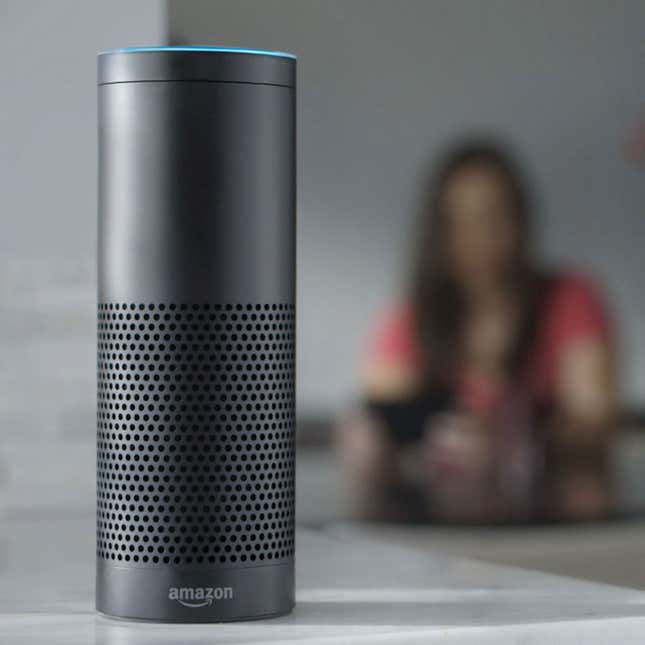 Perhaps she should, he thinks.
When Amazon released its internet-connected speaker in 2014, the world was puzzled. "Well this one came out of nowhere," mused the Verge. In the time since, the Amazon Echo has proven to be a sleeper hit, capable of learning many new "skills," so that it can control the smart home, add events to your calendar, summon an Uber, even tell knock-knock jokes. It's become such a curious and influential device that Google last month gave the world a peek at its equivalent, the Google Home, and Apple is reportedly cooking up its own version powered by Siri.
Because Alexa responds to verbal commands, the Echo is incredibly child-friendly. Amazon says it didn't build the Echo with kids in mind, but is eagerly embracing it. Unlike the iPad, which children have taken to with ease (ever see a toddler try to swipe a book or TV?), the Amazon Echo doesn't require them to learn new gestures or even know how to read. Mimicking their parents, they quickly discover that if they start a sentence with "Alexa," the speaker will perk up and (for the most part) do as they say.
Alexa, tell me a knock-knock joke.
Alexa, how do you spell forest?
Alexa, what's 17 times 42?
The syntax is generally simple and straightforward, but it doesn't exactly reward niceties like "please." Adding to this, extraneous words can often trip up the speaker's artificial intelligence. When it comes to chatting with Alexa, it pays to be direct—curt even. "If it's not natural language, one of the first things you cut away is the little courtesies," says Dennis Mortensen, who founded a calendar-scheduling startup called x.ai.
For parents trying to drill good manners into their children, listening to their kids boss Alexa around can be disconcerting.
"One of the responsibilities of parents is to teach your kids social graces," says Greengart, "and this is a box you speak to as if it were a person who does not require social graces."
It's this combination that worries Hunter Walk, a tech investor in San Francisco. In a blog post, he described the Amazon Echo as "magical" while expressing fears it's "turning our daughter into a raging asshole."
He might be a tad hyperbolic. ("For what it's worth," says Rebecca Hanover Kurzweil, a friend and fellow parent-cum-Amazon Echo owner, "his daughter is the sweetest girl you've ever met.")
In general, kids can be hard to understand—more so when it's artificial intelligence that's deciphering their speech. Hanover Kurzweil, who lives in San Francisco, says Alexa had a hard time comprehending her four-year-old son when he tried summoning the speaker with "Awexa." But after a month or two of working on his pronunciation, his l's started ringing clear as a bell, she says.
Walk, however, noticed another unintended effect of his four-year-old adapting her speech to Alexa's understanding. "Because she is a little girl," he says, "she needs to speak loudly, and there's an unintentional aggressive tone to her command."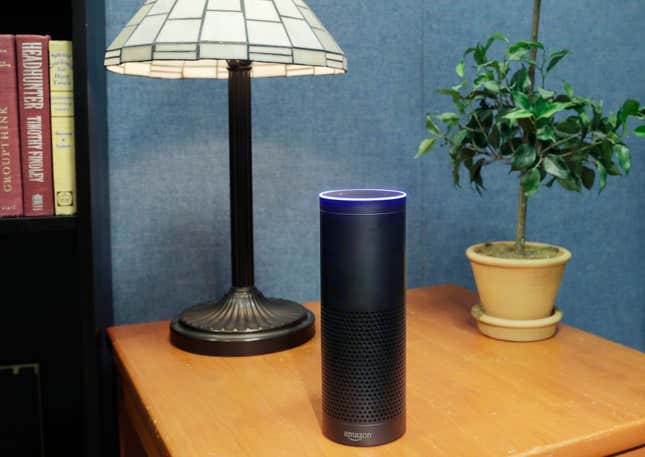 Not all parents are so worried about the implications of their kids' mannerisms when interacting with a speaker, though. This is, after all, a "can that sits on a table," says Holly Petersen, a mother of two who lives in St. Louis Park, Minnesota.
Though Petersen jokes her kids should've given Alexa a Mother's Day card, she believes her children, ages five and seven, know the difference between bot and human.
"It is important for my kids to be able to empathize with people and read emotions off people and be polite with people," she says. But "Alexa doesn't have feelings, and I don't want her over-personified."
Kim Barry, a mother of two who lives in North Bay, Ontario in Canada, is contemplating buying an Amazon Echo for her household after seeing her kids interact with their uncle's device over video chat. "When they're Skyping with uncle Andrew, they Skype with Alexa," she says. But she isn't too concerned about their manners. "Realistically, it's no different than Google on their tablet," she adds, noting that her children often use the voice search function.
Still, with the proliferation of AI, a debate is emerging around how humans should treat bots.
Mortensen, who created the calendar-scheduling assistant, is a big believer in being nice to bots. Citing a passage about the master-slave dialectic in Hegel's "The Phenomenology of Spirit" written in 1807, Mortensen argues that "you are worse off if you treat your machines in a demeaning kind of way."
A Dane living in New York City, Mortensen extends the same courtesies he would to a human when asking a bot to carry out a task, but he says that isn't the case when his teenage daughters talk to Alexa at home. "It's very direct," he says. "There's no 'would you be so kind?' There's no 'please.' There's not a single 'thank you.' It just is."
He doesn't correct them though since they "are beyond the age of where I teach them decency and courtesy."
But other parents haven't given up. Manu Kumar, a father of two and founder of investment firm K9 Ventures in Palo Alto, California, has attempted one tactic with his four-year-old with limited success. "I have told my son that if he doesn't say 'thank you' or 'please' that Alexa will stop listening to him."
Kumar bought the Amazon Echo this past May as a Mother's Day present for his wife. "My wife describes it as almost like having a pet," he says. "I think the anthropomorphication of it, the fact [you're talking to it], you can't think of it as a cylinder sitting there."
Though he has a background in human-computer interaction, ultimately what matters most to him are not the arguments about master and slave, but simply the importance of being nice. "One of my metrics for determining how nice someone is is by watching how they interact with a waiter," he says. "In a similar way, even if the AI or tech doesn't care about it, other people around us are going to experience how we interact with it."
The pro-polite arguments have some parents longing for a kid or family mode, where Alexa will only respond when she hears the magic word.
Of course, that would mean parents, too, would be beholden to these courtesies. Such a mode "would probably be good for us," muses Hanover Kurzweil. "I probably would use family mode because I'd feel guilty not using it."
It's not such a farfetched idea given Amazon's various products built specifically with families in mind. But whether or not that's in the works, an Amazon representative declined to say.
As an aside, she did, however, write in an email: "I think I'd like to use that with my daughter. :)"
The image at the top of this post was taken by Mindaugas Danys and shared under the Creative Commons license on Flickr.