For years, Nintendo was the king of mobile gaming. Long before there were smartphones, or there were even many cell phones, there was the Game Boy. Nintendo sold 118 million Game Boys, and many more of its follow-up mobile consoles: 154 million Nintendo DSes, and 58 million Nintendo 3DSes, according to the company.
But Nintendo has been criticized in the past for missing out on the mobile revolution. Hundreds of millions of smartphone owners play simple, casual games—just like many of Nintendo's best games. But instead of  picking up a second device to bring along with them, they've downloaded them instead.
Then along came Pokémon Go.
Last year, Nintendo decided it was going to start making mobile games, both in-house, and through partnerships. (Its most recent new home console, the Wii U, has been a commercial flop, and the worst-selling console it's ever produced.) It licensed out the likenesses of its little monsters to Niantic, a Google spin-off that creates mobile games steeped in augmented reality, to build the Pokémon Go game. And it has become an international sensation, in spite of the fact that it's a buggy game that's pretty ugly, crashes a lot and is a massive battery hog. It's currently more popular than Netflix, and people are spending more time on it than Facebook.
Nintendo's first mobile effort, a bizarre avatar-building game called Miitomo released earlier this year, wasn't much better. But what Nintendo is showing it can do with both Pokémon Go—and to a lesser extent, Miitomo—is sell nostalgia. And it's paying off big time. The company has added billions to its stock value in just the few short days that the game's been available—even passing the market value of its arch-rival Sony—and some suggest that the company is making millions a day just off the few in-game purchases that are available in Pokémon Go.
Perhaps this shouldn't come as that much of a surprise. Nintendo has been in the sequel business nearly as long as it's been in the videogame console business—there are over 250 separate Nintendo games that feature the company's diminutive Italian plumber, Mario, for example.
It's too early to tell whether Pokémon Go will end up being anything more than a cultural fad, but given the initial response, and the game's uneven quality, it should show Nintendo that it might be worth investing some more time, money, and perhaps in-house resources, to building out mobile experiences for some of its more popular franchises.
With that in mind, Quartz has compiled a few games that might prove to be just as big smash hits for the 127-year-old company if it decides to bring them to the small screen:
Super Mario World
Nintendo's unofficial mascot changed the perception of platform games 20 years ago with the release of the three-dimensional Super Mario World 64. The average smartphone in 2016 can easily handle the graphics that were groundbreaking on the Nintendo 64. Imagine exploring Princess Peach's castle with your friends (perhaps they're remotely connected as Luigi, Yoshi, or Toad) as you sit on the subway. Nintendo could even copy the style of Pokémon Go and turn the real world into an obstacle course that Mario has to navigate.
Mario Kart
This meme has been popping up in various forms all over the internet:
While Nintendo probably wouldn't want to deal with the logistical and legal nightmare of creating an augmented-reality racing game, it does lead you to think about how one of the company's most popular series could be brought to mobile. There are myriad racing games on mobile, and many get around the data-streaming problem of trying to have multiple people race each other over cell connections by allowing players to record a lap and then race against a virtual version of their friends, much like you can on Mario Kart on a console:
Mario Party
There have been nine sequels to the interactive multiplayer board game where players play as famous Nintendo characters and take part in a series of zany mini games to win points. It's pretty much perfectly calibrated for a mobile version.
Super Smash Bros.
Similar to Mario Party, this is basically just a game where players take a treasured Nintendo character, and use it to beat up another treasured Nintendo character. If you could play against your friends, perhaps in AR situations where the real world provides the backdrop against which the characters are playing, it's pretty much guaranteed to be another hit.
The Legend of Zelda
Pokémon was the franchise that allowed players to explore new worlds on their handheld devices at their own pace, and Zelda was very much that for home consoles. If Nintendo wanted to build a game where users could venture out on a quest, perhaps even based on the same backbone that Pokémon Go was built on, where users visited stops to collect coins and power-ups, and wandered the earth fighting enemies and searching for Zelda, it might find an audience just as rapt as the one out there right now trying to catch them all.
Miitomo
Yes, this is already a mobile game. But as it stands, it's pretty pointless. You can't really do much with the avatars you've created, apart from going and annoying the avatars your friends have made. But one of the more irreverent—but fun—features that Nintendo introduced along with the concept of the "Mii" avatar on the Nintendo Wii game was the ability to design a character that looked like a cartoon version of yourself. How about adding that feature into the character lists of some of Nintendo's ensemble games? So useless human Mike Murphy could be transformed into awesome Nintendo character Mike Murphy who could play baseball against Mario, or race go-karts against Yoshi. Nintendo could use Miitomo as a mobile repository for its mobile games—rather like how Apple uses the Game Center app—and allow users to play as themselves and share photos of themselves playing in the games, as players are doing today with Pokémon Go.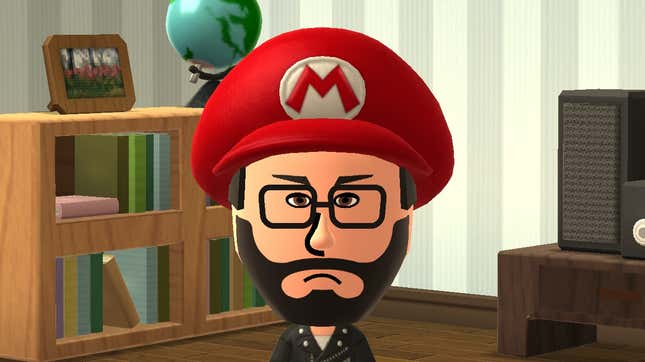 Basically every other game
Nintendo has more popular franchises than Darden Restaurants. It could take the same formula that worked for Pokémon and apply it to any of the games above. Or any of its other games; imagine doing a barrel roll in a StarFox-inspired mobile game as you sit on the bus; or Donkey Kong-style game, dodging barrels down the high street; or shooting aliens in an augmented-reality version of Metroid. Then there's the other 200-odd games that Mario has appeared in, from the Candy Crush-like Dr. Mario puzzle games, to the Paper Mario role-playing games, or the endless Mario-themed sports games produced over the last three decades.
Now that the door is open on mobile for Nintendo, and it's seen its potential, there's essentially no limit to the Mario-themed nostalgia-laden gaming that the company could start waving in front of our faces.