After burning through billions of dollars in China, Uber is planning to sell its business there to its archrival Didi Chuxing.
The sale follows years of brutal fighting between the two companies in China that went beyond just tough competition, and included look-alike logos, government involvement, and even the blackout of Uber's name from the country's most popular messaging app.
While Uber started in China in 2014, the company built up a following by introducing peer-to-peer ride-hailing before anyone else, and investing in second- and third-tier cities. It also attracted investment from Baidu, the country's largest search engine.
But, as Quartz wrote in 2014, it might have already been too late, because China was awash in popular local taxi apps. The two largest had some hometown advantages:
Didi Dache, one of China's biggest taxi apps, works similarly to Uber but draws from a pool of licensed city cabs, rather than private cars. It has the benefit of being embedded into WeChat, the country's most popular messaging app, meaning all 400 million WeChat users have Didi on their phones… Kuaidi Dache, another major competitor… is backed by a subsidiary of Alibaba, which has the political heft to conceivably outmaneuver Baidu in a battle for influence.
In February 2015, those two top competitors announced they would merge into what is now Didi Chuxing. No regulator stopped the deal, despite the fact that the new company would control an estimated 99% of the ride-sharing market. In April 2015 the soon-to-merge companies introduced a service just like Uber's peer-to-peer ride-hailing.
Then things got even worse—Beijing started to openly back Didi, with an investment by China's sovereign wealth fund into the new Chinese giant. China's state banks rolled out billions of dollars in loans to Didi.
In August 2015, Uber reported it was being scrubbed from WeChat, a move, Quartz wrote, that was "almost certainly designed to protect and promote Didi Kuaidi" and make it hard for Uber to do business.
Searching for Uber in Chinese yields no sign of Uber itself, but rather a number of imitation Uber accounts… The block also prevents Uber from sending out viral promotions for ride discounts. Scanning QR codes or activating links to Uber yields nothing but an error message on WeChat.
In September 2015, Didi even rolled out a new logo—that looked quite a lot like Uber's: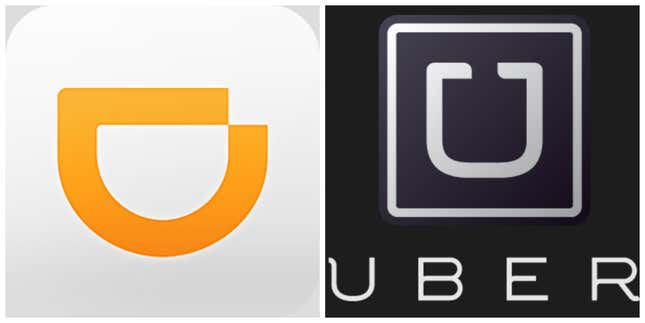 Along the way, Chinese authorities in varying cities were cracking down on ride-hailing, which was never actually legal in China in the first place and competes with state-run taxi companies.
Uber's conduct in China was hardly spotless. The company's business there was reliant on underpaid, overworked interns, as Quartz reported last December. Driver fraud made it look busier than it was.
When Beijing finally decided to legalize ride-hailing last week, it made the subsidies that Uber and Didi both rely on to attract drivers illegal. That may have been the final blow for Uber.
"I've learned being successful is about listening to your head as well as following your heart," Uber CEO Travis Kalanick wrote explaining the decision. Both companies are investing billions of dollars, he noted, but have yet to turn a profit.
Now that Uber is exiting China, Didi's main competition is gone, and the profits might finally start rolling in.