China has been preparing for the G20 summit for months now. The annual high-profile financial forum, featuring world leaders including US president Barack Obama and Russia's Vladimir Putin, is to be held on Sept. 4 and 5 in the southeastern city of Hangzhou, home to the scenic West Lake and tech giant Alibaba.
This is the very first time China will stage the G20 meeting, but the ruling Communist Party has built a great reputation for hosting international events in recent years, from the 2008 Beijing Olympics to the 2010 Shanghai World Expo to the 2014 APEC meeting.
What's the secret?
First of all, Beijing usually funnels an enormous amount of funding and manpower into any one event, far beyond many other governments' outlay. For example, the Beijing Olympics cost Chinese taxpayers some $42 billion, while the London and Rio games cost around $15 billion and $6.2 billion respectively. But there are other factors as well that can help you replicate China's glorious hospitality, within your system. To throw a party as successfully as the Communist Party, here are a few basic pointers:
1. Ensure a blue sky
First impressions matter. When the world's most powerful figures land in the host city, you don't want them to be able to point their fingers at bad air, regardless of whether it normally exists or not. You need to ensure a blue, beautiful but ephemeral sky for foreign leaders during the whole event. The Party is so good at this that Chinese people have coined terms like "G20 Blue," "Parade Blue," and "APEC Blue," for their efforts.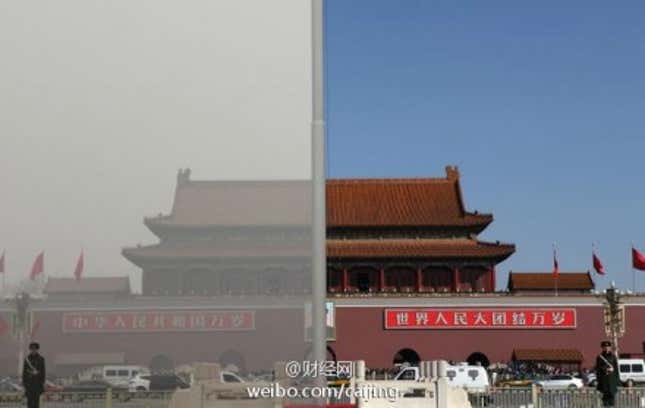 To make that happen, you just need to shut down a fleet of factories and plants—the source of air pollution, but also possibly the bedrock of your economy—for a few days. Hundreds of factories across five provinces will halt operations until the G20 meeting finishes. The control is so far-reaching that nine cities in Shandong province, 400 miles north of Hangzhou, have pledged to suspend factory work at any time if needed, the Wall Street Journal reported.
Shutting down factories also contributed to Beijing's blue skies during the 2014 APEC summit and last August's grand military parade celebrating the 70th anniversary of the end of World War II. This move might backfire sometimes, as your citizens discover that the government can control air pollution, it only lacks the will to do so.
Tell them it's better than nothing. As long as you are staging more international events, there will be more blue skies.
2. Spend the money on appearances
Your budget is probably limited, so be sure to spend every penny of taxpayers' money where it is needed the most—on what visitors can see.
In a months-long makeover project for the G20 summit, the Hangzhou government has constructed a new airport expressway, repaired roads and built new pedestrian walkways across the city, the South China Morning Post reported. But there's also been some creative cosmetic work done:
[The government] has given buildings—especially those facing major roads—new coats of paint, built false balconies to hide unsightly air-conditioning units, as well as added window boxes with pretty plants to beautify the buildings' exteriors. To render better-looking drone images of the city from a bird's eye view, it has even ordered factories and other buildings to have their rooftops painted grey.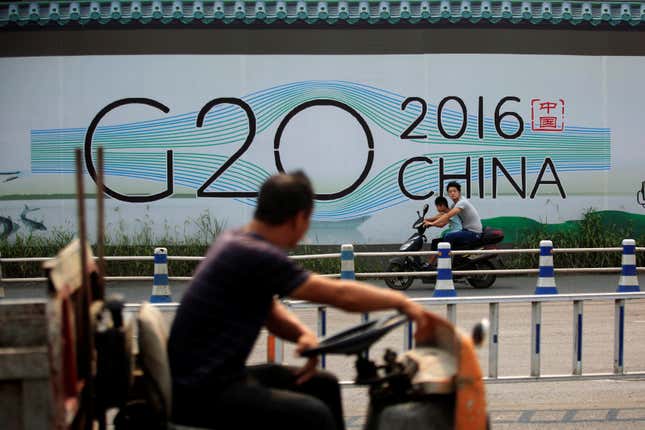 Ahead of the 2014 APEC meeting, the Beijing authorities also only painted the buildings facing major roads (link in Chinese) in the city center. So did the Shenzhen government (link in Chinese) ahead of the 2011 World University Games. Taking it to the extreme, the Guangzhou authorities even painted the historical architecture (link in Chinese) alongside the Pearl River ahead of the 2010 Asian Games.
Such spending apparently has the highest benefit-cost ratio: foreign leaders and press will probably only notice the facade.
3. Make a list of banned things
You should definitely raise the security level in your city as your event nears. But you also need to make a list of the things you want to ban, no matter how it might affect the host city's residents.
Ahead of the G20 summit, security checks in Hangzhou have been tightened to a point where passengers are asked to drink their bottled water before boarding public transport. Taxi companies have been ordered to stop businesses; university students are not allowed to stay on the campus; square dancing, a popular form of recreation embraced by middle-aged Chinese women, is banned at scenic spots; small restaurants owned by the Muslim Uyghur ethnic group are reportedly being singled out and shut down in police checks.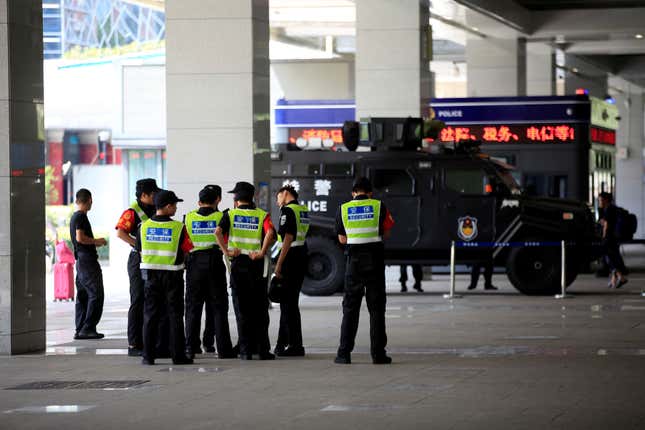 Outside of Hangzhou, stricter security measures are also believed to be linked to the G20 summit: Shanghai's railway stations and airports are imposing anti-terror security checks; low-price hotels in Guangzhou, 620 miles south of Hangzhou, have been ordered not to accommodate tourists from five Muslim-majority countries; foreign visitors are being refused entry to Guangdong province from the neighboring city of Hong Kong.
Other things that you might consider banning, judging from the party's previous experience: drones, pigeons, kites, and hawkers.
4. Teach the locals some new phrases
During the event, your citizens will inevitably bump into some foreign tourists. Make sure that they can communicate well enough to help with your own agenda. While there is no shortcut for learning a foreign language, a handy brochure might be what you are looking for.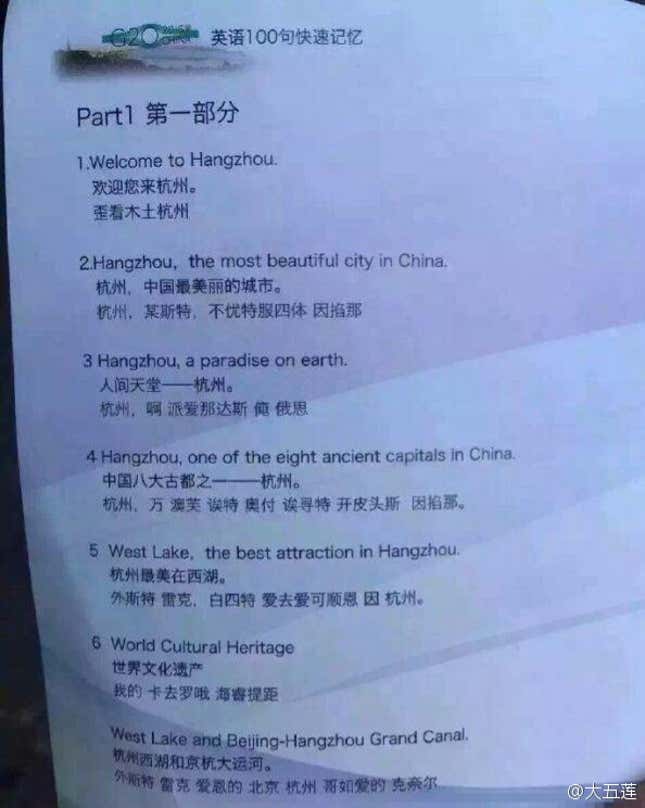 "Fast Learning: 100 English Sentences" is one. The brochure, given out to Hangzhou locals for the G20 meeting, has gone viral on the internet in China for its confusing annotations. The handbook recommends residents use simple English sentences like "Hangzhou, a paradise on earth" to introduce the host city, and provides corresponding Chinese translations.
For those who don't speak English at all, however it also annotates those sentences based on similar-sounding Chinese characters. The guide, for example, suggests that users rely on "歪木看," or wai mu kan (which literally means "crooked wood see," and of course, is not a phrase in Chinese) to pronounce the English word "welcome."
"To those who have basic English skills, it might be ridiculous. But to those villagers with zero knowledge, it does make sense," Xu Dongxu, Party boss at a suburban township of Hangzhou's Xihu district told state-run digital publication the Paper (link in Chinese) in July. Some 1,500 flashcards bearing 10 basic English sentences have been given out to elderly villagers in the town ahead of the G20 summit, Xu said.
Formal or informal—there's little you can't put in a handbook. During the 2010 World Expo in Shanghai, the municipality government published a 145-page "World Expo English Using Handbook" with serious lessons in expo-related vocabularies and sentences, while the lower Luwan district government released an English-learning guidebook with hilarious Chinese annotations like "古的猫宁," or gude maoning (which literally means "ancient cat tranquil") for "good morning."
5. Mobilize the masses
As Chairman Mao Zedong said, "We must have faiths in the masses and we must have faith in the Party." You can always ask for more from your people.
Over one million Hangzhou residents have volunteered to do safety and publicity work for the G20 meeting since December, and will continue to offer services during the summit, state news agency Xinhua said. Among them, an army of 760,000 volunteers, who are mostly retired or elderly people, have been mobilized to patrol the city to ensure safety. By comparison, the Rio Olympics only had some 50,000 volunteers in total.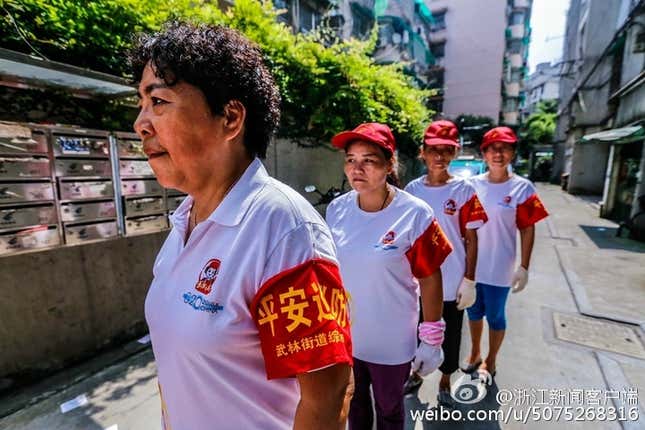 850,000 citizens were mobilized to patrol Beijing ahead of last year's military parade; 500,000 were mobilized to patrol Shenzhen during the 2011 World University Games; and 830,000 patrolled Guangzhou in the 2010 Asian Games. These volunteers are often strongly encouraged to sign up by local governments, and get a stipend for doing so.
Perhaps, you complain, you are not running a city with as many people as a Chinese one? Do at least try to get one in every seven of your local residents involved in your event, as Hangzhou has.
6. Get everyone else out of your city
Now that you've built an army of English-speaking volunteers, it's time to get rid of the rest of your city residents, even if they are law-abiding citizens. All available manpower will be focused on the event itself. You don't want traffic jams or any other troubles to happen elsewhere on your grand day.
So, give them a holiday! Hangzhou citizens—except those living in the city's four suburbs—have been granted a seven-day holiday during the G20 summit, the municipality government announced (link in Chinese) on Aug. 27. Similarly, Shenzhen and Beijing citizens were given week-long holidays during the 2011 World University Games and the 2014 APEC meeting, respectively.
Then, lure them out of town. During the holiday, Hangzhou citizens will be offered free admission to tourist attractions in nearby cities, and many have already planned to make full use of that, the SCMP reported. During the 2014 APEC meeting, Beijing citizens were also offered discounts or free tickets (link in Chinese) to attractions in the nearby Henan province in their exclusive holidays.
7. Control news and commentary
Journalism, as they say, is the first rough draft of history. Make sure your event is remembered as a success by keeping the reporting about it positive. During China's WWII commemoration parade, which came as Chinese stock markets were falling and just after a deadly chemical explosion, China's news outlets were under strict instruction to review all news and comments, and ordered not to criticize the Party and "promote positive, sunny netizen commentaries." Similarly, during the 2014 APEC meeting, China's news portals were ordered not to "hype negative information" about the event, and to "delete related negative commentary."
Tom Tsui contributed reporting