For evidence that Hong Kongers want a change and their voices heard loud and clear at the polls, look no further than the scenes of long queues of people waiting well into the night to cast their vote in the biggest elections since the Occupy protests in 2014.
A record 2.2 million people cast their vote, with a turnout rate or 58%, for the new Legislative Council. A number of polling stations had to stay open well past the 10.30pm cut-off time due to long lines. One polling station at Taikoo Shing, a large private housing complex on the east of Hong Kong island, did not close until 2.30am.
The front page of pro-democracy newspaper Apple Daily on Monday morning showed scenes of voters lining up late the previous evening, with the headline "moving":
A scene from another line queue at The Belcher's, an apartment complex on the west of Hong Kong island:
Veto power
What's at stake is whether the opposition camp can retain their veto power in the legislative chamber, by keeping one-third of the 70 seats, which is crucial to stopping legislation that many fear could increase Beijing's influence in Hong Kong.
Half of Hong Kong's legislature seats are geographical, and directly returned by universal suffrage of residents in particular districts. The other half are so-called functional constituency seats that represent various industries and sectors. The legislature has been a battleground in the last four years for key issues relating to the funding of expensive infrastructure projects, for example. Most importantly, the pro-democracy opposition bloc used veto power to prevent a proposed plan for the election of Hong Kong's leader in 2017 through a limited form of universal suffrage.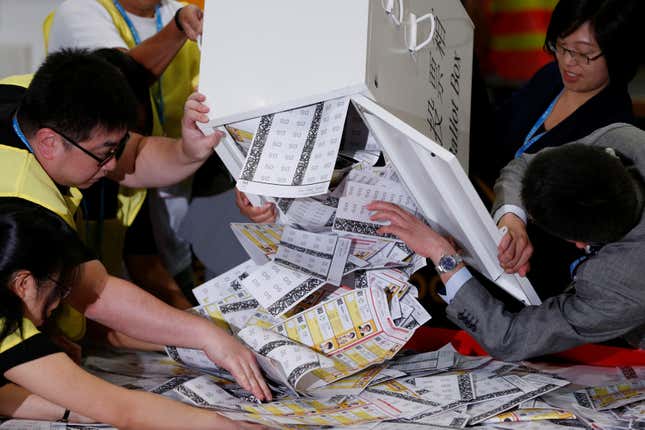 The new democrats
Also being closely watched is whether young, new faces who grew out of the Occupy movement—some of whom run on platforms advocating self-determination or independence—manage to enter the chamber, at the expense of old-guard democrats. Supporters are looking to them as a rising third force to challenge the traditional pro-democracy/pro-Beijing dichotomy in Hong Kong politics that many feel has not yielded real results in the face of rising interference from Beijing in the city's affairs.
As of Monday morning, 23 year-old Nathan Law seemed set to win a seat. Law was one of the most prominent student faces during Occupy, and recently formed a new political party with Joshua Wong, 19, who was unable to run because of a age limit.
The environmentalist
With votes still being finalized on Monday morning, one major surprise was in a rural seat in New Territories West, where a skinny, bespectacled independent candidate running on a platform of environmentalism and land rights, Eddie Chu, won the most votes among all Legco candidates.
Rural seats are traditionally considered to be shoo-ins  for pro-Beijing parties because voters there are generally older and more conservative. Chu came to prominence for his activism in blocking a government plan to demolish a village near the border to build a high-speed rail from the center of Hong Kong to the mainland. Construction of the controversial rail link is going ahead.
Voting irregularities
But the elections were also marred by widespread reports of tampering and other irregularities. Local media saw unidentified volunteers, for example, wheeling old people from care homes in wheelchairs to vote at polling stations. One employee at a care home admitted to instructing (link in Chinese) residents on how to vote. Others complained that they had "been voted" as they found their names already crossed out on the voter list when they arrived to vote.
The votes are still being counted, with a final count expected at about noon today (Sept. 5). Follow the results on the South China Morning Post's counting room.