More Hong Kong citizens are exercising their voting rights than ever before. In the latest Legislative Council election that ended Sunday (Sept. 4), a record 2.2 million people—a turnout rate of 58%—cast their votes at the polls. This is the highest number of voters since the 1997 handover, reflecting Hong Kongers' concerns about Beijing's creeping influence over the semi-autonomous city.
The Legco election is important to mainland China, and particularly the government in Beijing, on at least two levels. First, if the opposition camp can retain their veto power in the legislative body by keeping a third of the 70 seats, funding for infrastructure projects and other links to the mainland could be vetoed, or at least be subject to lengthy filibustering. Second, the number of newly elected democratic leaders, who grew out of the 2014 Occupy protests, can be used to judge the depth of the city's pro-independence sentiment.
But at least when it comes to public information available on the mainland, the election might as well not be happening. State media coverage in Chinese has been almost non-existent, both before and after the voting. On Sunday night, China News Service, a state-run agency, published a short report (link in Chinese) that offered the briefest explanation of the election to mainland Chinese readers. The article just introduced how the election works, without mentioning the divided political landscape.
Foreign coverage of the election was blocked in China, including in Hangzhou, where world leaders were meeting for the G20.
In China's English-language media, the nationalistic state-run tabloid Global Times, which sometimes echoes Beijing's official voice, did report on Monday morning on the record high turnout. The article quoted at great length Choy So-yuk, a former pro-Beijing legislator, who said the opposition camp is better at luring voters with the help of social media and local news outlets like Apple Daily, a pro-democracy newspaper. The opposition tried to "slander us among the voters, but we can do nothing to stop them," Choy was quoted as saying. The article was not available in Chinese.
Meanwhile, online discussions about the election appear to be censored, or entirely blocked, on the mainland. On Sunday night, prominent Chinese journalist Luqiu Luwei wrote on social networking site Sina Weibo that Hong Kong voters should have come earlier to avoid long queues, and included a picture of long lines at some voting centers. The post lasted for seven hours before being removed, notes China Media Project, a blog about Chinese media and censorship by the University of Hong Kong's journalism school.
Searching "Hong Kong election" in Chinese on Weibo only leads to a handful of posts from overseas and pro-Beijing Hong Kong papers like Wen Wei Po. There are no posts from ordinary users in the search results, which is unusual for such a major China news story. Still, Weibo doesn't say some results are not shown "in accordance with laws, regulations and policies," as it usually does when topics are sensitive and censored.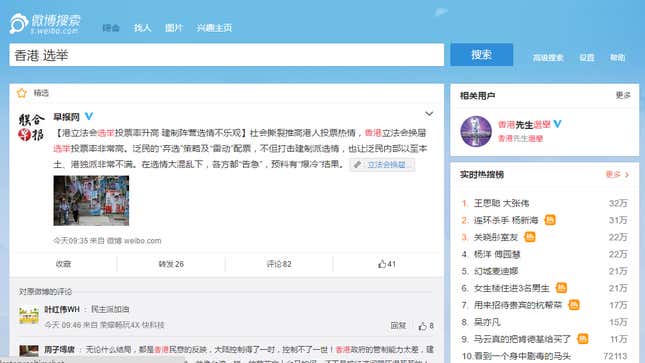 It is not Beijing's first attempt to keep mainland citizens unaware of what's happening in Hong Kong's political sphere. During the Occupy protests in 2014, Chinese news sites were ordered to only report official statements and op-eds condemning the pro-democracy movement, and social media posts were regularly blocked.