At a packed Bill Graham Civic Auditorium in San Francisco today (Sept. 7), Apple announced its latest array mobile devices, including two new iPhones, an updated Apple Watch, and a new set of wireless headphones called AirPods.
Here's a quick rundown of everything that Apple announced today, and when you'll be able to get a hold of it all:
iPhone 7 and 7 Plus
Apple actually managed to leak the new iPhones before the event started, taking away from the surprise a bit. Although anyone paying attention to the rumors probably wasn't surprised in the first place: The new iPhone 7 looks pretty much like the iPhone 6 and 6S, but is entirely water-resistant, has a capacitative home button, and comes in new colors. It'll be available in silver, gold, rose gold, black, and an even blacker black.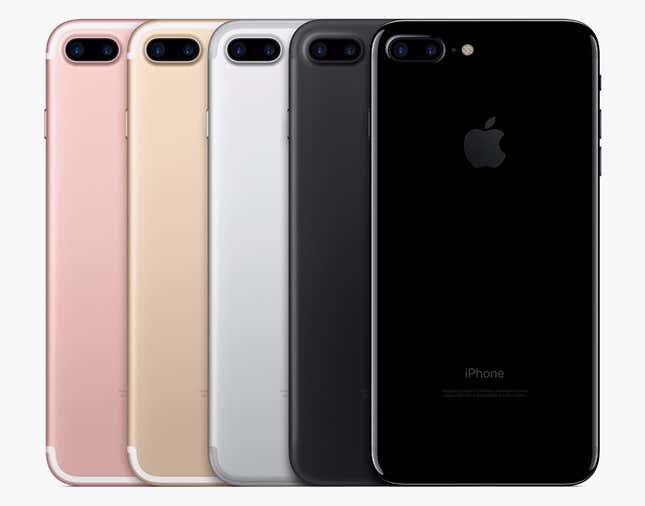 Many of the phone's changes are internal: The 7 runs Apple's powerful new A10 processor, and has a new, extremely high-resolution screen. The two biggest external changes are the removal of the headphone jack (which Apple marketing director Phil Schiller called a "brave" move), and the new cameras. Both models will have a 12-megapixel camera that can take photos with a depth of field usually reserved for standalone digital cameras. The iPhone 7 Plus also features a second "telephoto" camera that will allow it to zoom in manually.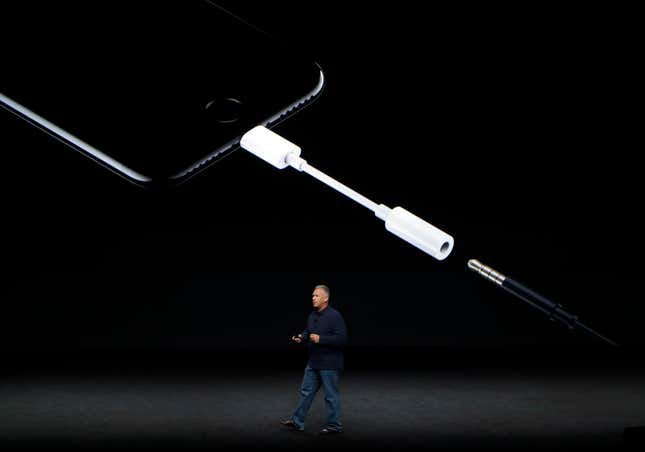 Apple said the battery life on both phones should be better—the 7 lasts about 2 hours longer than a 6S, and the 7 Plus about an hour longer than the 6S Plus. Both models will be available with 32 GB, 128 Gb, or 256 GB storage. The iPhone 7 will start at $649 in the US, and the iPhone 7 Plus at $769. They'll both be available for pre-order Sept. 9, and in stores Sept. 16.
AirPods
Apple also released new wireless earbuds, called AirPods. They look a lot like Apple's current EarPods, just without the wires. Each AirPod is packed with its own audio-processing chip, used to enable higher-quality sound and detect if the earbud is in the user's ear. They'll cost $159, which is hefty for Apple earbuds, but actually quite reasonable for the wireless earbud market. The AirPods will be available in October (the iPhone 7 and 7 Plus will come with regular earbuds that use the devices' lightning port).
New Beats headphones
Alongside the AirPods, Apple-owned Beats is releasing three new headphones as well: Beats X, Powerbeats 3 Wireless, and Solo 3 wireless. They're mostly based on Beats' traditional headphone design (except the Beats X, which mimic competitor Jaybird), and use Apple's W1 wireless audio chip.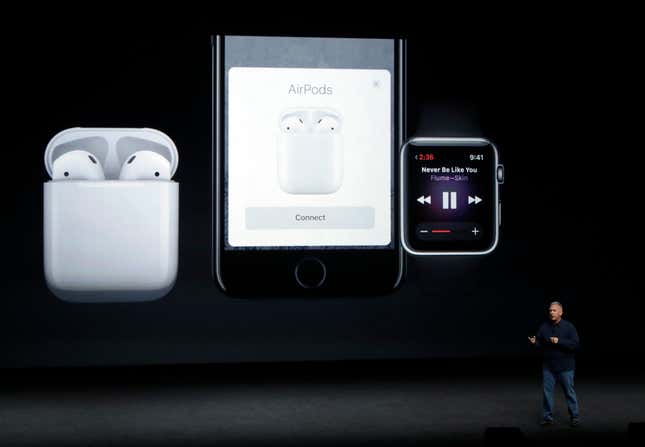 Apple Watch Series 2
Originally positioned as a fashion accessory, Apple is marketing the new Apple Watch as exercise equipment. The Series 2 is waterproof up to 50 meters, has built-in GPS, and features an option for a new, harder ceramic casing. Apple has also partnered with Nike for a special-edition watch band and new fitness software. Apple will continue selling the original Apple Watch, now branded the Series 1, but with the newer processor built for the Series 2. The Series 2 will start at $369, and the Series 1 will cost $269.
Apple is also extending its offering with Hermès, adding two new bands to its line of products made in partnership with the luxury label.
Mario comes to iOS
Nintendo's chief videogame designer and the father of Super Mario, Shigeru Miyamoto took to the stage to introduce Nintendo's first iOS game that isn't a Kafkaesque exercise in madness—Super Mario Run, which is expected to ship by the holidays. It's a lot like Temple Run, a popular iPhone game in which Mario runs on a course and collect coins. You can also battle against your friends. Nintendo's other smash hit from the summer, the jointly developed Pokémon Go, will also be coming to the Apple Watch, with notifications about nearby Pokemon. It's expected to be available before the end of the year.
And Nike comes back
Nike brand president Trevor Edwards took the stage to unveil the new Apple Watch Nike+. The sporty looking smartwatch is geared toward runners, and will apparently integrate features from Nike's popular Nike+ app. It could help Apple tap into a new market of athletes interested in the Apple Watch's fitness-tracking abilities. The Nike+ watch will cost $369 and is due out in late October.
Apple Pay expands
Apple Pay is coming to Japan in October; in addition to NFC technology, it will utilize a different technology in known as FeliCa. Developed by Sony, FeliCa supports payments for mass transit systems in Japan. The iPhone 7, iPhone 7 Plus, and Apple Watch Series 2 will integrate FeliCa technology, Tim Cook said. Apple Pay will also come to New Zealand in October, and Russia later this fall.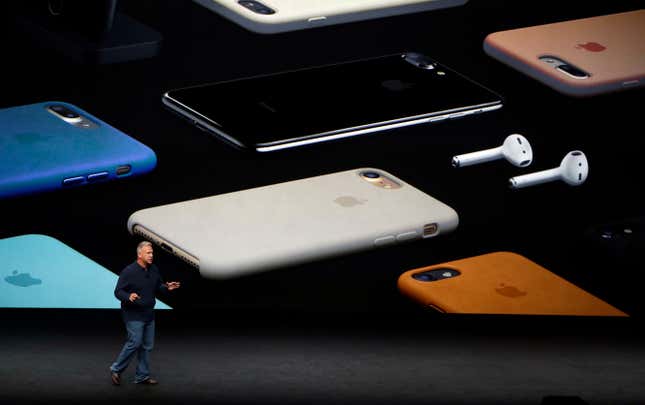 What wasn't mentioned
A fair number of core Apple products were glossed over or entirely unmentioned at today's event, including the iPad, Apple's Mac laptops and desktops, Apple TV, and Apple's new Home app—the company still lacks hardware to rival Amazon's Echo or Google Home for living-room supremacy. Apple is expected to run another press event in October (likely focusing on computers), so there's still a chance we'll hear something this year.