If you've ever wondered how to integrate your sweatpants into your work wardrobe, you're in luck. Recently Mr. Porter, the menswear site of the Yoox Net-a-Porter Group, which bills itself as "the world's biggest luxury fashion store," published a video on how to wear sweatpants. It describes three different scenarios in which guys may choose to wear their sweats, including to the gym, for lounging around "the morning after," and "during the week"—meaning to the office.
"Not everyone will welcome sweatpants in their place of work, but if you're a freelance or creative type, many brands are offering smart, tailored versions that will just about fly for professional use," the narrator says cheerfully. "Wear them with a fine-knit turtleneck and an unstructured blazer."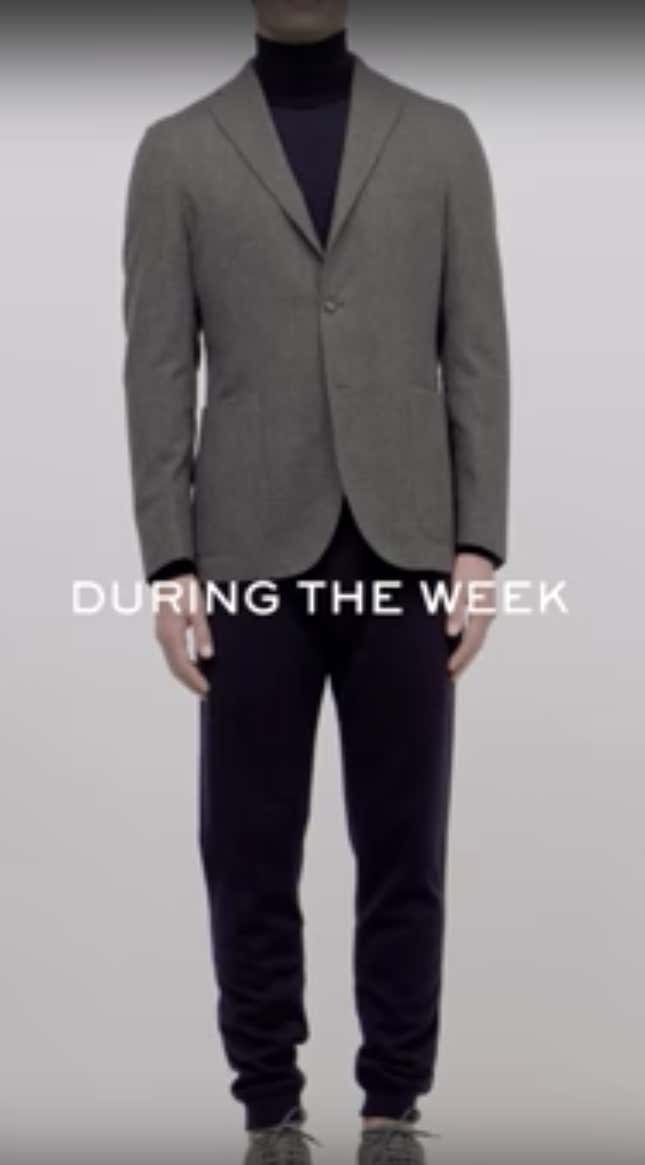 The video, without any apparent intent, acts as a brief summary of the cultural evolution of sweatpants. First they were intended as gym clothes, then became part of casual wardrobes, ideal for "the morning after" as Mr. Porter puts it. But dress codes aren't static. In countries such as the US, they keep loosening up, and items that were once relegated to our leisure time keep creeping into our workplaces. Clearly not everyone is ready for it.
"I wish one of my employees would try to wear sweatpants to the office," one commenter wrote in reply to the video. "I'm looking to downsize and that would make the decision extremely easy. Don't even consider wearing sweats to the office fellas!"
Others were more succinct. "Unsubscribed," another stated.
Mr. Porter has a stake in getting people into fancy sweats. It sells versions that can easily top $800. But it does highlight how dress codes keep sliding toward informality in countries such as the US.
It wasn't long ago that jeans were unacceptable in the office. Now they're practically business attire, especially in the eyes of kids. CEOs, particularly in Silicon Valley, often dress like it's the weekend all the time. These shifts are forcing even conservative workplaces to loosen up. JPMorgan Chase, for instance, recently relaxed its policy on office attire. Sweats still aren't allowed, but jeans are (paywall) with a manager's approval.
As jeans have gotten more formal, the measure of what's acceptable has changed, creating room for an even more casual option, though only to a degree. "I think sweatpants still retain a bit more of the stigma that denim has shed," Emma McClendon, an assistant curator at the Museum at FIT and author of Denim: Fashion's Frontier, said in an earlier interview. "Sweatpants are not necessarily as acceptable at the workplace, at the opera, at church."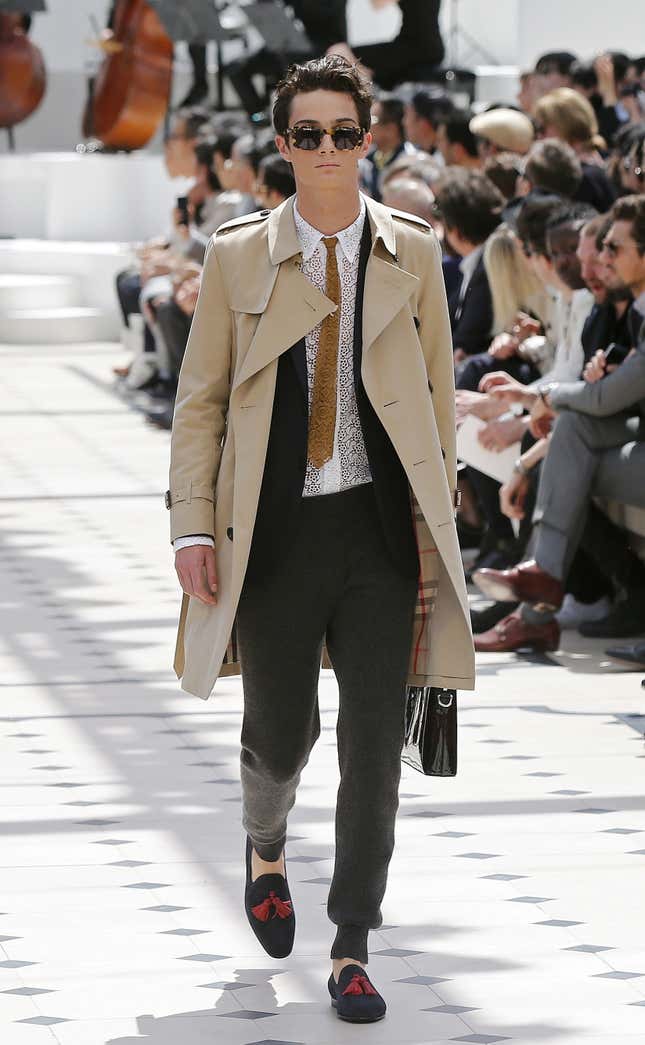 Designers love to play with these boundaries. Brands such as Vetements and Haider Ackermann have shown sweats on the runway, and for its spring 2016 men's collection, Burberry even paired tailored joggers with more formal clothes, such as a shirt and tie. Would the look work for the office? Quite possibly.
Sweats still have their limits though. "Use your judgment wisely," Mr. Porter warns of its sweats-and-blazer combo. "This is probably not the outfit for that big client meeting."