Delta Air Lines' employees are getting a fashion upgrade, with new uniforms designed by A-list outfitter Zac Posen. Delta unveiled the new looks this week on a—wait for it—runway in Atlanta.
What's in for Spring 2018, when the collection debuts for 60,000 Delta flight attendants, ground crew, and gate agents? The designs hark back to a more glamorous age of flying, in a palette of airplane-themed colors like "passport plum," "cruising cardinal," and "groundspeed graphite." Male flight attendants will greet passengers in three-piece suits, while female flight attendants will soon walk down the airplane aisle in just-above-the-knee fitted dresses reminiscent of a 1960s dream of what the future might look like. Dresses will be made with stretchy fabrics and some uniforms will be have an antimicrobial finish, Posen said. That serves to ward off microbes that can thrive on airplanes, degrade fabric, and create an unpleasant odor.
In sum, they're stylish, functional, and formal—a sharp contrast to traditionally dressed-up workplaces like banks that are allowing workers to dress down in certain offices. Delta's last uniform overhaul was a decade ago, when the airline introduced a line that included bright wrap dresses and black suits.
There was a key item missing from the new Delta collection, however: new shoes. The airline currently requires flight attendants to wear a minimum half-inch heel while traveling to the airplane, including on the walk through the airport, which can be lengthy. Many of the women on the Delta runway were wearing heels higher than that. The company says it is consulting a podiatrist to help determine which footwear is both fashionable and comfortable for the demanding job. "We want to make sure there's a balance," said Ekrem Dimbiloglu, general manager of of Delta's uniform program.
Delta isn't the only airline that requires flight attendants to wear a heel. American Airlines, which also debuted new flight-attendant uniforms this year, requires flight crew to wear at least a half-inch heel on their commute to and from the plane. United Airlines said it requires a separate heel of at least an inch but no higher than three inches.
Delta said it will likely keep its heel requirements but is also consulting with crews to see what works best before mandating any footwear for the new uniforms. It is also testing the uniforms out on about 1,000 employees (some 6,000 signed up), before the full launch, to see if any adjustments to fit or fabric are needed, according to the airline.
While Delta's heel-height requirement is far from the altitudes of damaging high heels that some workplaces want their workers to sport, it does form part of the debate about how much say employers can have over uniformed (often female) employees who are tasked with physically-demanding work. British Airways flight attendants' union earlier devised a workaround for a controversial ban on trousers for female flight attendants, for example. Female El Al flight attendants reportedly protested a requirement that they wear high heels for longer on the job.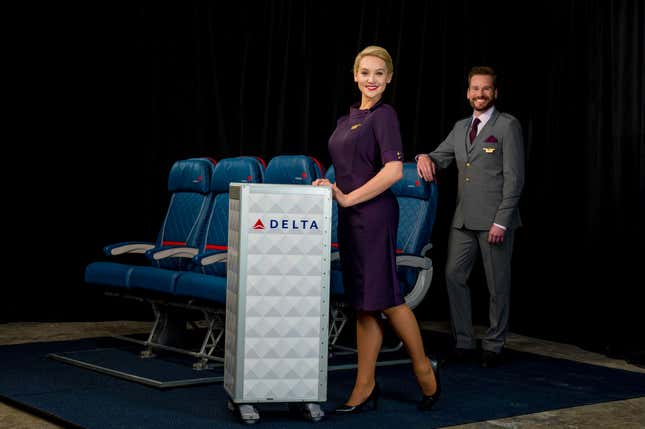 Both Delta and Posen say the goal of the new uniforms is to bring a level of sophistication and elegance to Delta's airplanes. "I want them to look their best and be comfortable," Posen said.
Whether passengers will take the hint is another matter.