UK factories are finally humming again, as manufacturing production rose 1.1% in March  from February (pdf), said the Office for National Statistics. The data blew way past expectations for 0.2% growth.
This second month of increase in manufacturing output offers another sign that a recovery in the UK is underway. After months of worry that the country was headed for a triple-dip recession, the UK economy surpassed expectations by growing 0.3% in the first quarter of 2013. A trend of two months might not sound like a lot, but bear in mind that, as Markit economist Chris Williamson points out, it's "the first back-to-back monthly increases in production since the first quarter of 2011" (pdf). Here's a look at the trend: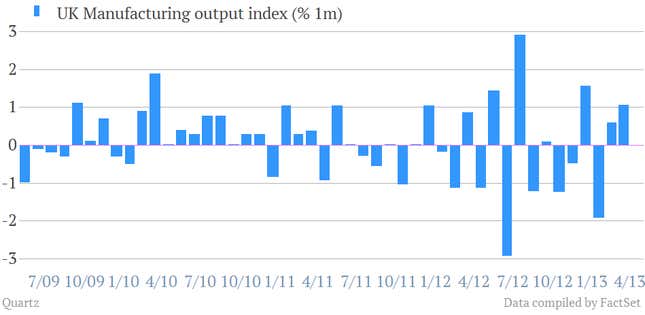 Times are not that great yet, to be sure. When compared to a year earlier (rather than to February), output in March fell 1.4%.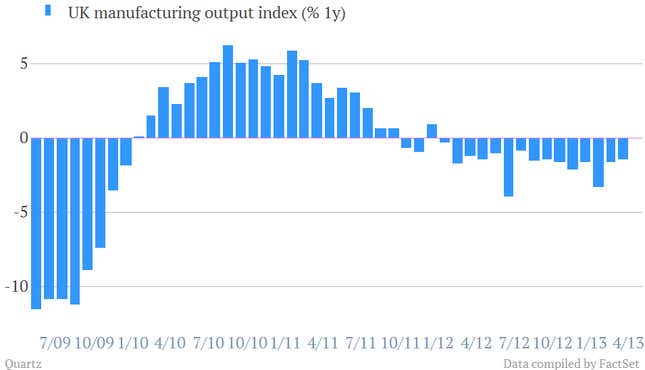 With the help of a weakened pound, overseas demand for UK equipment and machinery picked up in March from the month earlier. Metals and electronics firms boosted production, as well.
While manufacturing only makes up around 7% of the UK's economy, the ONS also announced that March industrial production, a wider measure of output that includes manufacturing, rose 0.7%, boosted by gas and electricity output during the UK's unusually chilly March. Business activity data for April suggest that more broad-based growth is underway in the second quarter. Here's a look at how those two generally tend to correlate: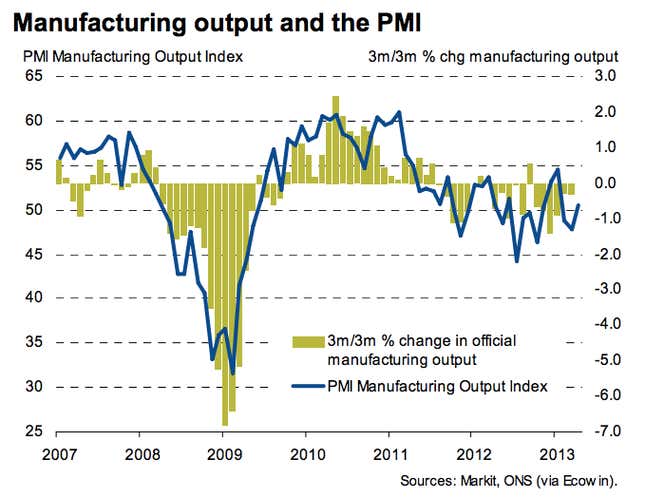 Meanwhile, the Bank of England declined to change the benchmark interest rate; some analysts attributed this to the recent signs of economic improvement, which indicate that monetary stimulus isn't needed.