China has allegedly blacklisted over four dozen overseas celebrities, including several high-profile singers from Taiwan and Hong Kong who have expressed political views unfavourable to Beijing, another sign that China is tightening control over the cultural industry.
The black list, reportedly issued by the Ministry of Culture, demands Chinese entertainment companies not to engage 55 celebrities from Taiwan, Hong Kong, Japan, and other places. Many people on the list had shown support to pro-democracy movements in the past, including Hong Kong's Occupy protests and Taiwan's Sunflower Movement of 2014. Taiwan's Apple Daily first broke news of the list (link in Chinese) on Dec. 30, and the Chinese culture ministry denied it.
But internet users in China have found that songs of several of the allegedly banned singers have recently disappeared from Chinese music streaming sites. As of Jan. 9, at least four Taiwan and Hong Kong artists' music had been taken offline on popular streaming services including ones owned by internet giants Alibaba, Tencent, Baidu, and Netease, Hong Kong digital publication Initium reported (link in Chinese).
The artists include Taiwan's Bobby Chen and Vivian Hsu, and Hong Kong's Anthony Wong and Denise Ho. Ho, a wildly popular and vocal anti-Beijing activist, has long been the target of China's censors, but the other three singers' music appears to be scrubbed from Chinese streaming services for the first time. Searching their names on these sites yields a message saying that no results could be found. Some of them, including Alibaba's Xiami and Netease's Cloud Music, state explicitly that the lack of results is "in accordance with relevant laws, regulations, and policies."

Alibaba, Tencent, Baidu, and Netease didn't immediately reply to Quartz's requests for comment.
In the past, the Chinese government has banned rap music for being too vulgar. But more recently, Beijing has escalated its crackdown on celebrities in the Chinese-speaking world whose political views are seen to be a challenge to Beijing's authority—a year ago, a 16 year-old Taiwanese pop star was forced to apologize to China for waving Taiwan's flag. Chinese state media has said (link in Chinese) that Beijing would not allow overseas artists to "eat China's meal and break China's pot" at the same time, meaning that those who want to get access to the mainland market must comply with Beijing's ideology and policy.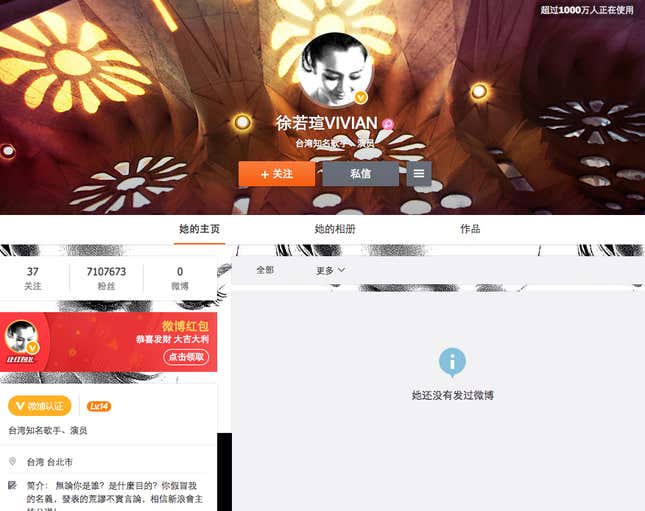 Taiwan's Hsu is one of the more surprising names on the blacklist. The 41-year-old singer-actress has said in the past that "Japan is like my stepmother," recalling her early career in the country. She also burst into tears after being kicked out of the 2010 Tokyo International Film Festival, as the Taiwanese delegation rejected its Chinese counterpart's request that it should use the name "Chinese Taipei" to attend the event—a method used by China to internationally isolate Taiwan, which it sees as a breakaway province. Some suspect (link in Chinese) that the two incidents might have led to the ban. Hsu has since deleted all her posts (link in Chinese, registration required) on Weibo, China's answer to Twitter.
Taiwanese punk band Fire EX—which barely had any interaction with China—created songs for 2014's Sunflower Movement, a month-long student-led protest against the passing of a trade agreement between Taiwan and China. "This is the kind of country China is, everyone is living in horror. We just need to do what we think is right," the band's manager told local press (link in Chinese) after Fire EX was found to be on the leaked blacklist.
The directors of Ten Years, an independent film that depicts a bleak future for Hong Kong under communist rule, are also named on the black list. The film was banned on the mainland, despite being awarded the best film at 2015's Hong Kong Film Awards.
Taiwan accounts for 28 of the banned individuals or groups on the list, while Hong Kong contributes 11. Other banned foreign groups, including punk band Strike Anywhere from the US and Japanese female punk rockers Softball, have both attended an annual concert in Taiwan which is known for its anti-China rehtoric, Apple Daily noted (link in Chinese).