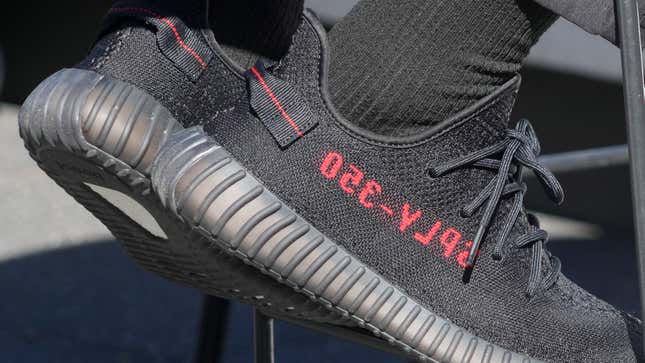 Adidas is seeing the results of its decision to sell leftover Yeezy inventory after ending its partnership with rapper Ye, formerly known as Kanye West. The leftover stock was going to weight heavily on the sportswear brand's bottom line, but figures from the first batch of sneakers released last month to its most loyal customers show so much promise Adidas revised its full year guidance.
3 considerations before your company takes a stance
The Bavaria-based company now expects revenues to "decline at a mid-single-digit rate" in 2023–a better prospect that its expectation earlier this yearthat it would "decline at a high-single-digit rate."
Releasing preliminary results for the second quarter of 2023 yesterday (July 24), Adidas confirmed the revised expectation stem from the impact of Yeezy sales: "The company's top- and bottom-line development in the quarter was positively impacted by the first sale of some of its Yeezy inventory,"
In October 2022, the Adidas-Ye collaboration ended over the rapper's anti-semitic comments, and Yeezy sales were halted immediately. Since then, Adidas had been wary of profiteering off the products, but eventually found a solution to the impasse. In May, it decided to start selling the inventory with one clause: After Ye took his cut, some of the money would go to charities fighting hate.
Adidas did not release many details about the charitable donations portion of the sales plan, and yesterday's statement did not provide an update on that front. In a statement to Quartz, Adidas confirmed its previously stated intention to donate a "significant amount" of the Yeezy proceeds to groups fighting racism and antisemitism, including the Anti-Defamation League (ADL) and the Philonise & Keeta Floyd Institute for Social Change. However, it did not elaborate on whether a certain percentage of each sale is going towards charity or if Adidas is donating a bulk sum.
Adidas' improving guidance, by the digits
€1.2 billion ($1.3 billion): Leftover Yeezy stock after Adidas and Ye's break up

15%: How much of the stock has been liquidated in the first drops, according to analyst estimates quoted by Reuters
€508 million euros ($565 million): Order value for four million pairs of unsold Yeezy shoes the company got after the first drop—better than the company's "most optimistic forecast"—according to the Financial Times
€400 million ($443 million): The potential write-off of the remaining Yeezy inventory, down from €500 million
€200 million ($222 million): One-off costs related to the strategic review
€450 million ($499 million): The operating loss the company now expects to report, much lower than the previously estimated €700 million
5: Charities in the US and China Adidas has chosen to donate to as a first step, according to the FT
€8.5 million: How much Adidas might be donating to the five charities, according to the FT
5%: Decline in company's revenues in the second quarter of this year, from €5.6 billion to €5.3 billion
Charted: Adidas's stock recovery
Quotable: Adidas will heal from Ye breakup
"It is much more an issue of time than it is the likelihood of permanent brand damage. So it's not if, but when a recovery occurs on this front. And, if anything I think adidas will be more careful when it comes to the partnerships it enters into the future, which likely lowers this sort of risk going forward."—Analyst Cory Cramer of Seeking Alpha on June 26
A non-exhaustive list of how else Adidas could've dealt with Yeezys—and why it didn't
💥 Destroy them. That would "raise sustainability issues," according to though some companies have offered recycling solutions, Bjorn Gulden, the former Puma chief who became Adidas's CEO after the Ye fiasco, said in February.
🪡 Restitch them. Reworking ready pairs to hide the Yeezy brand so they could be sold "is not very honest, so it's not an option," according to Gulden.
💝 Give them away. Donating them was not an option because the product would likely "come back again very quickly" in the resale market.
More Adidas Yeezy drops are coming
In June, Adidas dropped over a dozen designs. The next Yeezy drop is rumored to be in August, and even third-party retailers like Foot Locker could be seen selling the sought-after pairs.
The catalogue is expected to feature returning colorways of the 350 V2, 450, 500, 700, SLIDE, and FOAM RUNNER, according to a Twitter account dedicated to reportingrumors about Adidas.
Adidas said that potential future Yeezy drops, if successful, would further improve the company's results.
Related stories
🔖 Adidas has finally decided what to do with its Yeezy stock
💸 Ending the Yeezy deal created a billion-dollar problem for Adidas