Close to 50 African presidents and heads of government attended the Forum on China-Africa Cooperation (FOCAC) in Beijing this week. With the exception of eSwatini, which remains committed to its alliance with Taiwan, African states are all hoping to get a share of the $60 billion for development projects that president Xi Jinping announced at the conference, which comes on top of billions previously pledged.
When taking the podium, leaders used the high-level forum to define and defend China's growing relationship with Africa. Against the backdrop of mounting debt, trade deficits, and talk of neocolonialism, here are some of the ways presidents and prime ministers spoke of Sino-African relations.
"Deeply transformational"
President Paul Kagame, who is also the rotating chair of the African Union, said China understood Africa's global position and engaged it as an equal partner. Kagame, who is a critic of foreign aid, praised Beijing's "win-win" partnership with Africa and commended the two sides' growing economic and political partnership in an increasingly changing and multipolar world.
"Africa is not a zero-sum game. Our growing ties with China do not come at anyone's expense. Indeed, the gains are enjoyed by everyone who does business on our continent."
Refuting colonialism
South Africa's Cyril Ramaphosa was a co-chair of the FOCAC summit and spoke about the need to preserve multilateral global trade. He also applauded China's economic development and its decision to invest in Africa. Ramaphosa also countered the chorus that, by spreading its presence in Africa, China was turning into the world's latest neocolonial power.
"In the values that it promotes, in the manner that it operates and in the impact that it has on African countries, FOCAC refutes the view that a new colonialism is taking hold in Africa, as our detractors would have us believe."
"Satisfied"
China touted Kenya's $3.2 billion Standard Gauge Railway as an example of how its infrastructural projects were changing the face of Africa. Officials in Nairobi also said the forum allowed them to sign major deals worth billions of shillings with Chinese private investors, including developing a 30-kilometer (18.6 miles) expressway in the capital.
Building on this, president Uhuru Kenyatta said Kenya "appreciates" China's support of the country's development agenda. "We are satisfied with the tremendous progress achieved in our bilateral cooperation, and continues to open up new areas of cooperation."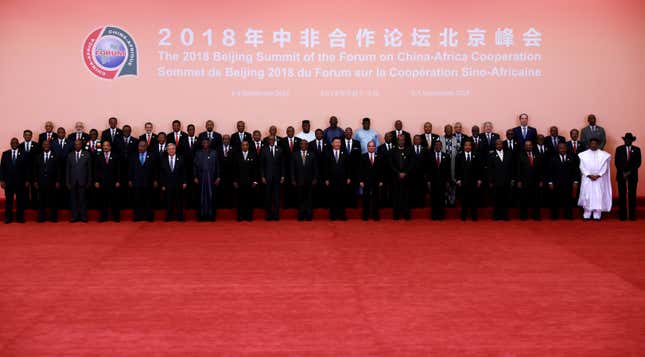 "Inspired"
China's entry into Ghana, and especially its efforts to mine bauxite, has faced fierce criticism from activists. But in Beijing, Ghanaian president Nana Akufo-Addo said his country wants to duplicate China's success story. Ghana, he said, was "inspired by this model, and are trying to replicate same."
Referencing the "Xi Jinping Thought on Socialism with Chinese Characteristics for a New Era," a philosophy aimed at making China a stronger nation on the global stage, Akufo-Addo said the world ignores opportunities in Africa at their own cost. "I have urged others not to ignore Africa, and I am glad that China is, most certainly, not ignoring our continent."
"Unique"
Mokgweetsi Masisi was inaugurated in April as Botswana's fifth president, marking a smooth transition to power in one of Africa's strongest democracies. In his first visit to China as head of government, Masisi said the forum was "unique" in that it allowed African countries to come and create stronger relations with the Asian superpower.
Speaking to the state-run press agency Xinhua, Masisi said, "To China, her president and citizens, we admire and hold you in very high regard! Keep the innovation, friendliness and international outlook as bright as the Chinese spirit!"