A long-serving president—or strongmen leaders, as they are also known—is still a common feature of African politics.
A mix of weak institutions, power-hungry leaders, elites kept happy through government patronage and a stifled press have helped several leaders across the continent stay in power much longer than they were supposed to. But the last few years have been particularly tough for some African strongman. Mass protests, the rise of social media activism, electoral defeats and even an old-fashioned coup have seen some of Africa's longest-serving leaders kicked out of office since the turn of the decade.
So what do they do next?
Try to get back in
A year ago this week, Zimbabwe's Robert Mugabe—president for 37 years—resigned from office following a military coup. Mugabe, 94, has spent his forced retirement largely out of the public eye. But even though Zimbabwean politics has left him behind, the nonagenarian has used his rare public appearances and comments seeking to get back in the game. In a March interview, Mugabe described his removal from office as "illegal" and a "disgrace" which must be undone. Undoing it and choosing people into government in a "proper way," Mugabe argued, will require a process he "must be invited" to.
Just before Zimbabwe conducted the first ever elections in which Mugabe was not on the ballot, the former president, again, sought to wield influence: he seemingly endorsed the main opposition candidate to the ire of ZANU-PF, the ruling party he led for nearly four decades. His retirement has not entirely been about power moves though: as part of a probe that was ultimately dropped, Zimbabwe's parliament attempted to question Mugabe over the alleged loss of $15 billion worth of diamonds revenue during his tenure in office.
Live with another strongman
When strongmen need a shoulder to lean when they get kicked out of office, they often turn to other strongmen. Gambia's Yahya Jammeh has spent his exile in Equatorial Guinea—home of Africa's longest serving president Teodoro Obiang, since he was voted out of office following 22 years of autocratic rule. But Jammeh didn't exactly go quietly into the night. His attempts to stay in power included first conceding defeat before calling for fresh elections in a stunning, public turnaround. It took the threat of military action by regional neighbors to get Jammeh to give up the presidency but not before he carted away with expensive cars including two Rolls Royce and emptying state coffers.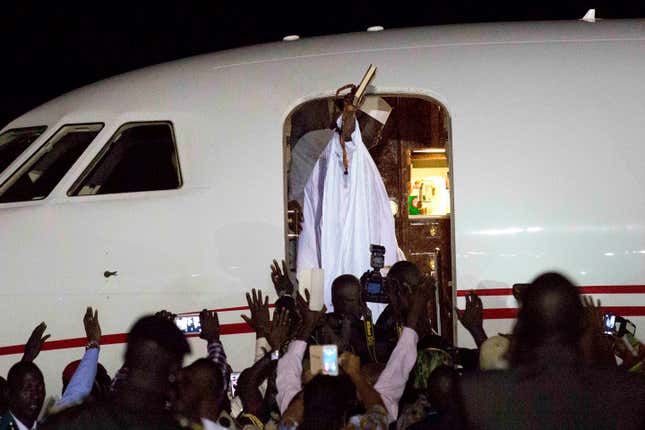 Uganda's late brutal dictator Idi Amin opted to leave the continent entirely when his eight-year dictatorship was toppled in 1979 by rebel forces. Amin first retired to Libya where president Muammar Gaddaffi, who ruled there for 42 years, granted him refuge. Amin eventually spent the remainder of life in "soft exile" in Saudi Arabia where he died and was buried. He was never tried for his crimes.
Face the music
Liberia's Charles Taylor, who ruled for six years but terrorized the country for much longer, has not been as lucky. After failing to get a move to Rwanda (run by long-serving Paul Kagame), the 70-year old will continue serving a 50-year jail term in the United Kingdom. He was convicted for war crimes committed during civil wars in Liberia and Sierra Leone. Taylor spent three years in exile in Nigeria after he resigned from office in 2003 but was ultimately extradited back to Liberia and was tried in the Hague.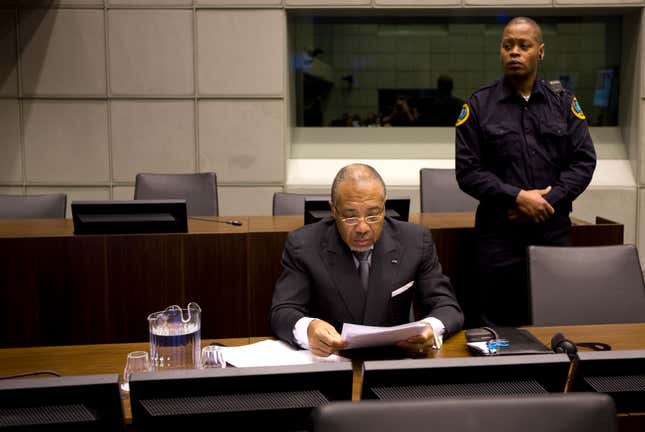 Egypt's Hosni Mubarak, toppled in 2011 amid Arab Spring protests after a 30-year rule, also faced charges of corruption and murder following his ouster from office. However, a life sentence over the death of 239 people during protests against his rule was ultimately overturned by Egypt's highest appeals court last year after he had spent six years in custody.
Watch their empire crumble
Last year, when Angola's former president Eduardo Dos Santos voluntarily stepped down from office after ruling for 38 years, very few people truly believed he was fully relinquishing power. Dos Santos, 76, was set to stay on as leader of the ruling party with João Lourenço, his former minister of defense, installed as his presidential successor. Dos Santos' children also held key positions in government: billionaire daughter Isabel Dos Santos led state oil company, Sonangol—cash cow of the oil-rich country, while Jose Filomeno was in charge of Angola's $5 billion sovereign wealth fund. But all that has changed: Lourenço has fired both Dos Santos children and cancelled contracts awarded to companies linked to the Dos Santos family. Jose Filomeno has also been detained on fraud allegations. For his part, Dos Santos has been forced to deny allegations of corruption.
Strongman politics still remains prominent on the continent despite continuing criticism. Electoral wins with over 90% of the vote are still being recorded and some African strongmen remain intent on being presidents for life: last month, Cameroon's Paul Biya, 85, won another seven-year term in office.
Sign up to the Quartz Africa Weekly Brief here for news and analysis on African business, tech and innovation in your inbox