In the photo, the ballerina's twisted fingers dance towards the gloomy sky.
Posing in the classic retiré position—with one of her legs bent upwards, the toes touching just above her knees—her eyes remain fixed on the camera. Decked in ballet shoes with jeans and leather jacket, her body is juxtaposed against the Algerian flag carried by protestors standing behind her demanding the removal of the now-fallen president Abdelaziz Bouteflika.
More than 5,500 kilometers (3,400 miles) south, a Sudanese woman is standing on top of a car, defiantly raising a finger in the air. She's wearing a white traditional dress along with gold, moon-shaped earrings, and is surrounded mostly by women recording and photographing her on their cellphones. Her pose coupled with the phones' bright screens cut a striking contrast against the twilight sky, under which demonstrators gathered to edge out the now-deposed president Omar al-Bashir.
Taken weeks apart in Algiers and Khartoum, the photos have become powerful symbols of the peaceful popular uprisings that have swept the two African states in recent months. More importantly, the images have become a study in the way African women have and continue to shape protest movements, their place in political leadership, and the function of photography in amplifying their contributions—especially during times of change.
The power of these images are also being discussed following a cascading global reckoning with gender inequity, and the discrimination and sexual harassment women face worldwide.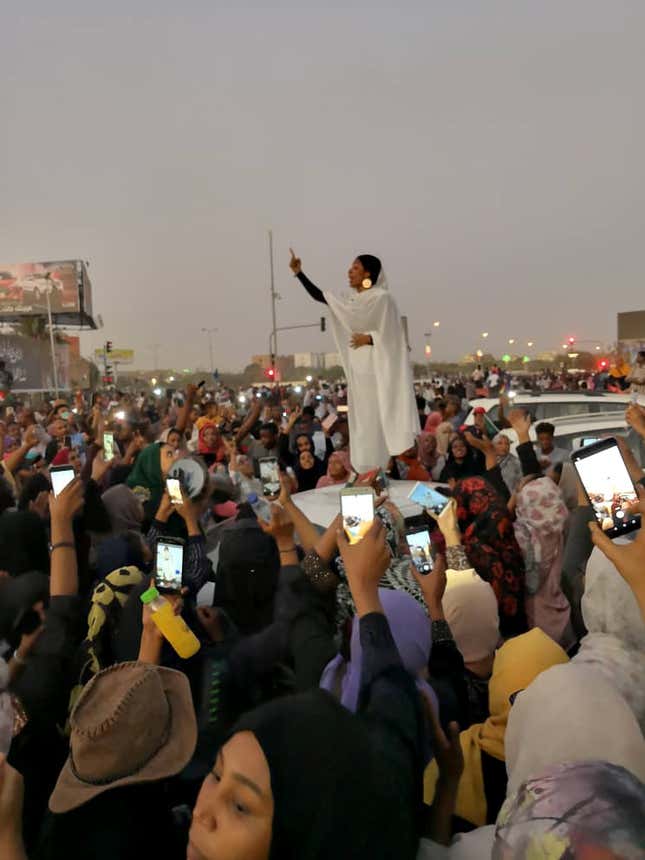 Taken by women of women, the only difference between the two images was that the subject in one assumed her position while the other was the result of pure serendipity.
Looking to "immortalize" the anti-Bouteflika protests, photographer Rania G. asked dancer Melissa Ziad to pose for her in early March. The photo, which she dubbed "Poetic Protest," signifies "freedom and lightness" she says, with the dancer's acclivity emblematic of Algeria's hopeful upward trajectory.
In contrast, Sudanese photographer Lana H. Haroun was among protestors when she spotted the engineering student Alaa Salah on top of a white vehicle. After snapping a series of photos, she posted one of them on Twitter. "She was iconic. The moment was iconic," says Lana.
Lana and Rania's images now join the oeuvre of famous photographs that have captured African women who have defied oppression and dictatorships in recent years—many times at a great personal cost. The vicious beating in 2011 of the "blue bra girl" underscored how Egypt's military abuse its power. In Uganda, women have undressed to redress the consequences of marginalization, while Ethiopian women shaved their hair to show solidarity with political prisoners following anti-government protests in 2015.
In South Africa, the image of a schoolgirl sporting an Afro and standing up to a white man for the right to wear her natural hair went viral in 2016. Congolese-American activist Patricia Okoumou attracted global attention last year for defying Trump's zero-tolerance immigration policy by climbing on top of Lady Liberty in New York.
Globally, these women join the likes of Saffiyah Khan staring down a far-right marcher in Birmingham, UK; the nurse Ieshia Evans being arrested at a Black Lives Matter demonstration; besides Tess Asplund with her fist raised in lone protest against far-right supporters in Sweden.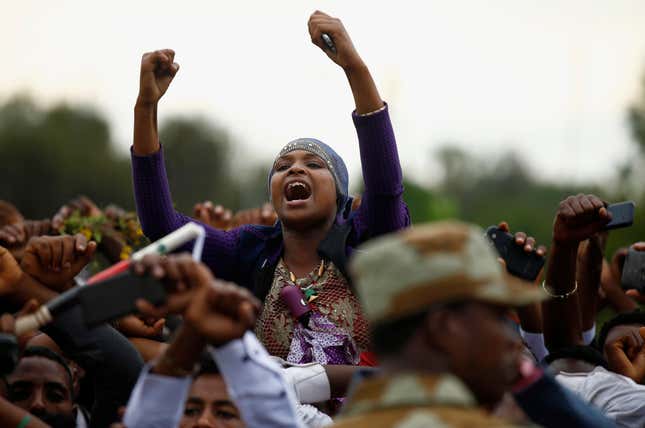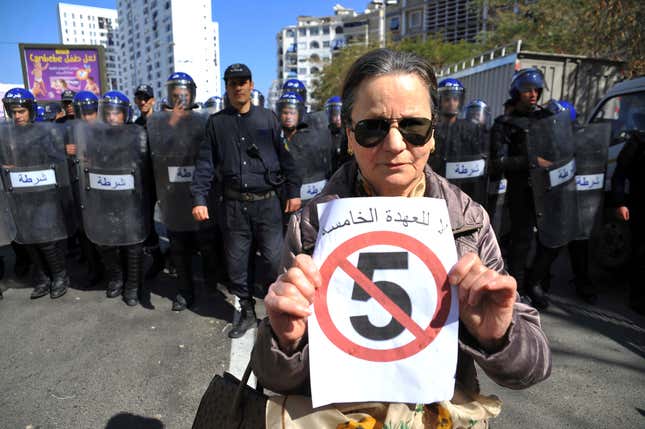 "There used to be a time when an image was powerful because of what it captured. Now that is amplified by its ability to be shared over and over again," says Sisonke Msimang, whose new book about Winnie Mandela re-examines her role in fighting not just apartheid in South Africa but also the patriarchal nature of the struggle itself.
The photos of Alaa and Melissa, observers say, dispel the notion that protests and political agitation are exclusive to men. This is especially crucial as historical narratives have erased African women from the pivotal roles they played during pre or post-independence movements.
There's also the social construct, experts say, that women's purview doesn't extend beyond the household duties of caring and rearing children. "It's never women that we imagine as the heads of political revolutions because, again, political power is nation-state power, which is masculinized power," says Njoki Ngumi, a Kenyan feminist writer and policy analyst.
And while 'fathers of the nation' are cast as heroic and photographed in dramatic physical poses, women are "seen as offering empty comfort. They are figureheads with no real ability to contribute to nation-building."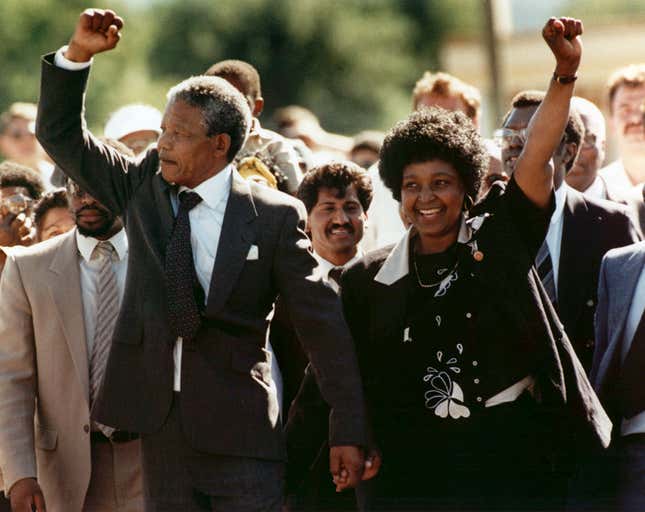 This exclusion from the socio-political sphere has happened even in countries like Egypt, where 20th-century revolutionary portrayals idealized female figures as "metaphors for the nation," says lecturer in history at the University of Cambridge Arthur Asseraf. "The images of women acquire great symbolic power while actual women do not."
Images like that of Alaa also contrast with the "exoticized and silenced" imagery of black, Arab, Muslim women in head covers, whose story has for long been denied nuance.
"Their veiling or unveiling, their position in public space, has become the object of so much debate that nothing these women can do can escape comment," Asseraf explains. "If they are veiled, it is a stance. If they are not, it is also a stance. On the other hand, precisely because of this debate, their images are likely to excite greater emotion and controversy."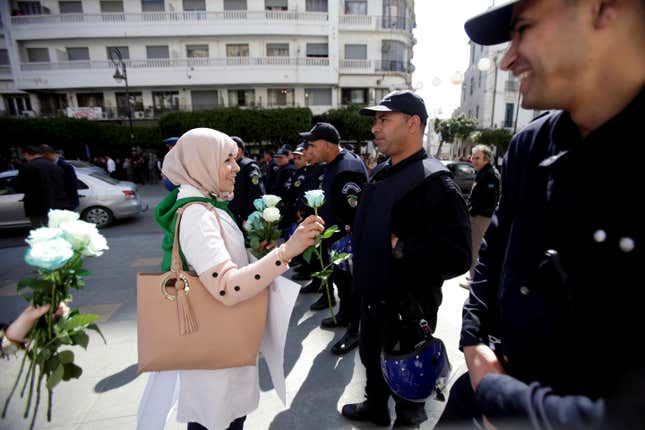 Empowering tool
The widening reach of these photos has become imperative at a time when governments continue to crack down on journalists and block social media tools. In defying state machinery, protestors have also relied on virtual private networks to not only bypass censorship but also stand in solidarity with each other, says Nanjala Nyabola author of the book Digital Democracy, Analogue Politics about the socio-political transformation of the internet in Kenya.
"What social media has done in this particular case is that it's made this a pan-African cause," she says.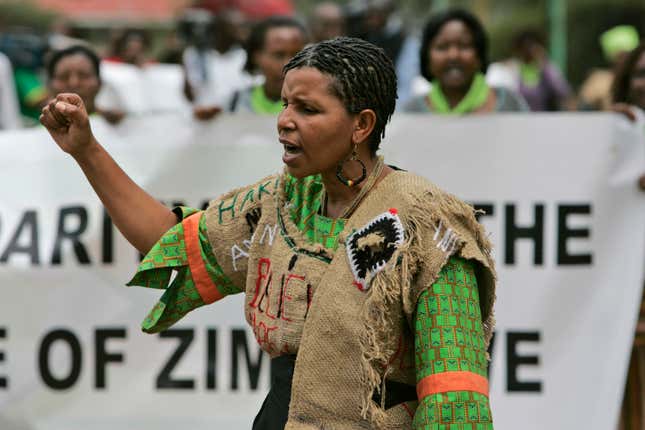 Yet the modalities that democratize sharing these powerful protest images also create avenues for trolling, harassment, and continued violence against women, Njoki says. While photographs can act as instruments of change, it's also vital to acknowledge that many Africans don't have access to them. Besides, while images can galvanize global sentiment, Njoki argues there's a need to focus on what comes next.
"A lot of people tend to see the image as the end." But the task, she says, is "How do we keep people focused on the story beyond the image, around the image, because of the image? That's the challenge."
Sign up to the Quartz Africa Weekly Brief here for news and analysis on African business, tech and innovation in your inbox