Five Africans have been listed on Time magazine's annual list of the 100 most influential people globally.
After a first year in office marked by sweeping changes, Abiy Ahmed, prime minister of Ethiopia, has seen his stock and influence rapidly grow. Poignantly, Abiy's tribute on the list was penned by Feyisa Lilesa, the Ethiopian marathoner who famously protested against the former government at the 2016 Olympics. Lilesa, who was self-exiled until Abiy came into power last year, was just one of the many Ethiopians, including journalists and opposition figures, who have regained their freedom in a renewed Ethiopia. Abiy, 41, has also notably backed gender equality in government and has pushed to loosen the state's stranglehold on the economy.
Abiy was one of the two African heads of state on the list. Cyril Ramaphosa, president of South Africa, was credited for his delicate balancing act of achieving private sector success and ongoing public service in politics. The nod for Ramaphosa comes with less than a month before he contests for re-election amid public pressure given high-profile problems like an ongoing electricity crisis.
Egypt's Mo Salah, currently regarded as a global soccer icon also made the list after enjoying a rapid rise in stardom since joining English Premier League side Liverpool in 2017. Such has been Salah's goal-scoring form that his boots were showcased among Egyptian artifacts at the British Museum. After a stellar personal first season in English soccer, Salah is now aiming for collective glory as Liverpool chase a first league title in nearly 30 years. Also important has been his positive image as a Muslim in a part of the world and a time in history when the Islamic faith is often under attack.
South Africa's track and field Caster Semenya also got a recognition especially for her continued challenge of the International Association of Athletics Federations gender-related regulations. Semenya has dominated her sport since her emergence at the Berlin World Championships a decade ago but has also been subject of scrutiny and has become the poster athlete of the sport's contention with pegging testosterone levels as a criteria for competing.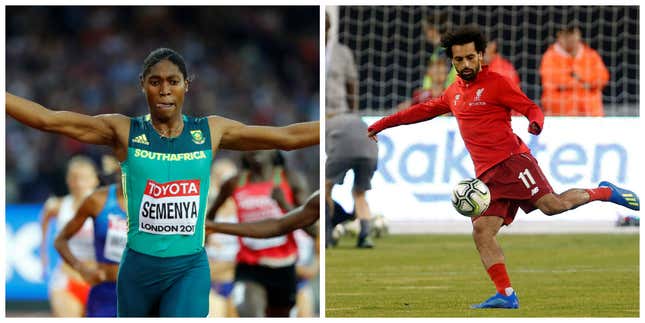 South Africa's Caster Semenya and Egypt's Mo Salah
Away from politics and sports, Ghanaian entrepreneur Fred Swaniker is also named for his pioneering work in remodeling African education through the African Leadership University (ALU). Swaniker's overarching goal is to prepare the continent's youth for a future which will see African countries become home to world's largest working age population.
It's a very ambitious target given the current high rates of unemployment and rapid population growth across the continent. So far however, Swaniker's drive has proven a major pull for investors as ALU has been backed with over $80 million since being founded in 2015.