Exiled Ethiopian marathoner Feyisa Lilesa has returned home.
Lilesa landed in the capital Addis Ababa on Sunday (Oct. 22) after more than two years in exile. The 28-year-old came into the limelight in 2016 after he crossed the Olympic marathon finish line in Rio by holding his crossed wrists over his head—a gesture of solidarity with the anti-government protests that had been taking place in the Horn of Africa nation. The Oromo, Ethiopia's largest ethnic group, along with the Amharas, were demonstrating to demand equal economic opportunities, political reform, and an end to the police crackdown.
"My legs were running but my mind was preoccupied by all the suffering that was going on around me," Lilesa had said about why he decided to protest as he won a silver medal.
Fearing he'd be killed if he went back, Lilesa sought asylum in the United States, where his family joined him several months later. As violence mounted in Ethiopia and the prospects for change dimmed, the marathoner told Quartz he had no plans of ever returning to his home nation until there were a regime change and a "visionary leadership that can garner and develop the resources for the benefit of all, not just a limited few elites who take all for themselves."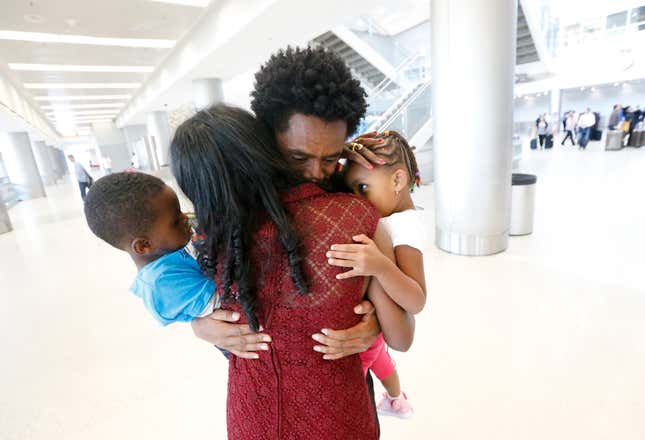 That change of guard has now come in the form of a 42-year-old prime minister, Abiy Ahmed. Since coming to power in April, Abiy has introduced radical reforms aimed at dismantling the country's troubled past and paving the way for a new future. In April, Lilesa told Quartz from his new home in Flagstaff, Arizona that he was emboldened by Abiy's rhetoric and actions and that he was thinking of returning home. While living abroad, he kept training, participating, and running marathons including in London, Bogota, and Tokyo.
Lilesa, however, isn't the only Ethiopian returning home these days: exiled opposition groups, journalists, and academics are all going back as the country turns a new page. On Sunday, he was received at Addis Ababa's Bole airport by foreign minister Workneh Gebeyehu along with family and fans. "I knew the dictatorship would eventually fall down," he said.