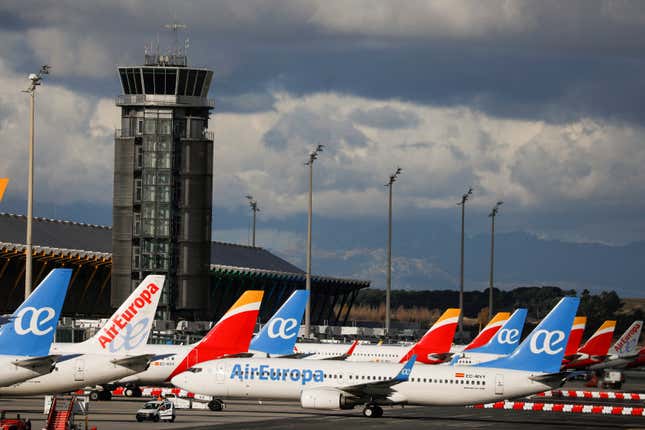 It's going to be a busy summer season air travel. It could also be extraordinarily unruly.
Why a tightening of credit conditions could lead to a weak economy
Domestic air passenger traffic worldwide is now back to pre-pandemic levels, and North American carriers have made a full recovery in international passenger volumes compared to 2019 levels, according to new data from the International Air Transport Association (IATA).
But as peak summer travel season beckons—with long airport lines, expensive fares, and flight delays—frustrations among passengers and crew alike can run high. And if last year was any guide, airlines will likely have to deal with a heightened level of unruly passenger behavior.
Physical abuse on planes has nearly tripled since 2020
According to IATA data published yesterday, the average number of reported unruly passenger incidents rose sharply last year to 1.76 per 1,000 flights, up from 1.2 per 1,000 flights in 2021, and 1 per 1,000 flights in 2020 (pdf).

IATA, an industry body representing over 300 airlines comprising over 80% of global air traffic, also found that incidents of verbally abusive behavior rose 61% from 2021 to 2022. Non-compliance incidents—such as smoking and vaping onboard, and not wearing seatbelts when required—were initially down following the lifting of masking requirements, according to IATA, but then began to rise throughout 2022 and ended the year up 37% compared to 2021.
Physical abuse incidents remain "very rare," according to IATA. Worryingly, however, their frequency last year increased by over 60% compared to 2021, and has nearly tripled since 2020.
Regulating and preventing unruly behavior
To deal with this spate of bad behavior, IATA is advocating more robust regulation, as well as better guidance to prevent and de-escalate incidents.
In the US, lawmakers in March re-introduced legislation that would create a no-fly list of passengers who have been fined or convicted of assaulting staff onboard an aircraft. The US Federal Aviation Administration is taking a zero-tolerance approach to disruptive passenger behavior. That includes referring more cases of unruly passengers to the FBI for criminal investigations.