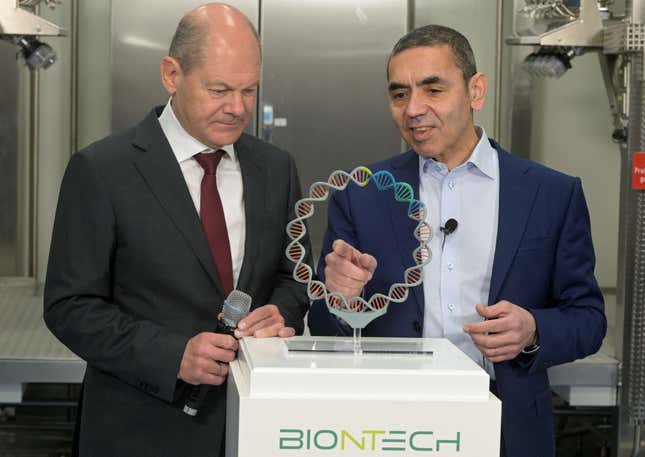 BioNTech is over covid. Or looking past it, at least, planning to invest the company's pandemic windfall into the development of oncology products.
How HubSpot created a "Connect Four" program
The German biotech company is expecting the revenue from covid vaccines to go down pretty significantly this year. In fact, it has already began seeing the decline. In its financial results update, released on Monday (March 27,) BioNTech said revenue dropped from around $20.5 billion (about €19 billion as reported by the company) in 2021 to $18.6 billion in 2022. In its release announcing the results, BioNTech attributed the decline to the change in demand for covid vaccines.
Both BioNTech's partner Pfizer and its competitor Moderna saw higher revenue in 2022 than 2021, although they, too, expect the demand for covid vaccines to dwindle. Pfizer generated over $100 billion in revenue in 2022, compared to $81 billion in 2021, and its vaccine sales grew slightly by 3%. Moderna reported revenue of $19.3 billion in 2022, up from $18.5 billion in 2021, and attributed the increase to sales of the covid vaccine.
Yet like BioNTech, Pfizer and Moderna are looking past covid, focusing on their cancer drug pipeline. 
Mid-term focus on cancer
BioNTech's revenue jumped from $551 million in 2020 to $20.5 billion in 2021 thanks to the covid vaccine. The biopharma company was the first to launch a bivalent, omicron-specific booster, and it entered a trial with Pfizer for a combined covid and influenza vaccine in October 2022. It expects the first results to be available later this year.
BioNTech continues to adopt all measures to maximize profit from the vaccine, including opposing any plans to share vaccine technology with low-income countries, and investing instead in the shipment of pre-fabricated mobile factories to Rwanda. But its focus is shifting away from covid and external pathogen-induced treatment and toward oncology.
In 2022, the company expanded its pipeline of cancer products, including 14 mRNA cancer technologies, to 20, which are involved in 24 clinical trials, of which five are stage two. These products explore the potential of mRNA technology to deliver a targeted, highly-individualized immune response to cancer. The company also researches antibody, engineered cells, and small molecule therapies.

Despite the speed at which covid mRNA vaccine development happened, cancer vaccines won't be ready in the immediate future. "Our mid-term goal is to seek approval for multiple oncology products in cancer indications with high unmet medical need," BioNTech CEO and co-founder Ugur Sahin said in a statement.

In February, the company entered an agreement with the UK government to start a trial of personalized mRNA cancer treatments. The trial is expected to begin by the fall and deliver 10,000 personalized treatments by 2030.
Aside from its own research and development, BioNTech in 2022 entered a licensing agreement with OncoC4, a company developing an immune checkpoint modulator, or a type of drug-blocking protein made by certain cancer cells, and the company plans a stage three trial in 2023.