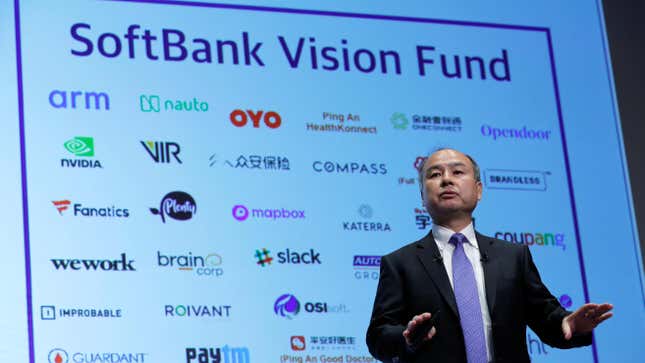 In his first public showing after a seven-month absence, SoftBank CEO Masayoshi Son said he's focusing on the IPO of Arm, the Japanese conglomerate's chip-making unit. Artificial intelligence chatbots like ChatGPT require a lot of computing power, presenting new opportunities for Arm and its fellow chip manufacturers in the wake of Nvidia's strong earnings results.
Son's announcement comes after SoftBank recorded massive losses for the past five quarters. "With Arm at the core, we will continue to pursue arenas including in quantum," he said at the company's annual shareholder meeting on Tuesday (June 20). The billionaire was expected to talk more about Arm the next day, while attending an in-person shareholder meeting for the first time in four years.
That wasn't the only AI-related comment from Son, who has long been an advocate of the technology. Besides looking into AI's potential for his more than 400 portfolio companies, he said he spoke to OpenAI CEO Sam Altman about how Z Holdings Corp., SoftBank's search engine operator, can deploy ChatGPT for Japanese language users.
SoftBank slashes its Vision Fund's investments
SoftBank's effort to take Arm public coincides with a stark pullback in spending by Vision Fund, its main investment segment. The unit spent about $550 million in the first quarter amid falling tech startup valuations, compared to $15.6 billion during the same period just two years ago, Bloomberg data shows.
"I've made many, many mistakes in my AI investments, some of them embarrassing," Son said at the June 20 shareholder meeting. "But among the many failures, there are a number of buds that will blossom very soon."
Could Arm help turn SoftBank around?
One of those blossoms could be Arm, by giving a much-needed boost to SoftBank, which has burned billions on money-losing companies such as Uber and WeWork. Three months ago, Arm filed confidentially with regulators for what's expected to be this year's largest IPO in the US.
Son's doubling down on Arm's public debut comes as Nvidia, whose market capitalization is now $1 trillion, has become the leader in AI chips. The SoftBank founder has also reportedly been in talks with Intel and other companies about participating in Arm's IPO, according to Bloomberg.

It's unclear if that would give Intel and Arm a pathway to compete with Nividia on AI chip dominance, but it doesn't necessarily need to, given the growing demand for AI applications. Arm's valuation in the IPO could be anywhere from $30 billion to $70 billion, Bloomberg reports.