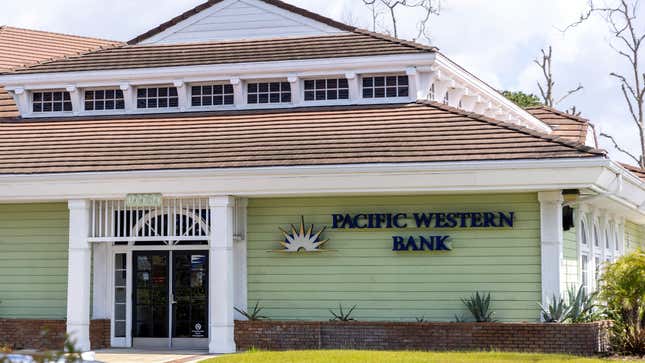 Banc of California is buying long-struggling rival Pacific West Bancorp, also known as PacWest, the two announced yesterday (July 25). The all-stock merger transaction will create a combined $36 billion asset bank headquartered in Los Angeles that will operate under the Banc of California name.
Should you keep investing in Big Tech?
Beverly Hills-based PacWest had warned that it was weighing strategic options, including a potential sale, in May. Later that month, it sold $2.6 billion worth of real estate loans to Kennedy Wilson Holdings.
The takeover is a bid to shore up confidence at a time when a bunch of regional banks have struggled under pressure on account of assets losing value as interest rates increased, and a glut of uninsured depositors who could potentially lose out if the bank became insolvent.
Banc of California will bring niche strength in healthcare, education, entertainment and warehouse lending to the table, while PacWest's expertise lies in HOA (Homeowners associations) banking services, portfolio lending, equipment lending and leasing, and SBA (Small Business Administration) lending, the two banks said.

Quotable: PacWest has de-risked itself

"Getting caught in the headlines could have happened to any bank. A liquidity run could have happened to anybody. The way that they've de-risked the franchise and moved it more toward a community bank and layered on some good deposit generators is gonna be a really good fit for us."—Jared Wolff, president and CEO of Banc of California who will retain the same roles at the combined company, said on a call discussing the deal to buy PacWest, Bloomberg reported
PacWest and Banc of California merger, by the digits
$400 million: Value of private equity firm Warburg Pincus and Centerbridge Partners' investment in the company concurrently with, and subject to, closing of the merger
0.6569: Share of Banc of California common stock PacWest shareholders will receive for each share of PacWest common stock they own
$36.1 billion: Assets the combined company will have, less than the $44.2 billion PacWest held at the end of March
$25.3 billion: Total loans the combined company will have
$30.5 billion: Total deposits the combined company will have
70+: Branches the combined entity will have throughout California
~$13 billion: How much the combined company will repay in wholesale borrowings, funded by sales of assets which are fully marked as a result of the transaction, and excess cash.
12: Directors on the board of the combined company, eight from the existing Banc of California board, three from the existing PacWest board, and Todd Schell from the Warburg Investors. John Eggemeyer, who is the independent Lead Director on the board of PacWest currently, will become chairman of the board
Charted: Banc of California shares shot up on the merger news
A brief timeline of the US regional banks crisis

March 2023: Crypto bank Silvergate falters and winds down. Silicon Valley Bank signals trouble as withdrawal requests rise—that creates more panic and triggers a run on deposits. The bank implodes—it's the second-largest US bank failure in history—and the Federal Deposit Insurance Corp (FDIC) takes over. Shortly after, Signature Bank faces a similar crisis, and New York regulators shut it down. The Federal Reserve, the Treasury Department, and the FDIC announce that "depositors will have access to all of their money" and set up an emergency lending program to provide additional funding to eligible banks.
April 2023: The largest banks report robust first-quarter earnings, signaling that many customers developed a strong preference for larger institutions. First Republic's earnings saw the bank lost over $100 billion in customer deposits during the first quarter. The bank cuts up to a quarter of its work force and reduce executive compensation by an unspecified amount.
May 2023: First Republic Bank, which was given a $30 billion lifeline by 11 of the largest US banks, is seized by regulators and sold to JPMorgan Chase.
Related stories
🛒 PacWest is considering a possible sale following a stock rout
💡 ​​The FDIC's proposal for deposit reform is narrow and uninspiring—and it just might work
🫵 The Fed's report on Silicon Valley Bank is out, and it blames everyone