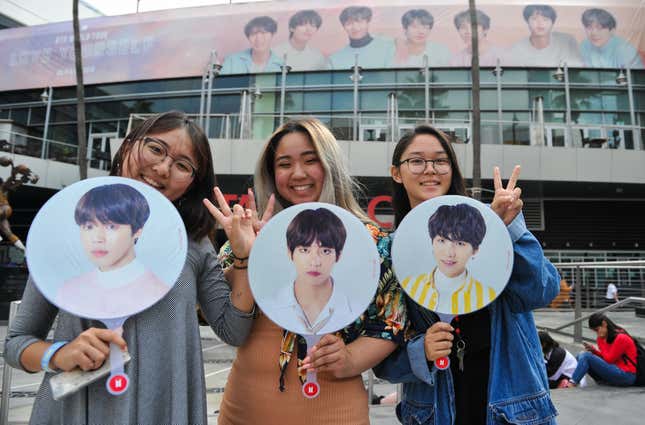 Grab your headphones because Suga, lead rapper of BTS, is about to drop a new album.

Eric Beiley Part II: Where rates are heading
The 30-year-old K-pop star, also known as Agust D, is releasing his debut solo album D-DAY on Friday (April 21) along with a Disney+ documentary that explains how he created the LP.
The album consists of 10 tracks and includes collaborations with fellow BTS member j-hope, queen of K-pop IU, and the Oscar-winning Japanese composer Ryuichi Sakamoto. It will round out Suga's solo music career which began with his mixtapes Agust D and D-2, released in 2016 and 2020, respectively.
"The album delves into the personal journey of SUGA as Agust D, offering an intimate portrayal of his life as an artist," said a statement (link in Korean) on social media platform Weverse.
If that wasn't enough to hype fans up, the teaser photos released this week (think: moody poses, flames, and Hawaiian shirts) have added to the anticipation.
Expectations are also high for D-DAY's performance on the charts. "People Pt.2," a single off of D-DAY, was released on April 7 and hit the number one spot on three different music charts, according to Billboard: Digital Song Sales, Rap Digital Song Sales, and World Digital Song Sales. The song is currently number one on Billboard's Digital Song Sales chart, a personal record for Suga who has now made the list under three different names, Forbes reports.
Following D-DAY's release, Suga will hit the road, becoming the first BTS member to go on a solo world tour. He will perform in cities across the US and Asia, with the first concert set for April 26 in New York.
The full D-DAY track list
1. D-DAY
2. Haegeum
3. HUH?! (feat. j-hope)
4. AMYGDALA
5. SDL
7. Polar Night
8. Interlude : Dawn
9. Snooze (feat. Ryuichi Sakamoto, Woosung of The Rose)
10. Life Goes On
Fans are buzzing about the teaser for D-DAY track "Haegeum"
Yesterday (April 19), BTS's label Hybe dropped a 30-second teaser trailer for a song off of D-DAY titled "Haegeum 해금" (meaning, to lift a ban or restriction).
With gritty aesthetics and a grinding bass, the track has already racked up over 2.6 million views on YouTube, and is generating hype across social media. Enterprising BTS fans, known officially as ARMY (an acronym for "Adorable Representative M.C. for Youth"), even tracked down the exact street in Bangkok, Thailand where the video was shot.
According to Billboard's Hot Trending Songs chart, which uses Twitter data to find the platform's "most discussed" music, "Haegeum" is trending as the number one track , while another song off the forthcoming album, "AMYGDALA," is trending at number three. Two other unreleased songs on the album, "Snooze" and "D-DAY," are ranked as ninth and sixteenth, at time of writing.
BTS and Disney have paired up again
Disney+ will release the documentary, SUGA: Road to D-DAY on Friday (April 21). The film gives fans an inside look at Suga's writing process, following the star as he travels to cities including Los Angeles, Seoul, and Tokyo. The film will also be available on Hybe-owned social media platform, Weverse.
It joins a set of other collaborations between Hybe and Disney, including the documentary j-hope IN THE BOX; BTS: Permission to Dance On Stage—LA; and In the Soop: Friendcation. Disney+ also plans to release the docuseries, BTS Monuments: Beyond the Star, in 2023.
Solo works from J-Hope, RM, Jin, and Jimin have smashed records
Since going on hiatus in June, other BTS members have published solo works to chart-topping success. J-Hope released Jack in the Box in July, which Rolling Stone ranked as number nine on its list of the best albums of 2022.
Meanwhile, BTS leader RM's album Indigo reached number three on the Billboard 200, selling over 600,000 copies the week it dropped in December, according to Hanteo, South Korea's leading music chart. Jin's single "The Astronaut" also broke a number of Billboard records and sold over one million copies in just over two weeks from its release.
Most recently, Jimin's album FACE sold over one million copies worldwide when it debuted on March 24, setting a new Hanteo record.
Related stories
👀 Regulators are watching as BTS label Hybe tries to consolidate its control of K-pop
🚨 K-pop giant SM Entertainment was raided over suspected market manipulation
💜 "Stans" have changed what it means to be a music fan—for better and worse