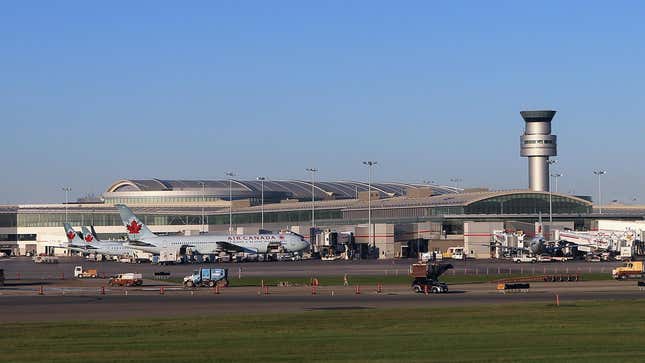 Millions of dollars worth of gold were stolen in a robbery at Canada's largest airport, authorities disclosed on Thursday (Apr. 20).
Eric Beiley Part II: Where rates are heading
The gold and valuables worth 20 million Canadian dollars ($14.8 million) were offloaded from a plane at Pearson International Airport in Ontario and stored at a secure cargo holding facility. The high-value goods, which were first discovered missing on Monday (Apr. 17) were being moved as part of an intra-bank transfer, the Toronto Sun reported. The bank sending the shipment was TD while the airline was Air Canada, according to a confidential memo shared with the Canadian Daily. The recipient bank was not mentioned.
Not much is known about the culprit(s). The list of possibilities is long, including an inside job or an organized crime hit. Police also do not know if the gold is still in Canada or if it's been taken out of the country.
Pearson's cargo facility, by the digits
1.2 million square feet: On-airport warehouse space and at Pearson across its three main cargo facilities on site—Cargo North, Cargo East and Cargo West
5 square feet: Size of the container the gold was stolen from
240+: Truck loading doors at Pearson's cargo facilities
45%: Share of Canada's air cargo traffic handled by Pearson
Heist of interest: Canada's 1952 airport gold heist
This is not the first time gold has been stolen from this airport. Back in September 1952, out of ten boxes of gold headed for Montreal, only four showed up. The missing boxes contained about $215,000 in gold bars—around $2 million in today's dollars—and were taken out of a steel cage at Malton airport, which is now Pearson. In another coincidence, the airline hit by the crime the last time was Trans-Canada Air Lines, which rechristened itself Air Canada in 1965.
Dampening hope, the seemingly perfect crime from 71 years ago was never solved.
A non-exhaustive list of other Canadian heists
🍁 The Great Canadian Maple Syrup heist, orchestrated by ringleader Richard Vallières, is one of the biggest robberies in Canadian history. Over the course of several months in 2011 and 2012, a team of thieves stole maple syrup worth almost $18 million from the province of Quebec's strategic maple syrup reserve, and then they sold the illicit product. Vallières was caught and had to pay—eight years of prison time and $9 million in fines. And if he couldn't pay his victims, his jail time would go up by another six years.
💎 In 2007, while the owner of Toronto jewelry store Gem Star was away on business, thieves stole diamonds worth $5 million, and were never caught.
📸 An original print of a Winston Churchill portrait, snapped by Armenian-Canadian photographer Yousuf Karsh, was swapped out for a fake while on display at the Fairmont Château Laurier in Ottawa in 2022. The 1941 picture, known as The Roaring Lion, has still not been found.
Related stories
🍯 Sticky-fingered bandits nabbed in Quebec maple syrup heist
💍 How a group of elderly men carried out the biggest diamond heist in British history
👑 The real-life heist of the Swedish royal family's crown jewels rivals any movie