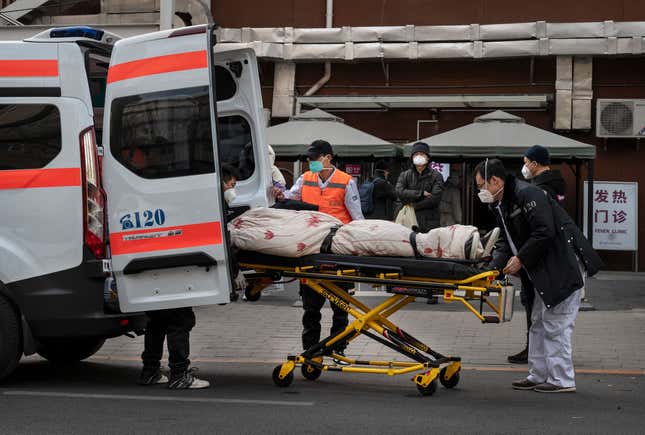 Even as it has swung abruptly from zero-covid to dismantling the bulk of its coronavirus restrictions, one thing has been remarkably consistent about China's pandemic response: a singular focus on controlling the narrative.
Want to show your team you're taking their mental health seriously? Try this certification.
In early 2020, this meant censoring social media posts about the death of a doctor and whistleblower; banning the phrase "Wuhan virus;" lobbying the World Health Organization to avoid the name SARS-CoV-2; and portraying the nation's pandemic response as a "people's war"—a collective fight that, as Chinese officials put it, the decadent and liberty-loving West was unable and unwilling to wage.
More than two years later, in late 2022, Beijing suddenly reversed course. The "people's war" gave way to rhetoric about individual responsibility—a convenient way for officials to pre-empt blame and shield the party apparatus from the deadly fallout of an ill-planned, under-prepared transition to "living" with the coronavirus. 
Authorities sought to play down the risks of covid, changing the Chinese term for covid from "novel coronavirus pneumonia" to "novel coronavirus infection" and wheeling out top medical experts on state television to insist that the omicron variant of the coronavirus was "not scary."
Now, as the coronavirus tears through China's population, it must grapple with a surge in cases and deaths. Already, Beijing has been forced to sharply revise its covid death toll to 60,000—up from just several dozen—for the period from Dec. 8 to Jan. 12. That's very likely still an undercount, based on modelling by researchers.
That count is likely to get much worse. The UK-based health analytics firm Airfinity predicts up to 36,000 covid deaths per day during the busy Lunar New Year season, when hundreds of millions typically criss-cross China to get home for the holidays.
Censor the pandemic gloom away
With its elderly and vulnerable population still under-vaccinated, and few having received a fourth covid vaccine dose, authorities have limited options for significantly reducing cases and deaths. But the Chinese government dose have a tried and tested tactic up its sleeve: censorship.
In a statement published yesterday (Jan. 18, link in Chinese), the Cyberspace Administration of China—the country's top internet regulator—outlined steps in its "Spring Festival internet environment rectification" campaign.
Among other things, censors have been ordered to erase "gloomy emotions" as part of its mission to "increase the rectification of pandemic-related online rumors."
In addition, any content that "causes social panic," including those that "fabricate pandemic trends" and spread "fictitious patient experiences," are to be banned. Online posts that use writing about the homeward journey as a pretext to "spread anxiety" and "play up the dark side of society' are also to be scrubbed.
Of course, Chinese authorities have carte blanche to deem anything inconvenient or unfavorable to the regime a "rumor." Unfortunately, tragedies will unfold nationwide as covid rampages through communities. Whether those stories will be publicly told and remembered is another matter.