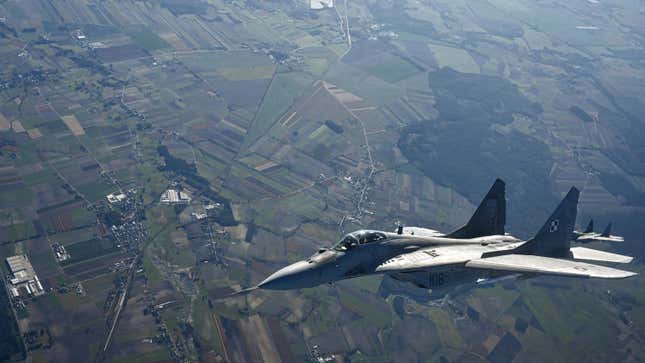 All is not quiet on the North American airspace front. In a little over a week following the Feb. 4 takedown of a balloon the US is confident is a Chinese surveillance device, three unidentified aerial objects have been brought down by US military planes.
Should you keep investing in Big Tech?
The most recent incident occurred on Sunday (Feb. 12), when an F-16 fired an AIM 9X missile to shoot down an airborne object flying at approximately 20,000 feet altitude in US airspace over Lake Huron, Michigan.
"Its path and altitude raised concerns, including that it could be a hazard to civil aviation," North American Aerospace Defense Command (NORAD) said in a statement. The object "flew in proximity to sensitive DOD (department of defense) sites."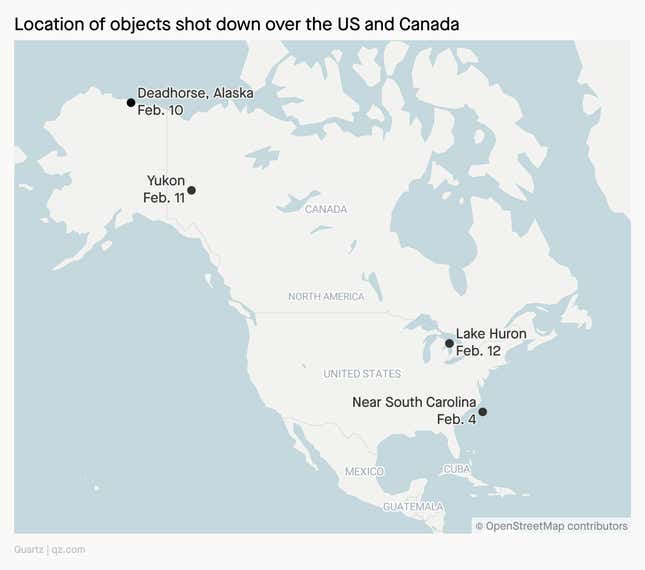 The second-largest lake in North America, Lake Huron is bound by the US and Canada, a country that has also had its share of flying object sightings. On Saturday (Feb. 11) the two countries worked together to take down "a high-altitude airborne object over northern Canada," according to Pentagon press secretary brigadier general Pat Ryder. Canadian prime minister Justin Trudeau confirmed the operation in a tweet. The object, spotted over Alaska late in the evening on Friday (Feb. 10), was shot down in the Yukon region by an F-22 using an AIM 9X missile.
Earlier that day, US fighter jets shot down a mysterious object about the size of a car detected about 40,000 feet over Alaska.
Are the flying objects Chinese spy balloons?
As officials work to collect debris and investigate, both the US and Canada have said it's too early to determine whether any of all the objects shot down in the past few days came from China, and what their purpose was.
They are not identical to the first one, which China tried to downplay as a weather balloon gone adrift.
On Feb. 10, White House spokesman John Kirby said officials were refraining from calling the Alaska item a balloon and instead calling it a "high-altitude object," which is "the best description we have right now." It was "much, much smaller than the spy balloon we took down last Saturday," Kirby said. A Pentagon statement said the object "does not resemble in any way" the Chinese spy balloon and that there were no further details to share as of yet, "including any description of its capabilities, purpose or origin."
The one taken down in Canada is "similar" but "smaller in size and cylindrical in nature," Canada's defense minister Anita Anand said during a press conference Saturday (Feb. 11).

Sanctions over the Chinese spy balloon
The Biden administration made good on its threat to alienate companies involved in manufacturing the spy balloon from trade. On Feb. 10, it added six China-based firms to the trade restriction list "for supporting the [People's Republic of China] PRC's military modernization efforts, specifically those related to aerospace programs, including airships and balloons and related materials and components, that are used by the People's Liberation Army (PLA) for intelligence and reconnaissance."
These entities—five companies and one research institute—can't obtain US items and technologies without US government authorization. Any transaction will require a license from the Bureau of Industry and Security (BIS), and applications for those licenses are likely to be denied.
"Designating companies engaged in activities contrary to US national security and foreign policy on the Entity List enables us to screen all exports to them and gives exporters a tool to determine who poses security concerns," said assistant secretary of commerce for export administration, Thea D. Rozman Kendler.
These are the latest additions to the list:
Beijing Nanjiang Aerospace Technology
Dongguan Lingkong Remote Sensing Technology
Eagles Men Aviation Science and Technology Group
Guangzhou Tian-Hai-Xiang Aviation Technology
Shanxi Eagles Men Aviation Science and Technology Group
China Electronics Technology Group Corporation 48th Research Institute
Quotable: Why are there suddenly so many unidentified flying objects and so little information about them?
"Without getting into detail, I can tell you that much of our radar, much of our sensors, are not–are really designed against the threats that most Americans are familiar with…The truth is that most of our sensors and most of what we were looking for didn't look like balloons. Now, of course, we're looking for them. So I think we're probably finding more stuff."


— Jim Himes, the top Democrat on the House Intelligence Committee who is part of the so called Gang of Eight, the eight Congress leaders briefed on classified intelligence material, on NBC's Feb. 12 Meet The Press
Related stories
⛔ Companies involved in the making of the Chinese spy balloon could face sanctions
🎈 What we know about the surveillance balloon flying over the US

📍 Chinese spies charged with trying to thwart Huawei investigation