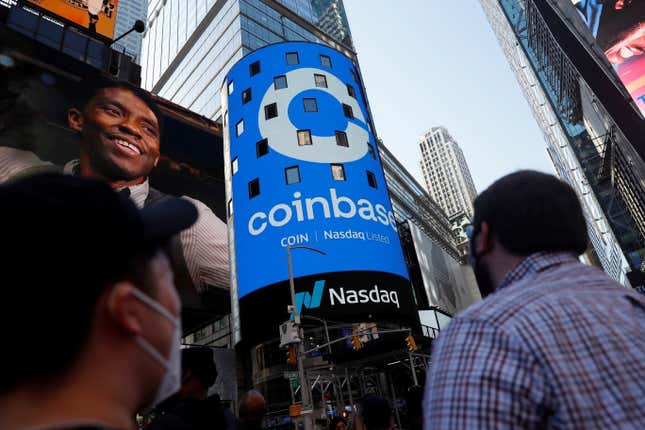 Coinbase, the largest cryptocurrency exchange in the US, has received regulatory approval to offer crypto futures trading to retail investors. This is not the first opportunity for retail investors to bet on crypto futures. Currently, the Chicago Board Options Exchange (CBOE) allows all types of investors to invest in crypto derivatives. However, it is the first time a crypto-native exchange has been given regulatory approval.
Should you keep investing in Big Tech?
"This is a huge milestone for Coinbase as we continue to work toward creating an open financial system that expands the utility and adoption of crypto," Coinbase chief policy officer Faryar Shirzad tweeted.
The decision was made by the National Futures Association (NFA), a self-regulatory organization designated by the US Commodity Futures Trading Commission (CTFC).
The regulatory easing comes as a surprise amid a lawsuit with the US Securities and Exchange Commission (SEC), which accused Coinbase in June of offering unregistered securities to retail investors.
Coinbase is now the first crypto-native firm to offer regulated future tradings
Futures and other derivatives allow consumers to place a leveraged bet on whether the price of a cryptocurrency, or any commodity, will rise or fall.
Historically, this type of trade has made up the vast majority of global crypto transactions but has been mostly unavailable for retail US investors, with the CTFC mandating strict safeguards. US regulators have argued that the trades are too easily susceptible to money laundering and other risks to investors.
The Binance lawsuit looms over this decision
The decision by the NFA comes amid a parallel legal battle between the CTFC and rival crypto exchange Binance.
Federal regulators accused Binance of encouraging US customers to buy unregistered derivatives through illegal VPNs, failing to correctly register the business as a futures commissions merchant, and a host of other infractions. In return, Binance countersued the CTFC, arguing that it had exceeded its jurisdiction.
The incongruous signals from the CTFC offer a compelling comparison of the two cryptocurrency exchanges. The lawsuit against Binance was filled with damning indictments of the company's practices and culture, including an accusation that CEO Changpeng Zhao "answers to no one but himself." Meanwhile, the approval of Coinbase as a futures marketplace suggests that the agency sees the company sticking around—and in the relatively good graces of US regulators—for the long haul.
Related stories:
🪙 Binance doesn't think the US has jurisdiction over its crypto exchange
🏦 US regulators sued Binance for encouraging customers to buy unregistered crypto commodities
🫰 Jack Dorsey's fintech company Block is being accused of facilitating criminal activity