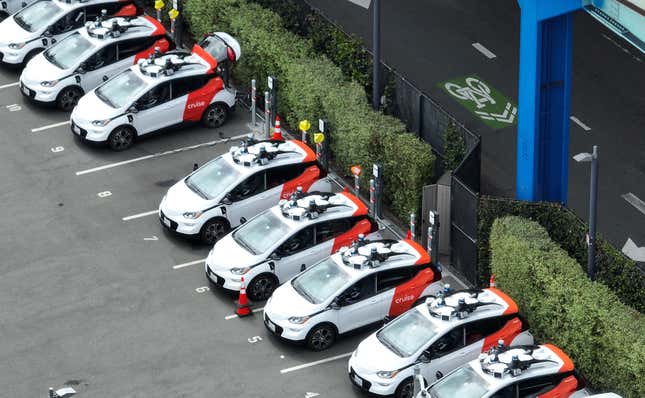 Robotaxi company Cruise, owned by GM, has agreed to comply with California regulator demands and slash its San Francisco fleet in half after two of its driverless cars were involved in collisions last week. The order comes just over a week after Cruise gained approval from California's public utilities authority to operate at all hours in the city.

Should you keep investing in Big Tech?
One of the company's driverless taxis was involved in a crash with an emergency vehicle on Aug. 17, Cruise stated on X (formerly Twitter). A passenger within the vehicle sustained "non-severe injuries," according to Cruise. Another robotaxi with no passengers was involved in a separate incident the same day, the San Francisco Chronicle reported.
The California Department of Motor Vehicles (DMV) ordered Cruise to "immediately reduce its active fleet of operating vehicles by 50%" as it investigates the crashes, according to an email statement quoted in Bloomberg on Aug. 19. The DMV also said the reduction must remain in place until Cruise "takes appropriate corrective actions to improve road safety."
A Cruise spokesperson said to Quartz in an email: "We...look forward to working with the CA DMV to make any improvements and provide any data they need to reinforce the safety and efficiency of our fleet."
The company is now permitted to operate 50 driverless cars during the day in San Francisco, and 150 at night.
The San Francisco Fire Department has opposed robotaxi expansion in the city
One of the crashes last week involved a fire truck, the San Francisco Police Department (SFPD) confirmed with Reuters. The vehicle, according to its report, had its lights and sirens on and was driving through an intersection in the city's Tenderloin district when it struck a Cruise robotaxi that was moving forward on a green light.
When asked what happened, one firefighter said to the SFPD that the Cruise car appeared to have "lurched," ABC7 news reported.
Cruise published an update of their own analysis of the incident on Aug. 18 in a blog post. "The AV's ability to successfully chart the emergency vehicle's path was complicated by the fact that the emergency vehicle was in the oncoming lane of traffic, which it had moved into to bypass the red light."
San Francisco fire chief Jeanine Nicholson has cautioned California authorities against expanding the use of driverless vehicles in the city for months. In a hearing on Aug. 7, she cited 55 instances (pdf) in which robotaxis impeded the fire department's operations.
"The biggest concern is that someone is going to get really severely injured or killed because we cannot properly respond to an incident," Nicholson said to ABC7 news in June. "We need them [robotaxi companies] to come to the table with their engineering people and their policy people and work with us so something catastrophic doesn't happen."
The National Highway Traffic Safety Administration launched an investigation (pdf) into Cruise in December following multiple reports of driving malfunctions, including sudden braking and becoming "immobilized" while driving.
California authorities just approved Cruise for wider operations in San Francisco
The two crashes occurred one week after the California Public Utilities Commission (CPUC) gave Cruise and its competitor Waymo the greenlight to operate at all hours in San Francisco. It was a contentious decision—vocally opposed by some public officials and San Franciscans—that followed a seven-hour-long public hearing.
Aaron Peskin, president of the San Francisco Board of Supervisors, told the San Francisco Chronicle earlier in August that multiple local agencies are planning to challenge the CPUC's decision. "This is just the beginning," he said, and later added, "It is time for Governor Newsom to weigh in for public safety before somebody gets killed."
Related stories
🚦 Volkswagen's self-driving car is ready for its first US test
🛞 Waymo's self-driving cars are going fully driverless in San Francisco
💸 In the future, owning a car could cost twice as much as taking driverless taxis everywhere
This story was updated with a comment from Cruise.