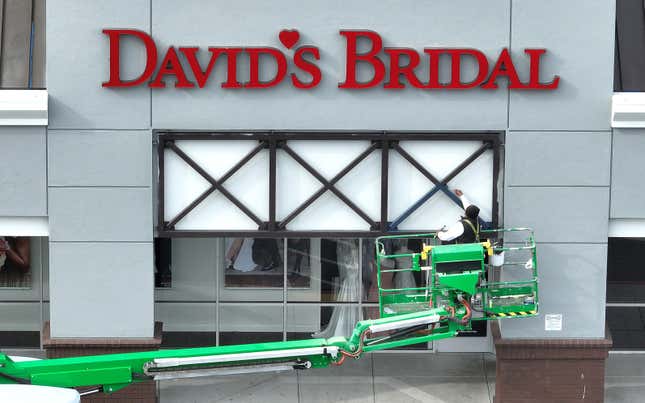 David's Bridal, newly bankrupt, is seeking an eligible buyer.

The biggest wedding dress retailer in North America filed for Chapter 11 bankruptcy on Monday (Apr. 17), marking the second time it has done so in five years amid a broader decline in marriage rates.
Eric Beiley Part II: Where rates are heading
"Our business continues to be challenged by the post-covid environment and uncertain economic conditions, leading us to take this step to identify a buyer who can continue to operate our business going forward," stated CEO James Marcum in a press release.
If the Pennsylvania-based chain does not find a buyer ready to tie the knot, it will close its nearly 300 stores and liquidate. But the company said that for now its stores will remain open, as will its online platforms. David's Bridal will also continue accepting gift cards, returns, and exchanges.
Many brides-to-be are likely to be impacted by the news, as David's Bridal provides an estimated one-in-four brides in the US with its dresses.
Marcum stated in the District of New Jersey Bankruptcy court that the company has 100,000 finished dresses in stock, and another 30,000 orders still being fulfilled, according to a Bloomberg report.
In a move that might calm nuptial nerves, judge Christine Gravelle gave approval for the company to borrow $10 million to float operations while in bankruptcy. David's Bridal will seek another $75 million later in the bankruptcy process, Reuters reports.
Last week, the company announced plans to layoff over 9,000 employees in stores across the US.
The bankruptcies of David's Bridal, by the digits
$4.4 million: Cash in the coffers of David's Bridal according to its recent filing
$256.9 million: Current debt held by David's Bridal
$100-$500 million: Estimated assets and liabilities held by David's Bridal
$434 million: Debt David's Bridal shaved away following its filing for bankruptcy in 2018
Quotable: Wedding dress trends are changing
"An increasing number of brides are opting for less traditional wedding attire, including thrift wedding dresses." —A quote from the David's Bridal recent bankruptcy filing
Fewer people are getting married in the US
Inflation, economic uncertainty, and changing dress trends are all factors impacting the bridal business, but another issue is not as many people are getting hitched. A study from the National Center for Family & Marriage Research finds that the US marriage rate has fallen almost 60% (pdf) over the past five decades.
The pandemic exacerbated the trend. In 2020, the US marriage rate hit a 121-year-low, with just 5.1 in 1,000 people walking down the aisle. Emerging from the pandemic, those numbers recovered, with over 2.5 million marriages planned in 2022.
But the post-pandemic wedding boom won't necessarily stick around, given other partnership trends. The Pew Research Center found that in 2019, about 38% of 25 to 54-year-olds were either unmarried or living without a partner, up from 29% in 1990.
Related stories
👗 Walmart is getting into the wedding dress business
🚗 In wedding season, Indians bought a near-record number of cars

🏃‍♂️ Bed, Bath & Beyond is making a $300 million effort to skirt bankruptcy